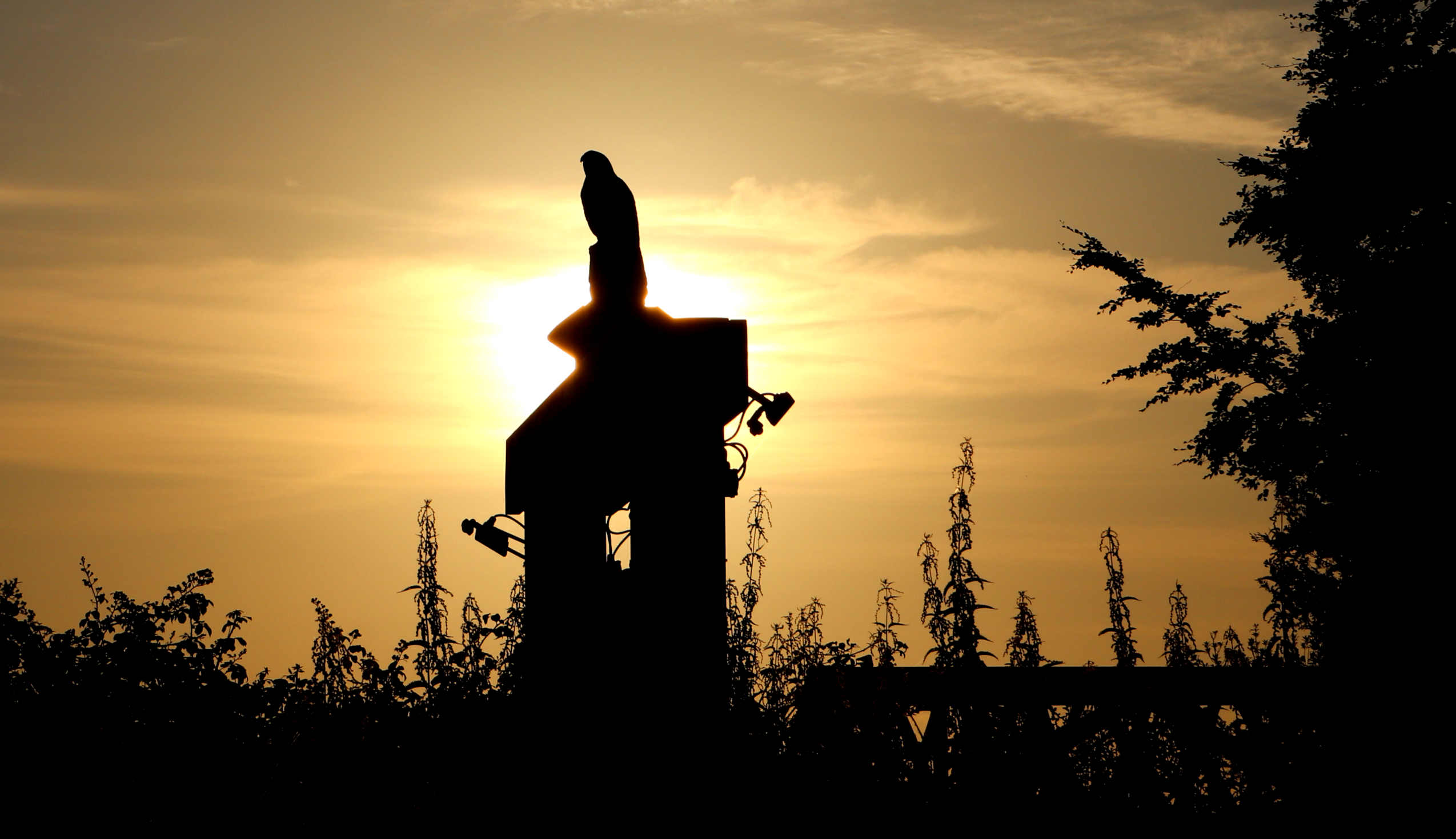 The back gate entrance to Tarzan's Lodge in Herstmonceux. The hawk is always on guard duty, like Long John Silver's pet parrot. Except, that this bird is not real. We still love being greeted by it. "Pieces of Eight."

Herstmonceux Museum, Herstmonceux - Price from £100 (phone) per night.

The Tarzan experience is located just 400 yards south of the village of Herstmonceux in the East Sussex region, and adjacent to the earliest surviving wooden Generating Station C. 1890 in the world. Live like Tarzan, on a getaway weekend and find your way back to nature, while you explore the Sussex countryside. Within easy walking distance of the village, Windmill Hill and for hikers, Herstmonceux Castle. Great for children, young and old.
Students welcome; off peak special rate.
The Tarzan experience is available in other countries, but not yet in deepest, darkest, Sussex. Edgar Rice Burroughs was born in Chicago, then lived in California. He published "Tarzan The Ape Man" in 1912. We think he would have liked our Tarzan experience, where he based his story on the (fictional) English, Lord Clayton, Earl of Greystoke.
Free parking and Wifi. Great for cycling and electric bike tours, but don't get caught out on range if going electric. The UK, like other EU countries is backward in coming forward on EV infrastructure. There simply isn't one. Yet!
Tel: +44 (0) 1323 831727
E: museum@herstmonceuxsussex.com
Enjoy glorious views to unspoiled Sussex countryside, across to an area of outstanding natural beauty (AONB) to the north-east and a private park south. The grounds lead to several public footpaths in the adjacent fields - with a wealth of birds and wildlife including bats and ducks (at the right time of year). There is off road parking. For those that like to take a long walk, take a stroll down Church Road to over 500 acres of the Herstmonceux Castle Estate or the hundreds of acres over the Pevensey Levels, a Ramsar site of special scientific interest, with lapwings and raft fen spiders, that live mostly underwater in a bubble of air.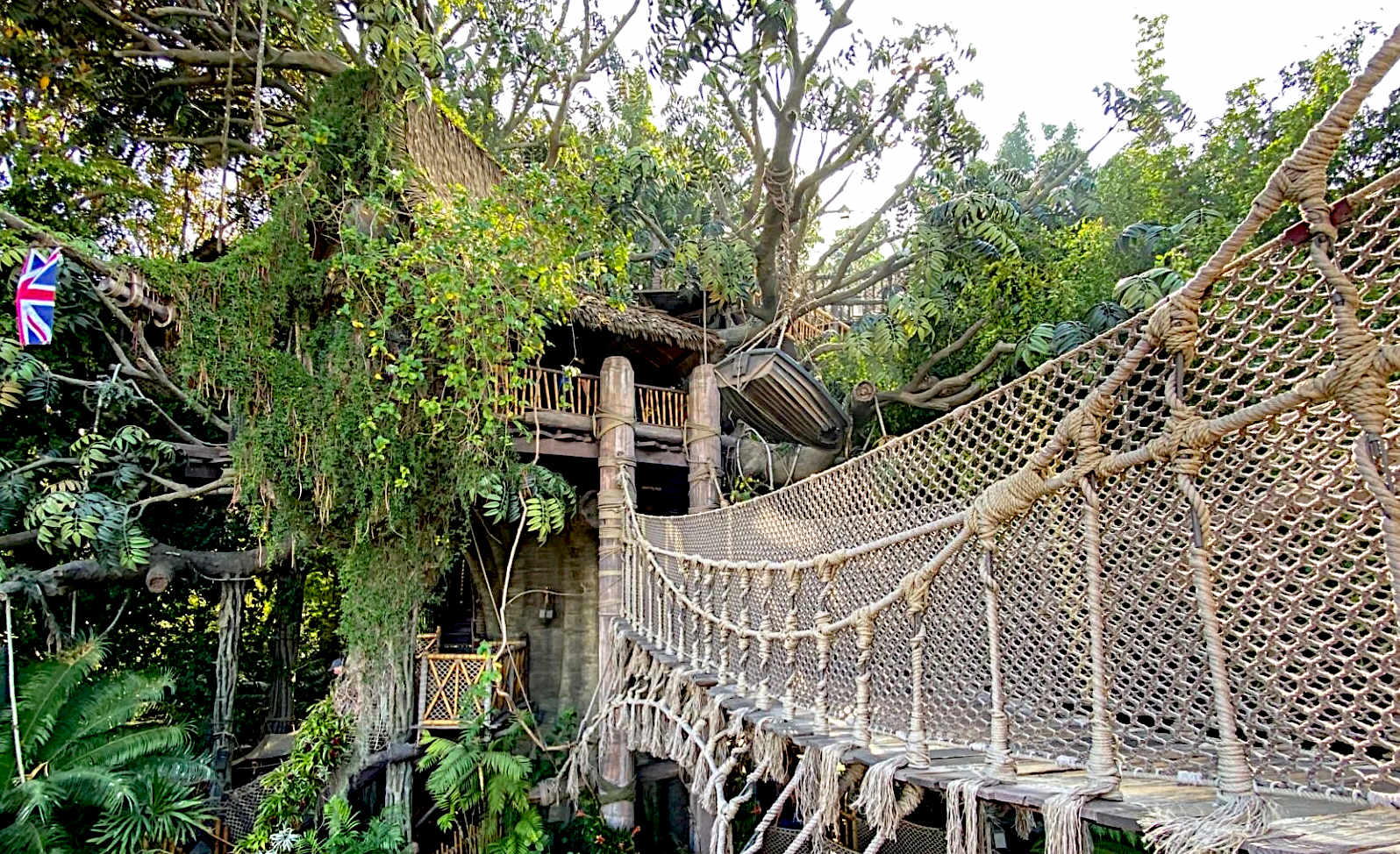 DISNEYLAND - Tarzan's Treehouse is (or was) a walk through attraction at Disneyland in Florida, and Hong Kong Disneyland. It is styled after the treehouse in the 1999 film Tarzan.

In contrast to how the Swiss Family Treehouse was designed as a tour through an empty house, the Tarzan Treehouses use diorama figures to loosely retell the story of the film, which is "narrated" through a series of Jane's journals.

Disneyland Orlando Florida version

In February 1999, Disneyland closed its version of the Swiss Family Treehouse, and Imagineers re-themed the attraction to coincide with the soon to be released Tarzan film. The giant artificial tree received a comprehensive makeover, including 6,000 replacement vinyl leaves, a suspension bridge entrance from a new neighboring tree, and a variety of hands-on interactive features. The tree is currently 70 feet tall and weighs 150 pounds. On June 23, 1999, Tarzan's Treehouse began welcoming park guests, just as Disney's animated Tarzan premiered in movie theaters. Tributes to the Swiss Family Treehouse are featured in the attraction including the "Mind Thy Head" sign and the "Swisskapolka", which can be heard playing on a vintage gramophone.

On September 3, 2021, the attraction closed for an unexpected refurbishment. It was later announced in April 2022 that the Tarzan theme would be removed and re-themed to Disney's animated film, Encanto.


HONG KONG DISNEYLAND - When Hong Kong Disneyland opened on September 12, 2005, it included Tarzan's Treehouse built on Tarzan's Island. Rafts are used to ferry passengers to and from the island, which is encircled by the Rivers of Adventure. This is a similar arrangement to Disneyland's Tom Sawyer Island.


At Home in the Jungle - Tour the legendary vine-swinger's jungle home - built in an 80-foot-tall tree - and experience life on the wild side.

Your adventure begins as you clamber up a tree stump and cross a rope bridge high in the sky. Overgrown with vines and constructed out of parts salvaged from his tragic shipwreck, the tree house features ingenious inventions and vignettes from Tarzan's epic life story.

Peruse drawings from Jane's sketchbook that tell the tale of the young English lord who was marooned in the jungle, orphaned and raised by a tribe of gorillas. The tree's scientific name is Disneydendron semperflorens grandis or "large ever-blooming Disney tree" and some incredible views await you at the top. Explore the high life at this airy abode from a bygone time!
A perfect retreat
For those that just like to relax and unwind away from the urban clamour, the Tarzan experience is about as cosy as it gets with a living tree inside the accommodation on two levels, if you fancy a hug - and a large balcony feeding from the upper level, or covered decked area with comfortable seating, on the lower level. The setting is about as wooded as it gets in Sussex. But includes an LED colour TV, radio/MP3 player and free WIFI connection, if you need to stay in touch with the outside world. But why not just let all those worries go for a rejuvenating weekend.

Self catering
The Tarzan experience includes a microwave, fridge, hobs and small oven, kettle and toaster. Tea, coffee and milk is provided. It is possible to arrange for a barbecue in the grounds, if you are expecting a couple of mates for dinner (but not for overnight stays, subject to booking and availability) and with advance notice. There will be a small additional charge for use of a barbecue, cleaning, etc.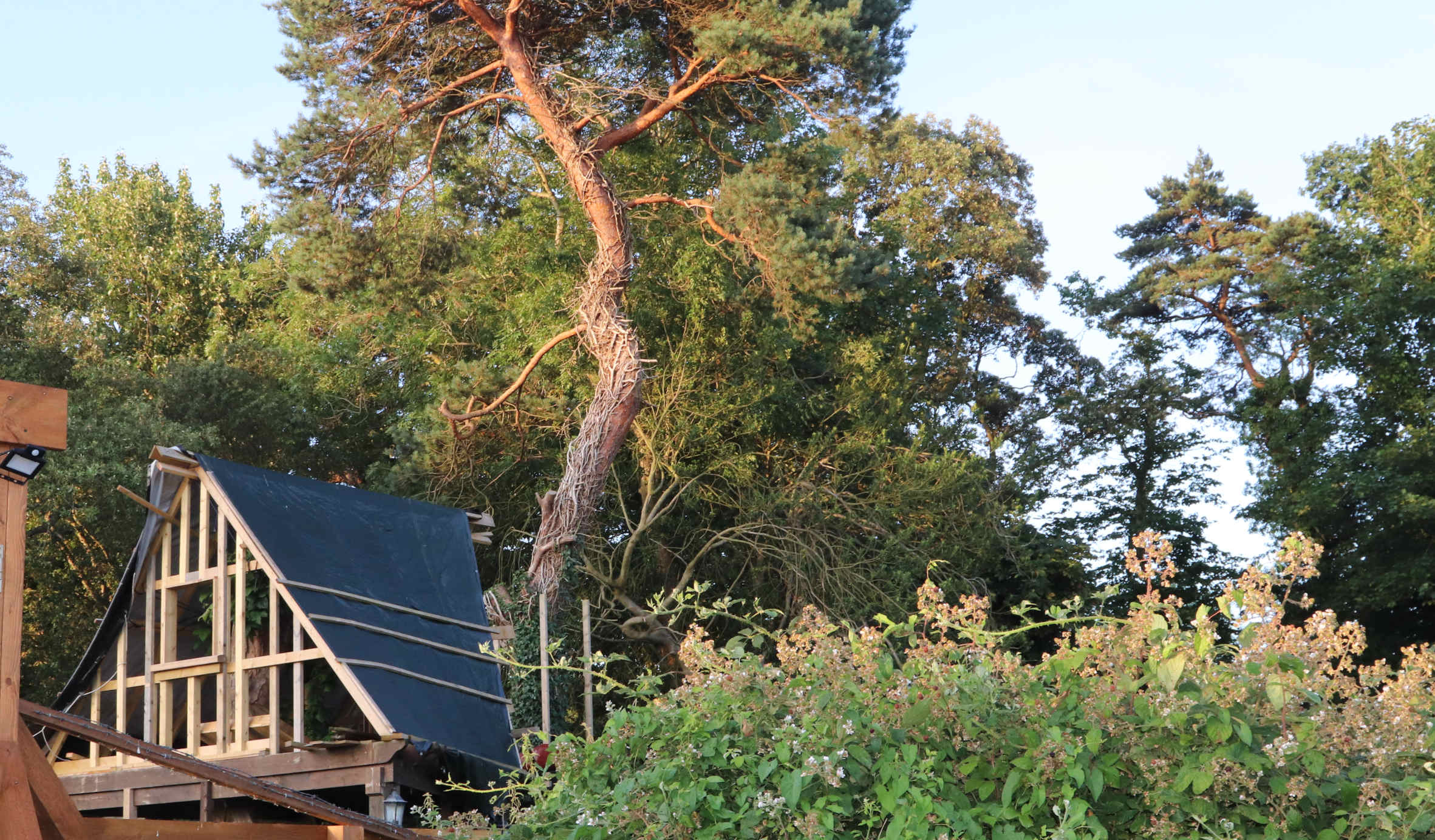 Eating Out Locally
Alternatively, the village has a cafe, two pubs with traditional menus, fish and chip shop, an Indian and the Sundial restaurant, if you prefer French cuisine.

The nearby towns of Hailsham, Bexhill and Eastbourne also offer a variety of eateries to suit all tastes – including Chinese, Thai and Mexican. Please don't hesitate to ask for details on arrival. Should you wish to book a table at a local restaurant, we will happily provide a contact list for you, or point you in the right direction.
There's lots to do and see

An ideal base for exploring 1066 country, the Museum is set in a unique area of the Sussex Weald, offering something for everyone to enjoy - and explore.
A 12 minute drive from Tarzan's lodge you'll find the glorious south downs national park. Green rolling pastures, wide open spaces, ancient woodlands, river valleys and dramatic coastline truly encompass the National Park's ethos of being one of 'Britain's Breathing Spaces'. With over 3,300km of rights of way, the South Downs National Park offers a landscape as diverse as it is breath-taking, including the Seven Sisters, Beachy Head, Birling Gap, and Seaford Head, four of our favorites. Where you can soak up the sea air, and look across the English Channel.

Inspire the historian in you with a trip to All Saints Church. Or perhaps your inner artist would prefer a visit to close-by Charleston Farm House - home of the Bloomsbury Group, which included local author; Virginia Woolf. If a little rambling takes your fancy, there's a host of scenic country walks in the area, such as the Cuckoo Trail.
That's not to mention the surrounding picturesque villages, local vineyards, golf courses, horse-riding stables and fashionable shopping districts reasonably close by, including Lewes, Brighton and Tunbridge.
Herstmonceux Castle - is renowned for its magnificent moated castle, set in beautiful parkland and stunning gardens. Built originally as a country home in the mid 15th century, the brick built Castle embodies the history of Medieval England and the romance of Renaissance Europe. There is a Festival here every year.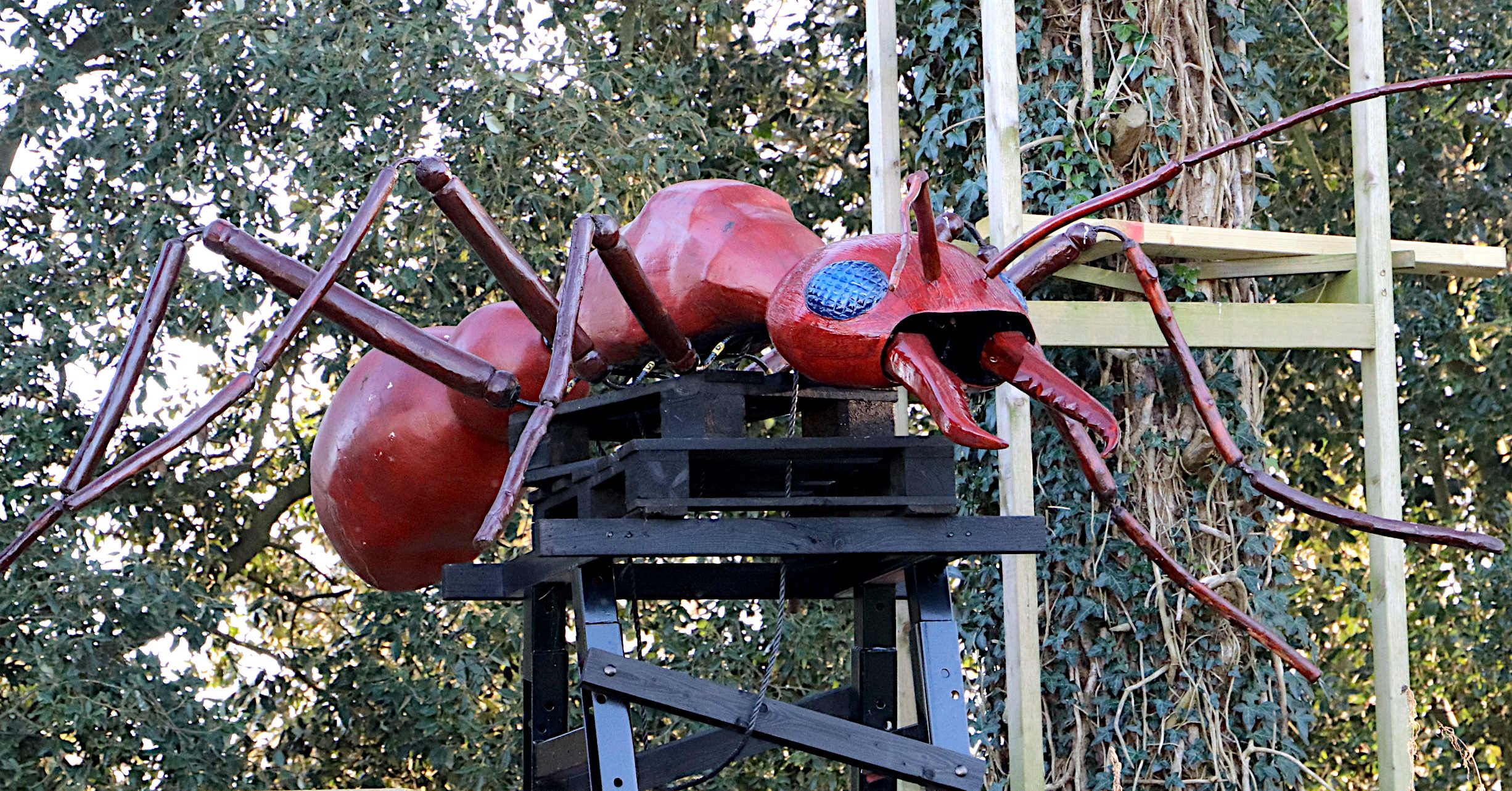 Anthony the giant Bulldog ant (Ponerinae Mrymecia) is a tree dweller too. Don't worry he is friendly. You can see large 'Wood' ants (Formica Rufus) locally at Abbots Wood, on the other side of the A22 near Hailsham. But, be careful, they bite and sting - and they are a protected species. So please don't hurt any of them. Their nests are very large mounds of twigs and leaves, if you are lucky enough to spot any, give their nests a wide berth, as they can squirt you with formic acid. An ant nest is called a 'formicarium' for this reason, derived from the acid they shoot from their abdomens.
Say hello to Anthony
On the balcony of Tarzan's Sussex Lodge, is a giant model of an Australian Bulldog Ant, made by a local artist at 300 times full size, from sycamore and other woods cut on site. Shades of Marvel's Ant Man, or Jules Verne's Mysterious Island. Make a small one yourself, to take home, if you feel creative. This sculpture is over 10 feet long, including the antennae. We'd suggest making something a little smaller. Say 5-10 inches (125-250mm).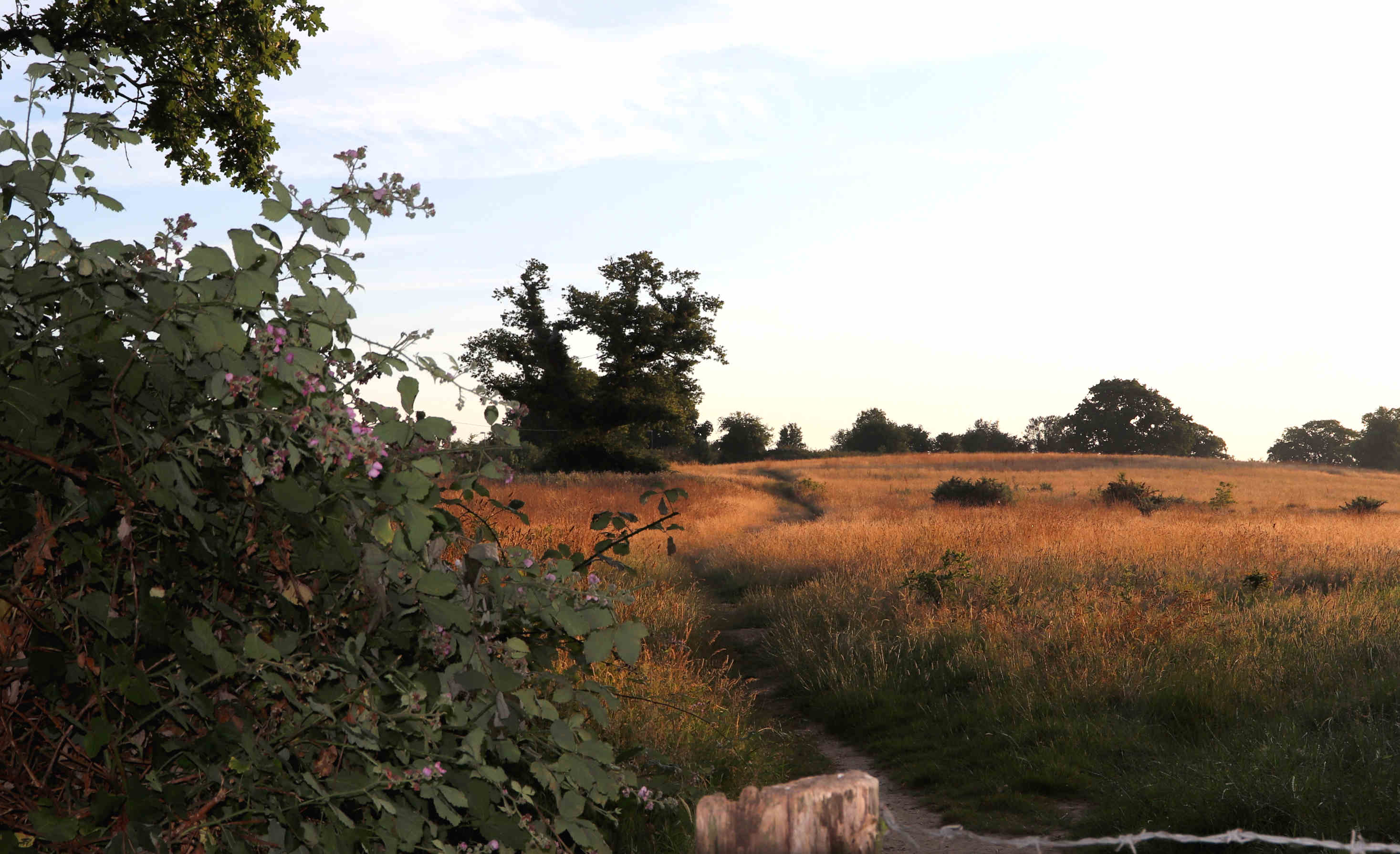 PUBLIC FOOTPATHS - Essential for healthy living, we all need space to roam, stretch our legs (or even jog) and experience nature. This is one of the well trodden footpaths in the field adjacent to Tarzan's Lodge, providing access from a number of different directions. The footpath leads down to the Pevensey Levels. A site of special scientific interest.
TARZAN'S LODGE - HOUSE RULES

Booking in is from 3:00pm the night before an overnight booking. The Lodge must be vacated by 11:00am the following morning. Guests of guests must leave before 8:00pm in the evening.
Please leave the Lodge in the condition you found it. Litter must be disposed of in the bins provided. There will be cleaning charge for stains.
The Lodge is a non-smoking area. Alcohol is not allowed on the premises.

Boreham House 5 stars Herstmonceux - Price from £126 per night
Cedar Lodge 4 stars Herstmonceux - Price from £269.50 per night
Chilsham Barn 4 stars Herstmonceux - Price from £249.50 per night
Cleavers Lyng 16th Century Country House 4 stars, Herstmonceux - Price from £80.75 per night
Eastwood Observatory - Chilsham Lane, Hailsham - Price from £2,797 per night
Furnace Brook Lodge, Cowbeech - £ Phone
Herstmonceux Museum - Available soon from £100 per night - the ABnB Tarzan, back to nature experience
Swallows Barn 4 stars - Herstmonceux - Price from £302.50 per night
The Stables at Boreham House - Herstmonceux - Price from £145 per night
Windmill Barn 4 stars Herstmonceux - Price from £178.33 per night
A - Z Local Restaurants and Pubs
In and around Herstmonceux village there are a number of places to eat, drink and be merry.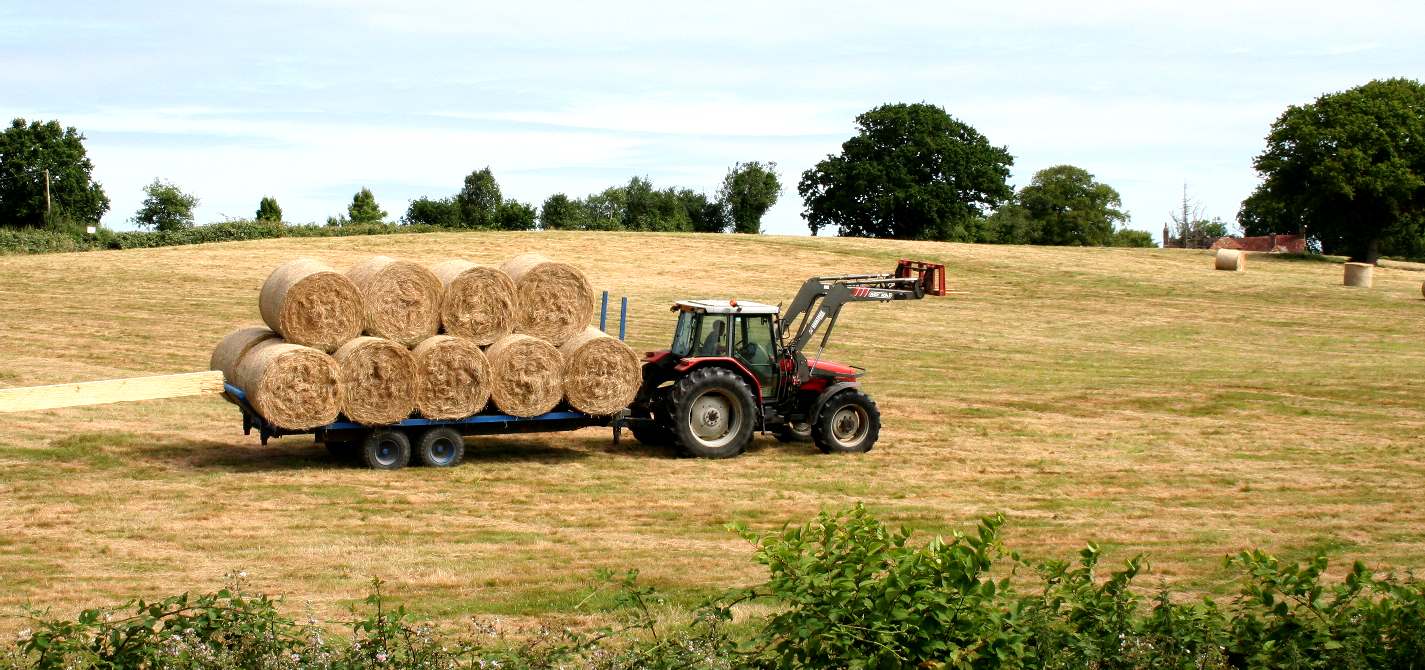 Farming in Sussex, growing food for self-sufficiency and to feed livestock, for your local eatery. A view from Tarzan's upper window. The area is now re-wilding quite nicely. But for how long can the diversification survive?
SUSTAINABILITY - FOOD SECURITY
Fish stocks on the south coast of England are seriously depleted. Seaweed, the oxygenator of the ocean, equivalent of the Amazon rainforest, has been trawled up (illegally) by local fishermen, forcing the creation of conservation areas - that are unfortunately - not well policed. Micro plastics and other fibers have entered the seafood chain along the English Channel via river pollution, with Chichester being one of the worst affected areas from the GRP manufacturing and boat building industries. Fish and shellfish, such as crabs, lobsters, mussels, shrimps, oysters and prawns, are shown to have micro plastic in the gut. Plastic is like a sponge to carcinogenic toxins in the ocean.
Then there is acidification and anthropogenic warming of the oceans, also reducing fishery output.
To add to that we have desertification, where once arable land has been turned into deserts from climate change, from the burning of fossil fuels in cars and trucks, heating of homes with gas and oil, and rearing of animals that produce methane, to feed a growing world population.
Strangely, much of the seafood that you are likely to eat locally, will be imported. Especially white fish from fish and chip shops. But we have to eat, or starve. There is always the Hannibal Lecter cookery book, if all goes pear shaped, with politicians first on the menu. Sustainability and the 'Blue' or Circular Economy, not being high on the agendas of local authorities. Though we now have towns that are certified Plastic Free, such as Eastbourne. Thanks to the sterling efforts of Oliver Sterno and his crew, and many more teams around the country who organise beach cleaning, and certification of local businesses, under the Surfers Against Sewage banner.
So please eat responsibly. If you can't finish your meal, ask for a doggy bag. Don't waste food. Even better, consider going veggie, or vegan. Or at least try to cut down on your red meat intake, with no meat Mondays. Having said that, what is life without the occasional celebration. It's just good to be alive, unlike the dinosaurs, mammoths and even rhinos, that once roamed the British Isles. We killed off such mega-fauna, when we hunted them to extinction, and began farming domestic animals. Mooooo, baaaaa.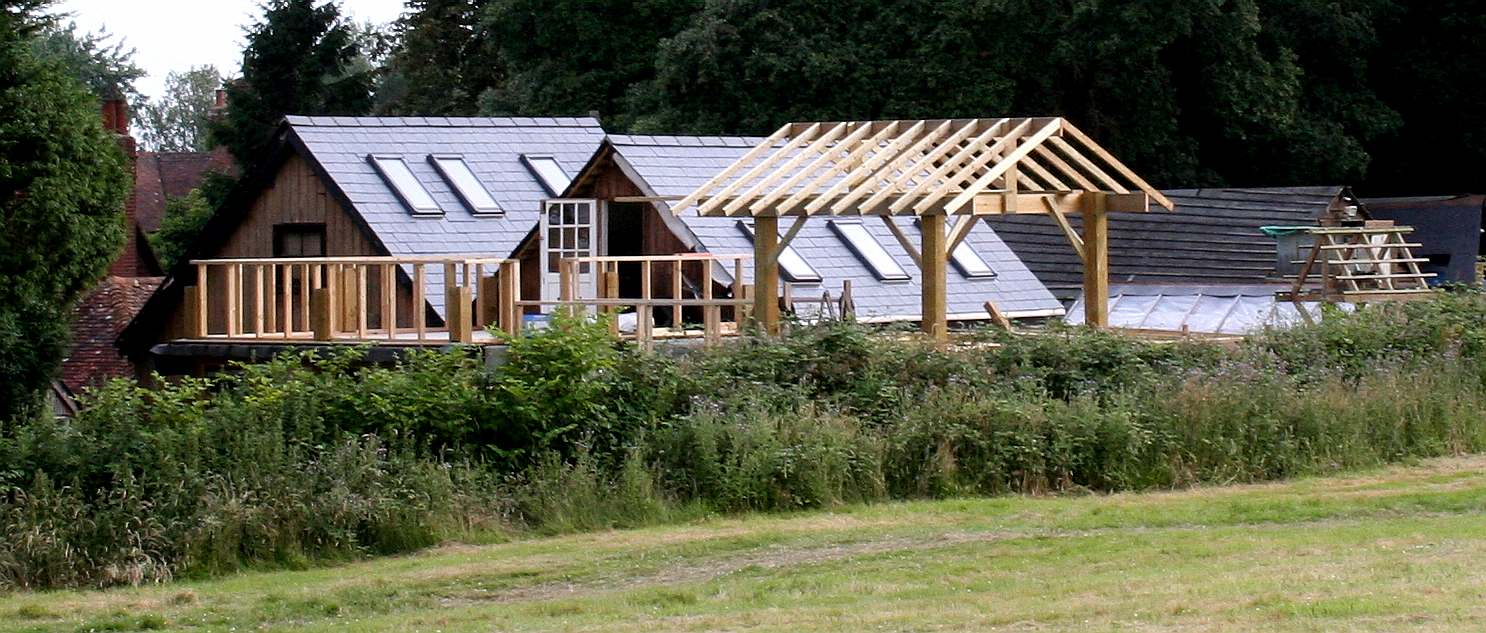 SUSTAINABLE BUILDINGS - The use of wood for construction is a sustainable practice, provided that the timber being used comes from a responsibly managed source. The old Generating Station in Lime Park, at Herstmonceux, is mostly built of wood, dating from C.1890. Wood is a natural carbon sink - meaning we should plant more trees - and build more houses of timber. The use of photovoltaic panels and large (solar) conservatory areas to trap heat, reduces the need to waste electricity or use fossil fuels. Light from our sun pours down on planet earth at the rate of one kilowatt per square meter. Mostly, this free natural resource is wasted, because conventional houses use gas or oil for central heating.
Sorry, not yet available.
FOOD LINKS & REFERENCE
https://www.airbnb.co.uk/
Part of the generating station complex, adjacent to Tarzan's Lodge. Solar panels are to be fitted along the west facing ridge, to help provide energy free of pollution. That is not a real eagle, but there is a Barn Owl that frequents the fields nearby, and a heron fishes in nearby ponds.