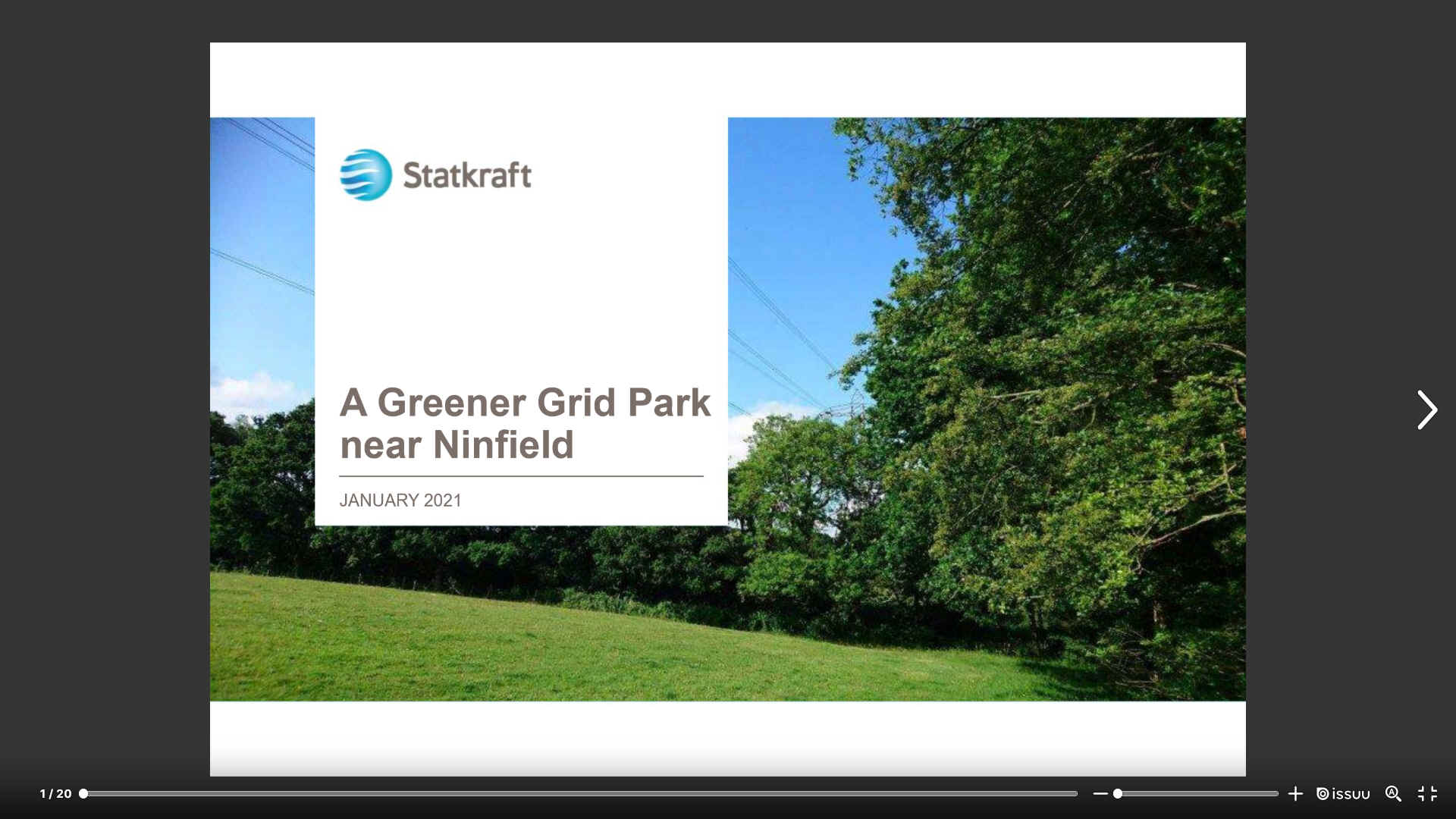 Ninfield Greener Grid Park
Ninfield is a village and civil parish in the Wealden District of East Sussex, England. The village is quite linear and centred 4 miles (6.4 km) north of Bexhill-on-Sea where two roads cross: the A269 from Bexhill to Battle and the A271 to Hailsham. The parish covers 2,500 acres (1,010 ha); approximately the northern half of which is in the High Weald AONB.

To the west of the village is Standard Hill, said to be the place that William the Conqueror placed his flag (2 lions of Normandy standard) before the Battle of Hastings. As with many other Wealden villages, it was involved in the iron industry: that fact is commemorated by the presence in the village of a set of iron stocks. Smuggling was also rife in the eighteenth century.

The village name is said to come from the fact that it was originally composed of nine and three quarter fields. A legal record, of 1452, mentioning a Sussex village as "Nempnefeld", may refer to Ninfield.

The parish council consists of nine councillors. They put on several events, including a gala with professional cabaret, each year to raise money for nominated charities such as Alzheimers and Sussex Ambulance.

Ninfield has a primary school, a shop and two pubs- The Kings Arms and the Blacksmiths Inn. It has two churches, its medieval parish church dedicated to St Mary the Virgin; and the Methodist church.

Ninfield is currently drawn, for the purposes of the fair apportionment of District Councillors as part of electoral ward: Ninfield and Hooe with Wartling. The population of this ward at the 2011 Census was 2,543.

The central, contiguous area of 558 homes on 65 hectares has been identified as a small Built-up Area, in the statistical government bodies definition (ONS and GSS) and had in 2011 a total of 1,307 residents. Population density of this area was 20.1 persons per hectare.
THE NATIONAL GRID & STABILISATION
National Grid plc have identified the south of the UK as an area which requires more grid stabilisation due to the amount of renewable energy being generated. At Ninfield, the close proximity to the substation avoids lengthy transmission cables, and ensures efficient connection to the grid whilst minimizing disturbance and cost.
Located south of the existing Ninfield National Grid Substation, the proposed Greener Grid Park is a vital project that will help the UK achieve its target of zero carbon emissions by 2050.

The Ninfield site has been selected by Statkraft as a front runner for a tender with National Grid Electricity System Operator (NGESO) starting late 2021 with contracts awarded in late 2022 and construction starting in 2023.

This project does not rely on any nearby electricity generating projects (Solar, Wind etc) to operate.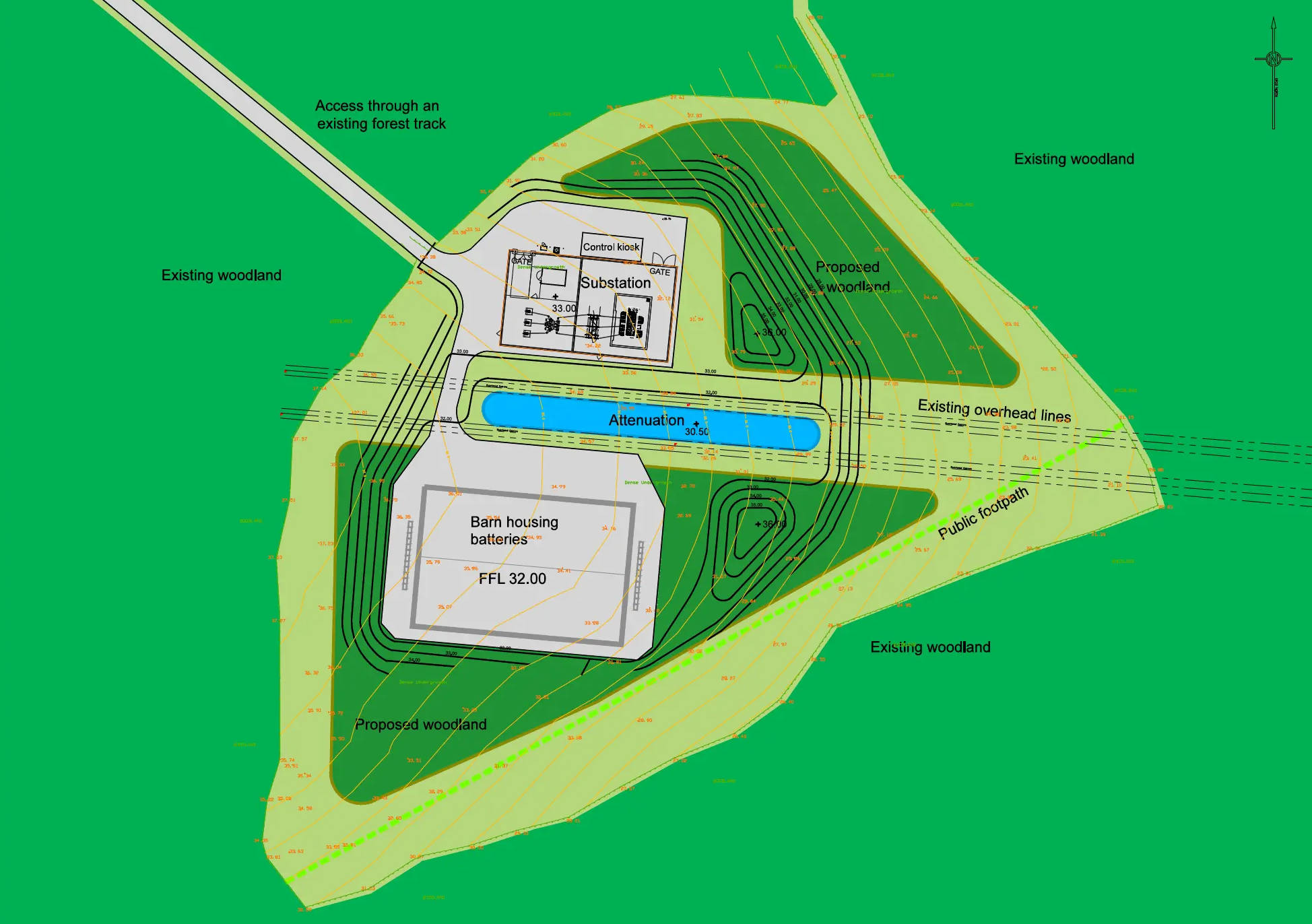 The batteries will store electricity imported from the grid. It is not possible in advance to say where it was generated. However, in general we would expect batteries to charge at times when there is a surplus of renewable energy generation in Great Britain.

The development will not only be able to facilitate batteries but also an Energy Management System which will provide stability services to the Grid. National Grid have identified that this area in particular is in need of the stability services Statkraft can provide, which is why the project is located adjacent to the Ninfield substation.

The need for this type of project is ongoing, therefore it is anticipated that the developers will apply for permanent planning permission.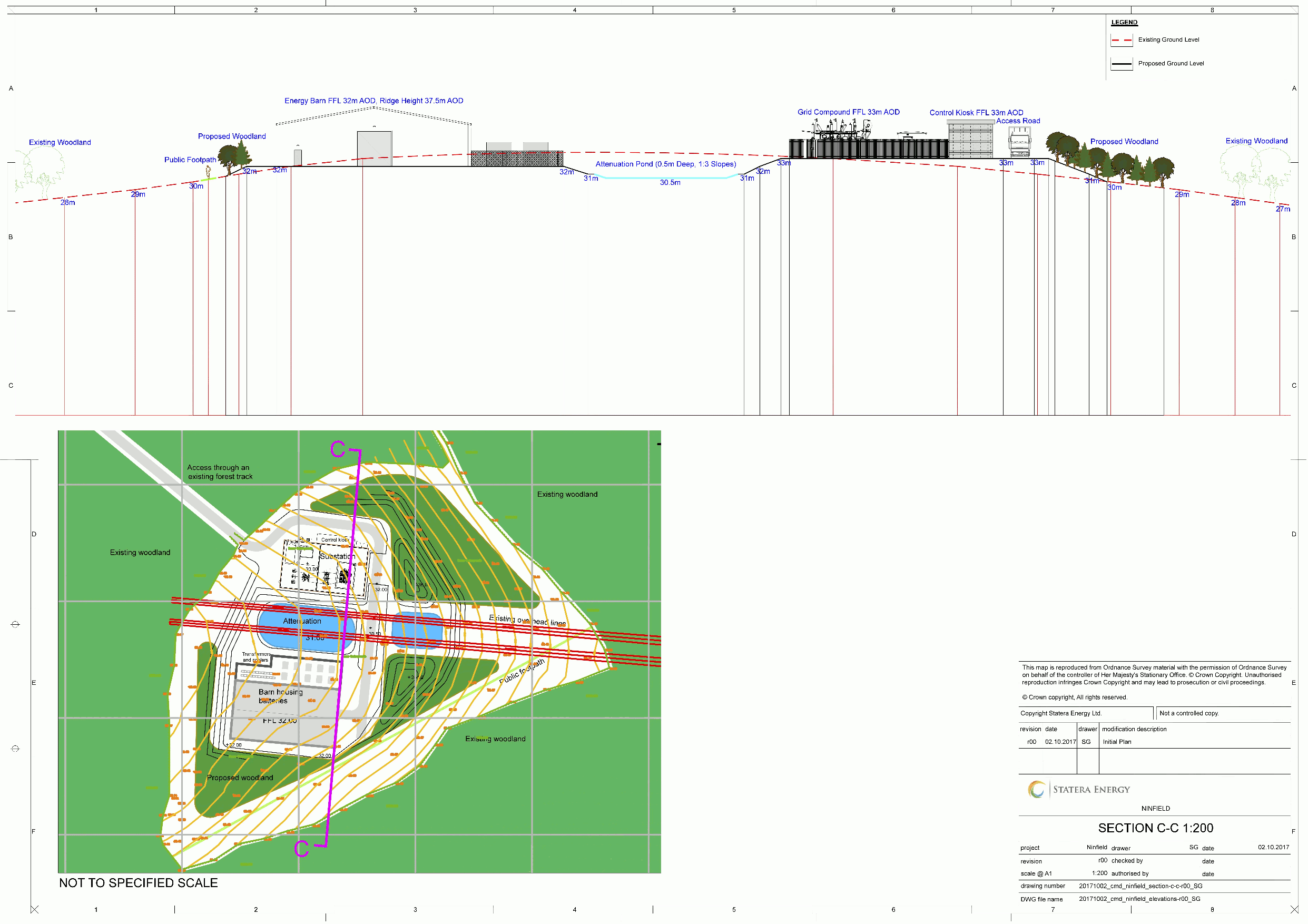 GREENER CONSULTANTS
Greener Consultants were tasked with producing the Masterplan and a number of cross sectional drawings for this battery storage site in Ninfield, East Sussex.

The scheme was built within a cleared area of woodland and therefore needed to be well screened so that the woodland view remained and the battery storage site was completely invisible from all views.

The consultancy produced a design with careful planting and necessary attenuation whilst also ensuring they avoided the easements for the overhead lines and public footpath as seen in the Masterplans.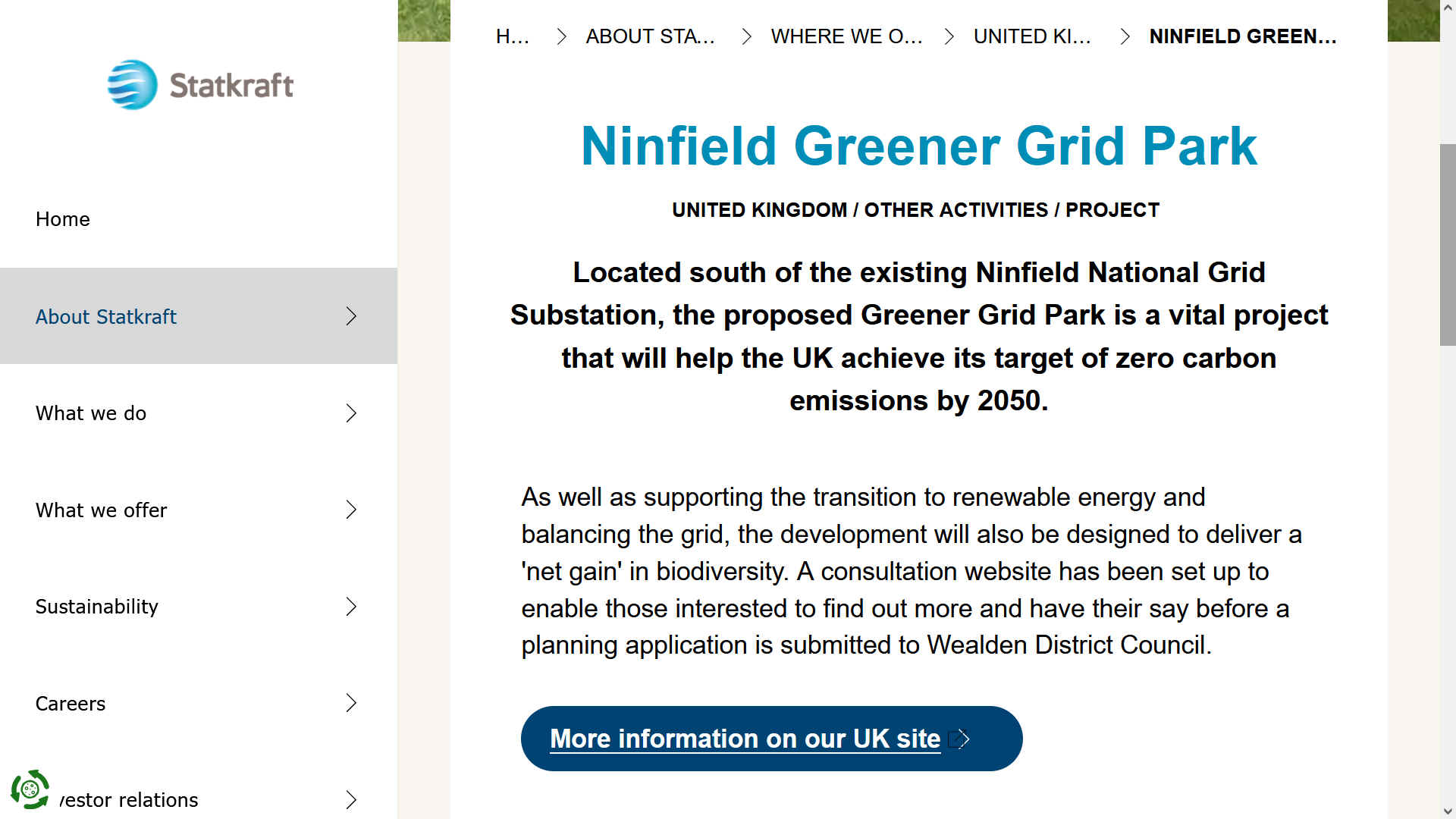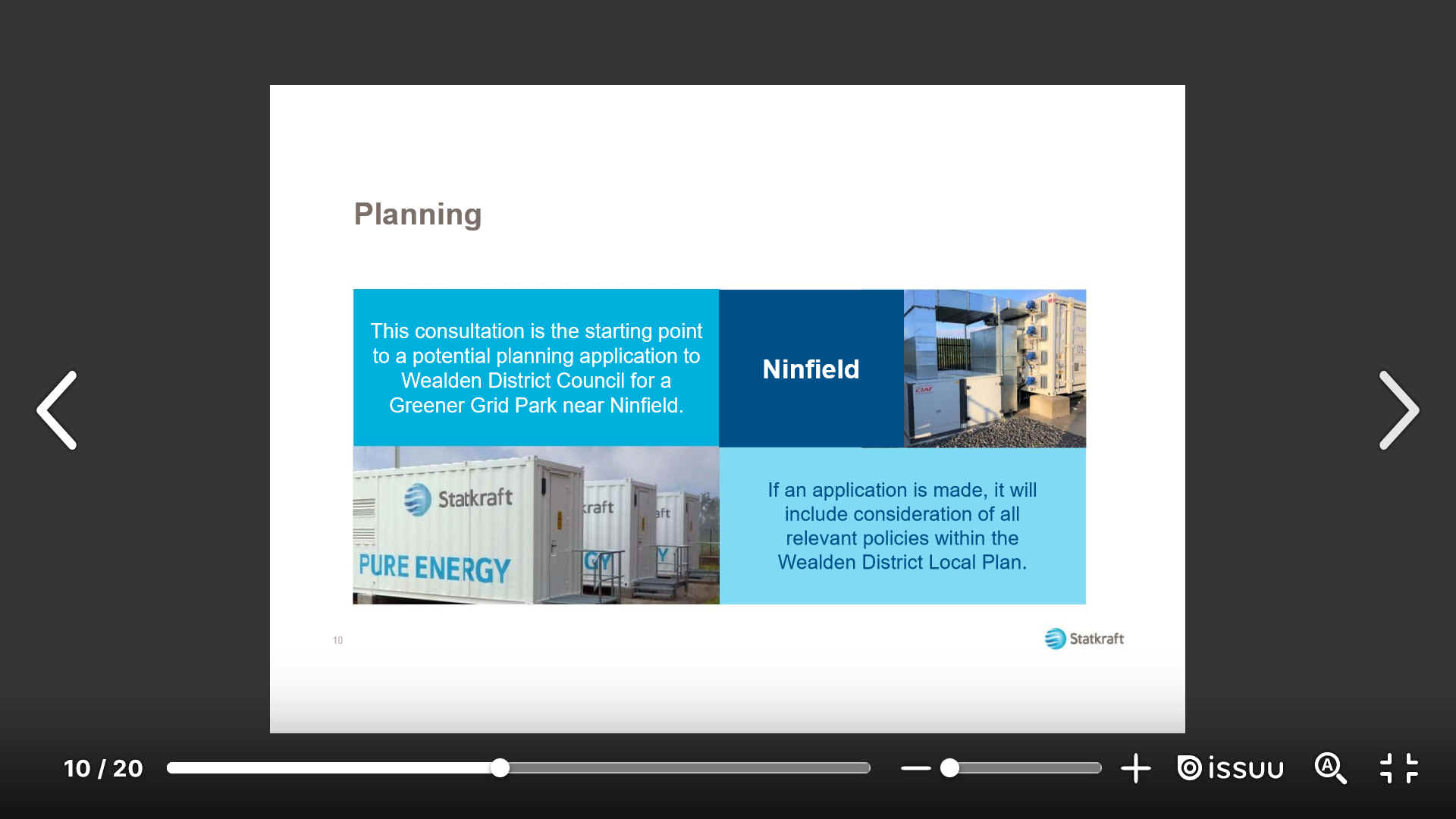 WHAT IS BATTERY STORAGE?

Battery storage technologies are essential to speeding up the replacement of fossil fuels with renewable energy. Battery storage systems will play an increasingly pivotal role between green energy supplies and responding to electricity demands.

Battery storage, or battery energy storage systems (BESS), are devices that enable energy from renewables, like solar and wind, to be stored and then released when the power is needed most.

Lithium-ion batteries, which are used in mobile phones and electric cars, are currently the dominant storage technology for large scale plants to help electricity grids ensure a reliable supply of renewable energy. We've begun deploying this technology with heavier equipment, working with Viridi Parente – a company that makes battery storage systems for industrial, commercial and residential buildings.

Why is battery storage important and what are its benefits?

Battery storage technology has a key part to play in ensuring homes and businesses can be powered by green energy, even when the sun isn't shining or the wind has stopped blowing.

For example, the UK has the largest installed capacity of offshore wind in the world, but the ability to capture this energy and purposefully deploy it can increase the value of this clean energy; by increasing production and potentially reducing costs.

Every day engineers at National Grid and electricity grids worldwide must match supply with demand. Managing these peaks and troughs becomes more challenging when the target is to achieve net zero carbon production. Fossil-fuel fired plants have traditionally been used to manage these peaks and troughs, but battery energy storage facilities can replace a portion of these so-called peaking power generators over time.

The UK government estimates technologies like battery storage systems – supporting the integration of more low-carbon power, heat and transport technologies – could save the UK energy system up to £40 billion ($48 billion) by 2050, ultimately reducing people's energy bills.

Prescott Hartshorne, a Director at National Grid Ventures in the US, says: "Storage enables further renewable generation, both from an operational and reliability perspective. It's also a key piece of our utility customers' ongoing evolution and transition to renewables."

How exactly does a battery storage system work?

Battery energy storage systems are considerably more advanced than the batteries you keep in your kitchen drawer or insert in your children's toys. A battery storage system can be charged by electricity generated from renewable energy, like wind and solar power.

Intelligent battery software uses algorithms to coordinate energy production and computerised control systems are used to decide when to store energy or to release it to the grid. Energy is released from the battery storage system during times of peak demand, keeping costs down and electricity flowing.

This article is concerned with large-scale battery storage systems, but domestic energy storage systems work on the same principles.

What renewable energy storage systems are being developed?

Storage of renewable energy requires low-cost technologies that have long lives – charging and discharging thousands of times – are safe and can store enough energy cost effectively to match demand.

Lithium-ion batteries were developed by a British scientist in the 1970s and were first used commercially by Sony in 1991, for the company's handheld video recorder. While they're currently the most economically viable energy storage solution, there are a number of other technologies for battery storage currently being developed. These include:

Compressed air energy storage: With these systems, generally located in large chambers, surplus power is used to compress air and then store it. When energy is needed, the compressed air is released and passes through an air turbine to generate electricity.

Mechanical gravity energy storage: One example of this type of system is when energy is used to lift concrete blocks up a tower. When the energy is needed, the concrete blocks are lowered back down, generating electricity using the pull of gravity.

Flow batteries: In these batteries, which are essentially rechargeable fuel cells, chemical energy is provided by two chemical components dissolved in liquids contained within the system and separated by a membrane.

Prescott Hartshorne says: "The next decade will be big for energy storage in general and for batteries in particular. It will be an important proving time for batteries and for other technologies."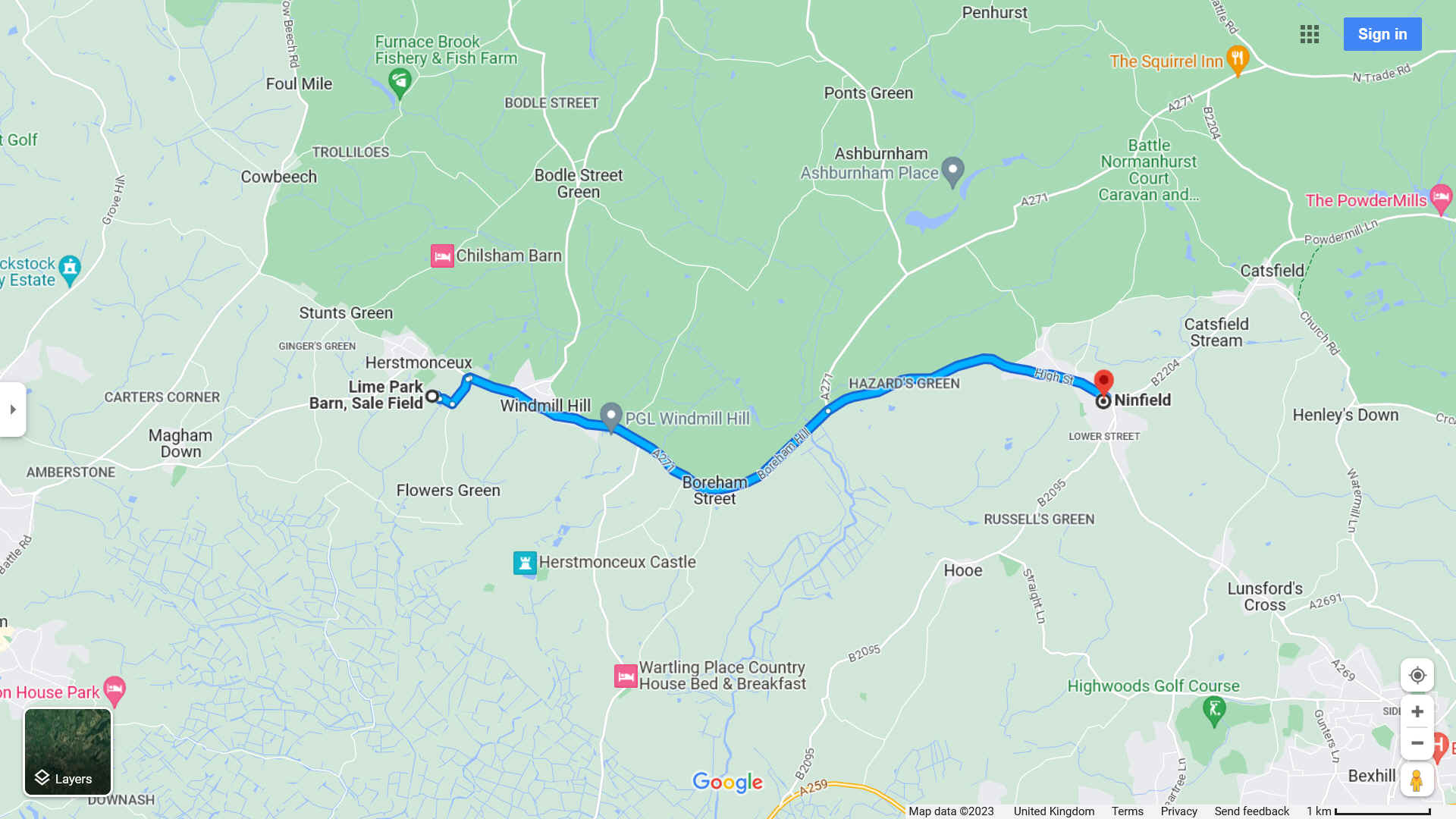 C. 1900 & 2023 - According to Google maps, it should take 10 minutes to drive the 5.1 miles (blue route) via A271 and A269, from Ninfield to Herstmonceux Museum (Generating Station).
CONTACTS
Lucy Kent
Senior Project Manager
Statkraft UK Ltd.
19th Floor
22 Bishopsgate
London EC2N 4BQ
United Kingdom

Statkraft UK Ltd.
The Garment Factory
10 Montrose Street
Glasgow G1 1RE
United Kingdom
Email: uk-post@statkraft.com
Telephone: +44 (0)20 7549 1000
Greener Consultants Ltd.
251 Charlton Road
Brentry
Bristol
BS10 6JS

Email: sam@greenerconsultants.com.
Phone: 07818 492208
LINKS & REFERENCE
https://projects.statkraft.co.uk/Ninfield/project-documents/
https://www.nationalgrid.com/stories/energy-explained/what-is-battery-storage
https://www.greenerconsultants.com/sussex-battery-storage