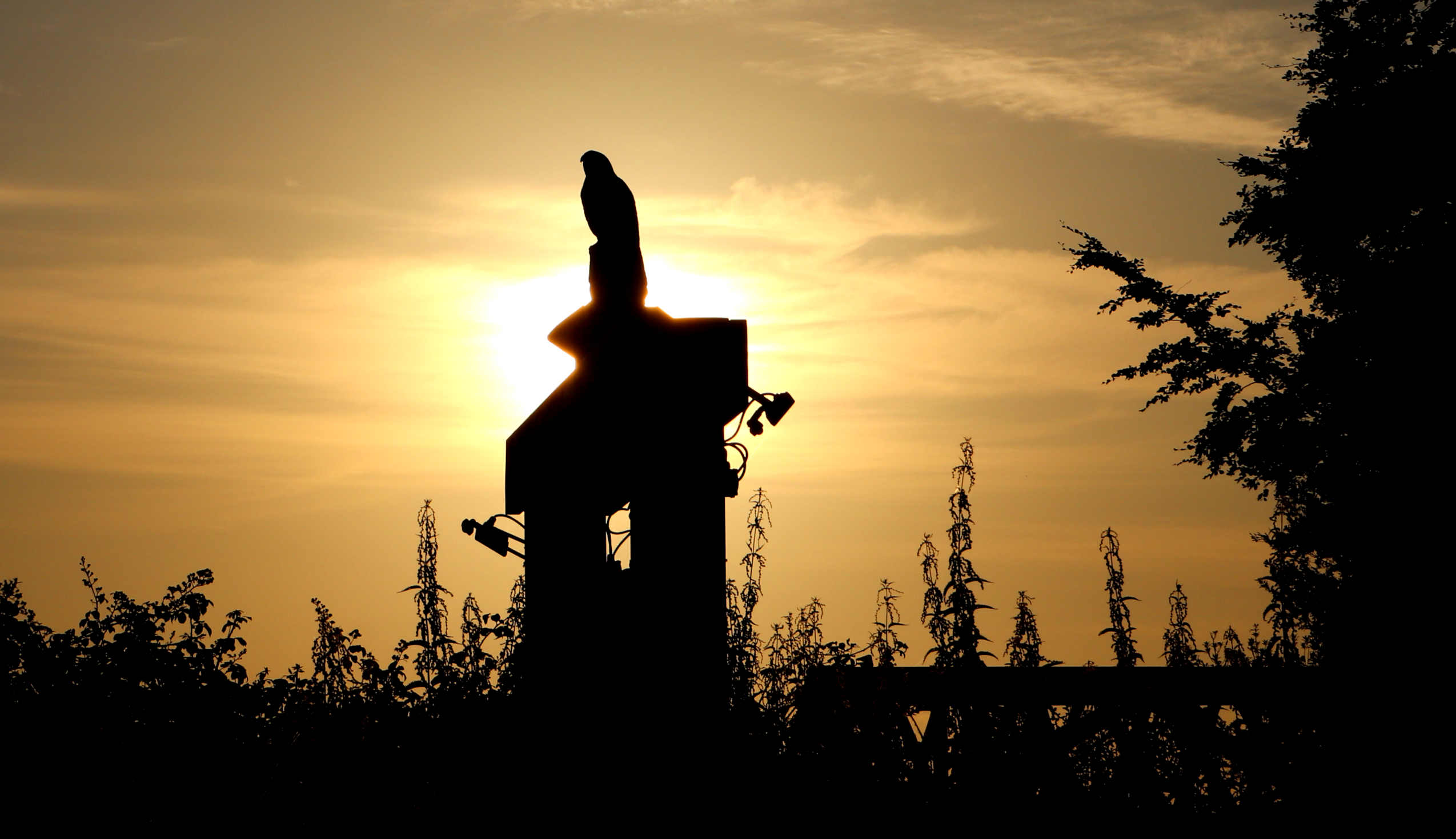 The Lime Cross field, gate entrance, to Tarzan's Lodge in Herstmonceux. The hawk is always on guard duty, like Long John Silver's pet parrot. Except, that this bird is not real. We still love being greeted by it. "Pieces of Eight."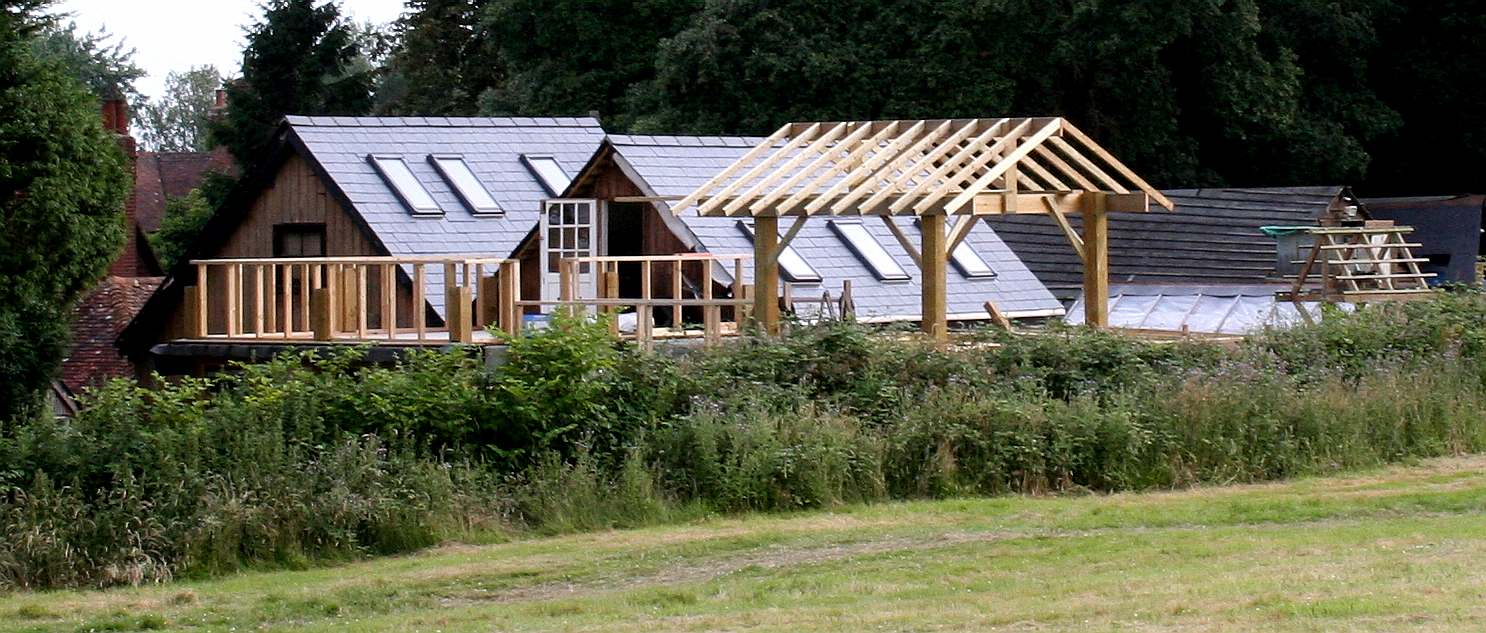 FUNFAIR - First of all, as many will know, the Museum is a potential UNESCO World Heritage Site. With that firmly in mind, the challenge is how do we get onto the tentative list. Where the buildings do not have a financially beneficial use at present, most unfortunately, from years of planning blight. The managers of the Trust that occupies the old generating buildings are looking at ways of generating an income, to cover the maintenance and running costs, that have so far been the cause of under investment and deterioration of the historic structure. But, that need not be the case, with the help of all concerned - and most of all - support from members of the public, who value our heritage, and all that goes with the Sussex countryside.
The good news is that the Museum is opening to the public in May of 2024, hoping to be able to display most, if not all of the exhibits listed below.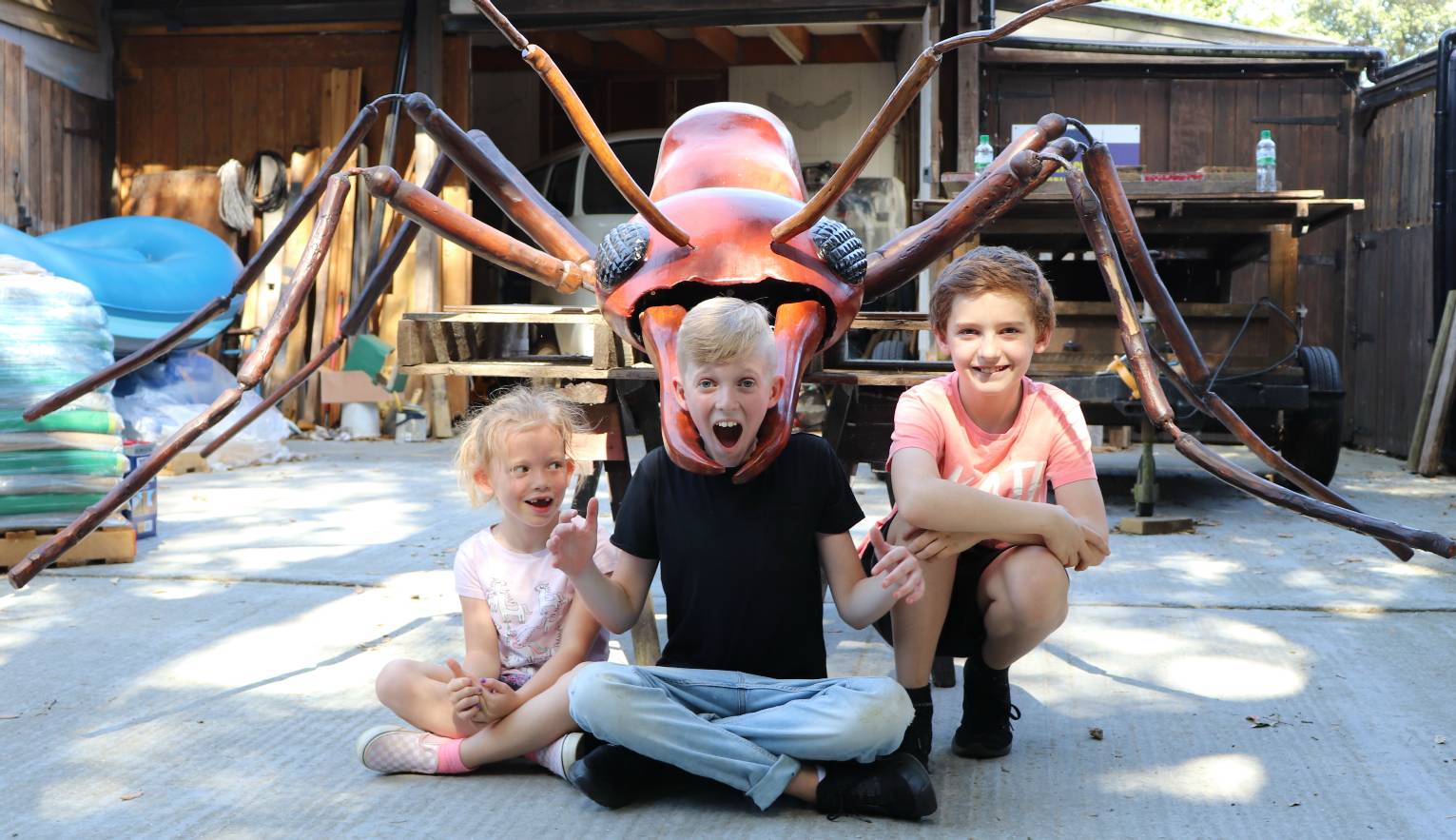 ANTHONY THE MAGIC DINOBOT - Special effects animatronics/artwork for a Jameson Hunter story (under development).

SAY HELLO TO ANTHONY
Previously on the roof adjacent the proposed Tarzan's Sussex Lodge, is a giant model of an Australian Bulldog Ant, made by a local artist at 300 times full size, from sycamore and other woods cut on site. Shades of Marvel's Ant Man, or Jules Verne's Mysterious Island. Make a small one yourself, to take home, if you feel creative. This sculpture is over 10 feet long, including the antennae. Also the star of Sectasaur™, a sci-fi Antarctic adventure. We'd suggest making something a little smaller. Say 5-10 inches (125-250mm).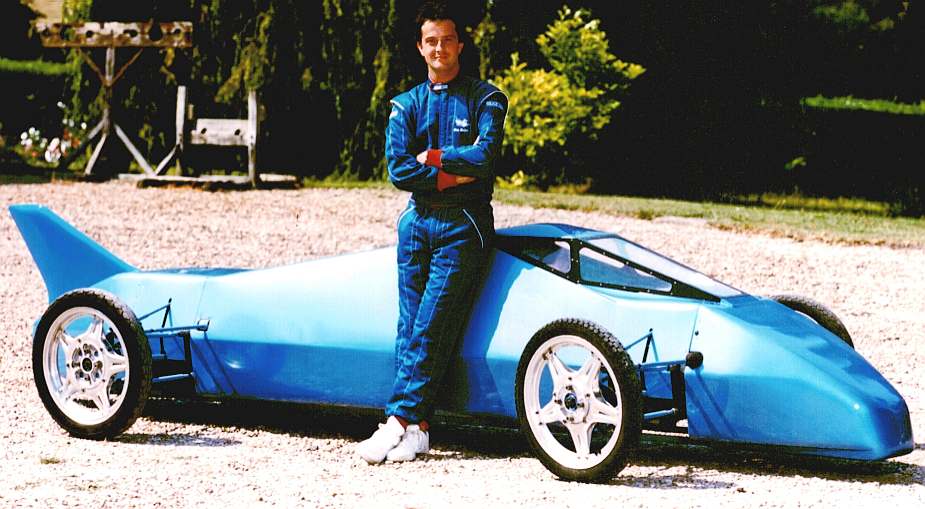 BE1 - This nice looking machine, is the original Bluebird-Electric 1, hand built at Herstmonceux Museum and Filching Manor, near Wannock and Polegate, in Sussex. Don Wales is pictured standing beside the sleek machine outside Filching Manor, with kind permission of Paul and Greta Foulkes-Halbard.

The Trust hope to be able to generate an income. Not from entry fees, but by offering value for money holiday accommodations. The management would like to keep entry to the Museum free, as an educational resource for schools and colleges, and a friendly venue for families, to fire the imagination of visiting children, who will one day be students, and the engineers of a future world where people can live sustainably, in harmony with nature.
If these are the hopes and dreams for your family, Lime Park Heritage Trust would like to share that vision with you.
In addition to the archaeology contained in the structure of the extant generating building, together with original switches and other electrical apparatus, there are several innovative vehicles and vessels on permanent display at Herstmonceux Museum, including:
1. The fountain of youth, supplied from natural well water drawn on site
2. Adventure climbing frames for children (back to nature) Swiss Family Robinson
3. An Edwardian ice well, throwback to the days before refrigeration
4. A large underground condensation and water storage chamber
5. The world's smallest water basin, test tank for model boats
6. World's smallest wind tunnel, vehicle drag measuring instrument using electronic strain-gauges
7. Three PV boat models, Navigator, SWATH & 2 cats + route map prior to Swiss PlanetSolar
8. Seavax, the ocean cleanup proof of concept prototype from 2016
9. AmphiMax, radio controlled (working) beach launching & recovery vehicle for SeaVax
10. Anthony the most dangerous giant Australian bulldog ant, 300 times normal size
11. EV - FCEV refueling station model in 1:20 scale
12. The only working water well in Herstmonceux village
13. Solar panel, sun tracking system
14. Second World War, 'Anderson Inspired,' bomb proof shelter constructed by Major Charles de Roemer
15. City sports FCEV-BEV, hydrogen gull wing proof of concept DC50 electric car
16. Land speed record car: Bluebird-Electric BE1 (original 1st) with battery cartridge exchange
17. Land speed record car: Bluebird-Electric BE2 (original 2nd) with cartridge exchange
18. A complete mummified squirrel, found when re-roofing the Museum June 2017
19. A fully operational, and restored VW Kombi van dating from 1978 (historic vehicle)
20. BMW i3, battery electric vehicle hybrid, with onboard generator range extender
21. Three sewing machines, including an antique Singer and a Brother industrial.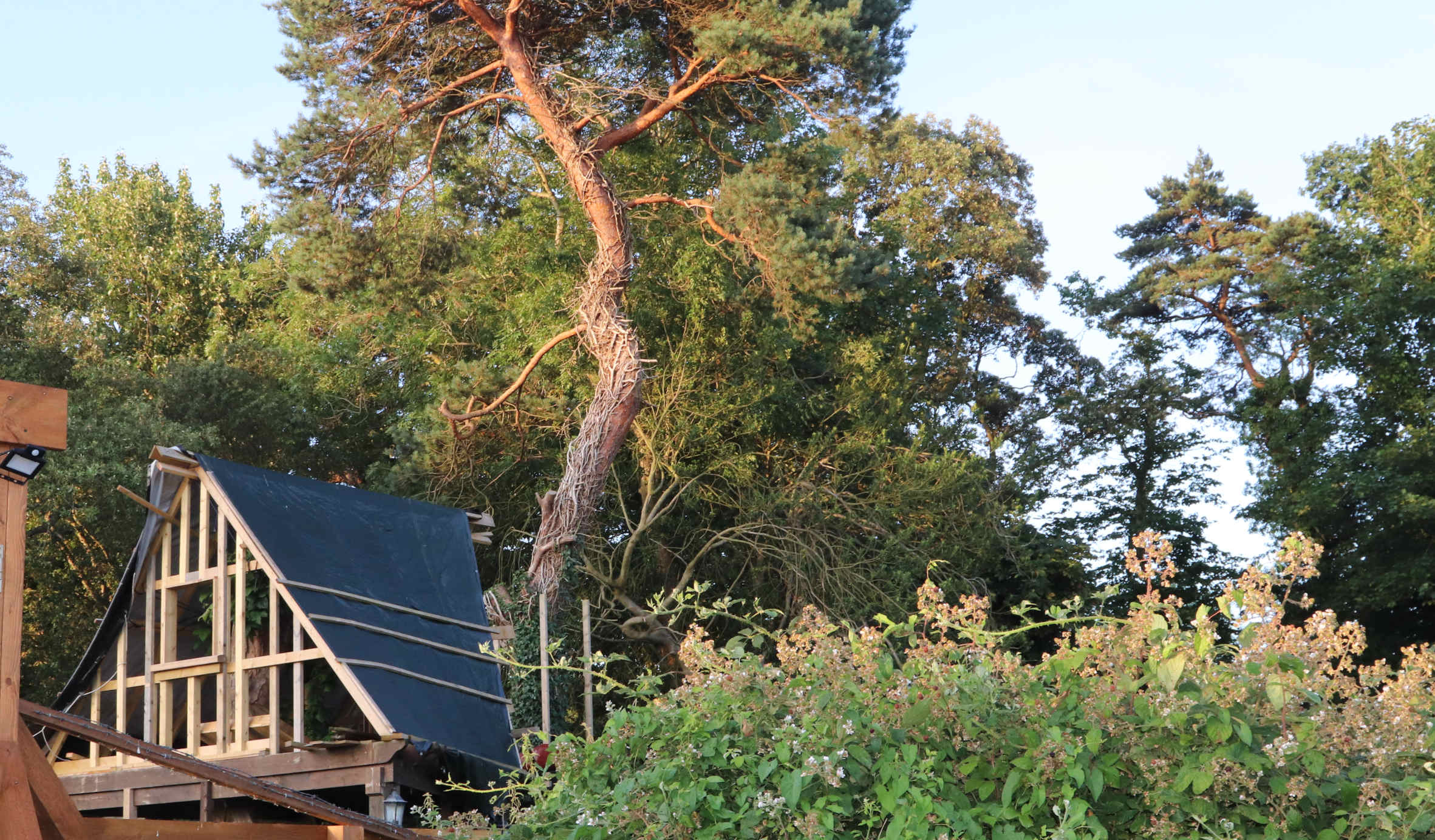 Sorry, not yet available.
SUSSEX ENGLAND - TARZAN'S LODGE
Right on you doorstep, in Sussex, England, the Tarzan experience is located just 400 yards south of the village of Herstmonceux, adjacent to the earliest surviving wooden Generating Station C. 1890 in the world. In this location you may one day be able to actually live like Tarzan, on a getaway weekend and find your way back to nature up in the trees, while you explore the Sussex wilds. Within easy walking distance of Herstmonceux, Windmill Hill and Herstmonceux Castle. Great for children, young and old. This (potential) attraction, is not yet operable. Though, you can climb the frames, if you dare. And please note, a disclaimer needs to be signed by a responsible adult. Who should supervise any such activity.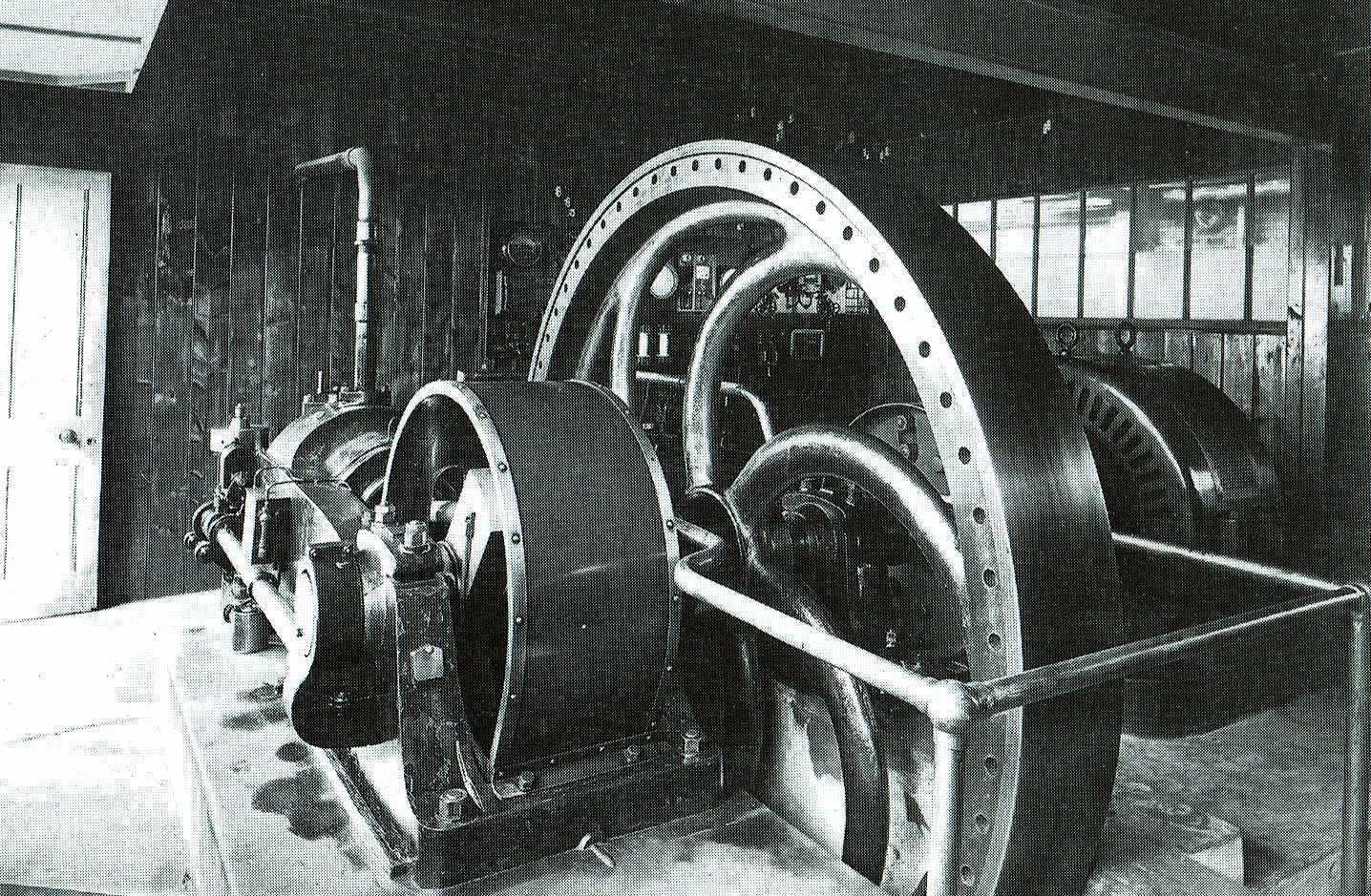 RURAL ELECTRICITY SUPPLIES - A National gas engine of 36 horsepower, single cylinder, with a generator clearly visible on the right hand side of the crankshaft. An engine near identical to this one was fitted at Herstmonceux. This one being at Mr de Roemer's aviation factory at the Crumbles, Eastbourne. Famous visitors include: Lord & Lady Gage, Lord & Lady Hailsham and Lord & Lady Shawcross.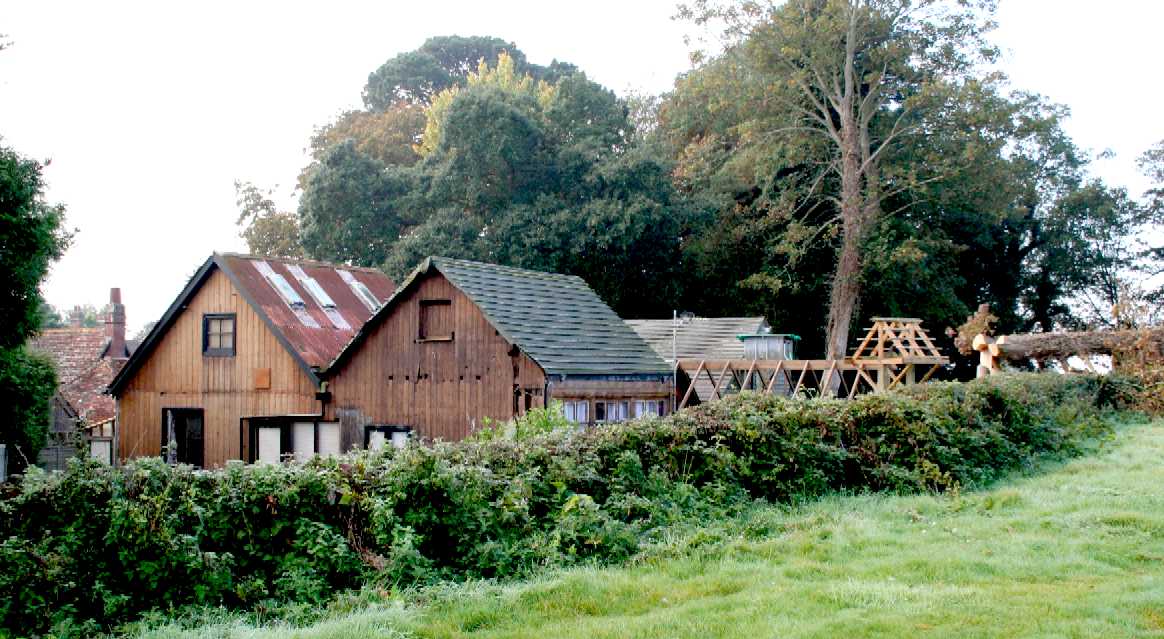 POTENTIAL (FUTURE) UNESCO WORLD HERITAGE SITE CONTENDER - See: Margaret Pollard's memories of Herstmonceux 2005, London University survey 1999, and Ronald Saunders statement July 1997, if you like reading in-person historical accounts. The generating works is seen here in 2014. Note, that in this picture, the north wing has been taken down. This is now partially re-instated. The cost of reinstatement and general upkeep, has been and is considerable. World Heritage Site status depends on keeping the building from deteriorating.

LINKS & REFERENCE
https://