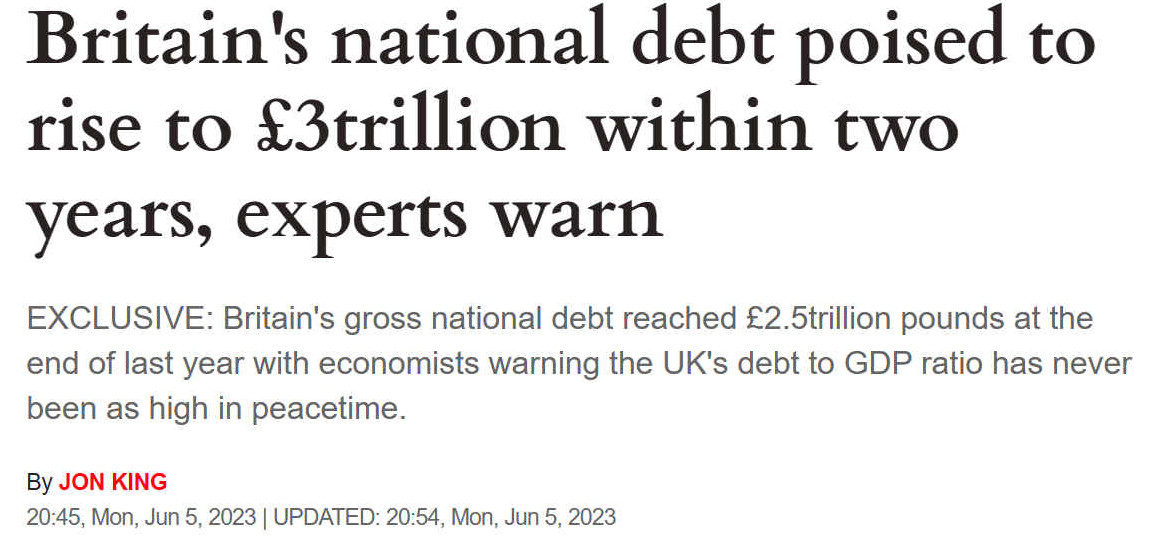 The country needs to start pulling together, to make the best of property that have been undervalued by reason of local vendettas. Council's should be prevented from using public money to prevent heritage assets from attracting tourists dollars, that may boost the local economy, and help to establish the UK as a world technology leader.


DAILY EXPRESS 5 JUNE 2023 - NATIONAL DEBT IS POISED TO HIT £3 TRILLION WITHIN JUST TWO YEARS, EXPERTS WARN

EXCLUSIVE: Britain's gross national debt reached £2.5trillion pounds at the end of last year with economists warning the UK's debt to GDP ratio has never been as high in peacetime.
The United Kingdom's national debt could rise to £3trillion within two or three years, an expert warned. The latest figures show the Government racked up debts totalling £2.5trillion at the end of 2022, equivalent to 101 percent of gross domestic product (GDP), according to the Office for National Statistics.

In the fourth quarter of last year alone net borrowing was £55.9billion, which is equal to 8.7 percent of GDP.

Dr Jo Michell, Associate Professor of Economics at the University of the West of England told Express.co.uk Britain's national debt will certainly reach £3trillion.

He added: "But it's difficult to predict exactly when. If there was another big shock like the 2008 crisis or the pandemic it could be in the next two or three years.

"In the absence of big shocks, I'd estimate between five and seven years - by 2030."

Professor Sambit Bhattacharyya, Head of Economics at the University of Sussex Business School, told Express.co.uk that Britain's national debt has never been as high in peacetime.

He said: "The UK's national debt is currently around £2.5trillion in real terms. It could rise to £3trillion over the next decade.

"The rate of growth of national debt depends on the state of the economy. A sharp recession next year would increase the rate of growth of national debt." [Borrowing to live, increases the carbon footprint of the country and the workers who have to work harder to pay more taxes, that the government are squandering - leading to global warming, the world over. A burden for children tomorrow.]

He added the UK's national debt relative to the size of its economy measured by its debt to GDP ratio is now over 100 percent.

Professor Bhattacharyya said: "It has never reached such high levels in peacetime. It was as high as 250 percent during the Second World War and around 150 percent during the interwar period of the 1920s and Great Depression of the 1930s."

UK general Government gross debt at the end of the fourth quarter of 2022 was 17 percentage points above the European Union average, ONS figures show.

If debt interest spending were a Government department, its departmental budget would be second only to the Department for Health and Social Care, according to the Treasury.

The national debt is the money a Government owes its creditors. The International Monetary Fund recommends national Governments maintain a debt to GDP ratio below 60 percent in order to preserve macroeconomic stability.

Greece recorded the highest gross debt in the EU in Q4 (171.3 percent) followed by Italy (144 percent), Portugal (113.9 percent, Spain (113.2 percent), France (111.6 percent) and Belgium (105.1 percent).

Germany, which has a slightly larger economy than the UK, has a much smaller national debt of 66.3 percent.

India, which has a comparable economy to the UK of about £3trillion also operates a significantly smaller national debt of (55.1 percent).

Professor Bhattacharyya said that while a debt volume of £3trillion is not a concern per se, a debt to GDP ratio of more than 100 percent. [In a properly managed, circular economy, the GDP would be 0 percent]

He added: "Debt to GDP ratio indicates the ability of an economy to service its existing debt."

The economist continued: "Disproportionate growth in the national debt relative to the size of the economy is unsustainable long term and has consequences for the strength of pound sterling, investments, inflation and economic growth.

"Unsustainable debt expansion is inflationary and would affect living standards. It would also affect the state of public finances and the Government's ability to borrow."

Dr Michell said prior to the 2008 financial meltdown, Britain's debt to GDP was around 40 percent but it rose to about 80 percent after the crisis. He added the last time debt to GDP was as high as that was in the 1960s.

He argued, however, that the £3trillion figure itself has no relevance with the main issues for the Government being whether it can easily issue new debt as needed and whether it can cover its interest payments.

The expert said: "Neither of these are currently causes for concern, but at some point, taxes will need to increase to cover Government spending given the current problems in health and social care, the ageing population and the need for significant investment to reach Net Zero."

Asked how high Britain's national debt can go before it really becomes a problem, Dr Michell said: "Nobody knows the answer to this question.

"It depends on willingness of investors to hold Government debt, on how fast the economy is growing and the level of interest rates: with high growth and low rates, a substantially higher debt would be sustainable, but with low growth and high interest rates, interest payments can become a large proportion of tax revenue.

"As long as Governments take a sensible approach - unlike the Truss Government - the national debt is unlikely to become a problem."

"We kept unemployment low and have provided the average family £3,300 in cost of living support this year and last, but debt remains too high.

"That's why we have a clear plan to get debt falling by being responsible with the public finances and growing the economy so we reduce the pressure we pass onto future generations."

The Treasury points to an Office for Budget Responsibility forecast which shows the Government will get the deficit down in every year of their forecast period – falling to the lowest level in more than 25 years by 2027/28.

Part of the national debt comes from the Government's cost-of-living support which has seen households receive £3,300 worth of help, partly funded by a windfall tax on oil and gas companies.

In last year's Autumn Statement, the Government announced a raft of measures aimed at restoring Britain's economic stability.

It said that without those decisions, debt would have been on an unsustainable path. [It still is, the rhetoric is toffee, counts for nothing, the same old promises from the same old school of thought.]

Policies outlined in the Spring Budget aim to keep the public finances on a sustainable path, with debt falling over the medium term. By Jon King


STATE OF THE NATION - The Green Party will have to work much harder if they are going to form an alliance with the Libdems in any general election. The results for the Greens in Wealden were staggering, as were the losses for the Conservatives with shamed leader Boris Johnson at the helm, lying to Parliament, lying to Queen Elizabeth and Lying to the electorate during his Big Red Bus campaign. How then was he voted in as Prime Minister, when so untrustworthy and demonstrably unreliable. Presumably, because of the under the table deals he was prepared to do. Covid fast track procurement fraud and cash for honours. When, in reality, he did not have a clue how to run the country, except to keep on borrowing, and building executive housing, so that the homeless, remained homeless, and the renting generation became extended to the next generation of slaves, to row Great Britain into yet more choppy water. With King Charles also coming under fire for his empty properties in a housing and cost of living crisis. The backbone of a nation is it's workforce. Those who physically carry the country forward with skills and services the ruling class shy from. It makes sense to reward workers with reasonable living conditions and equitable rewards. Not to enslave or shackle to the oars of financial servitude. To render them Galley Slaves, to the economic frauds so rampant in the UK. Thus, taxation in all forms needs to become totally transparent - so that the electorate can see what the governments, local and national are doing about the year on year deficit - doubtless fuelled by procurement fraudsters.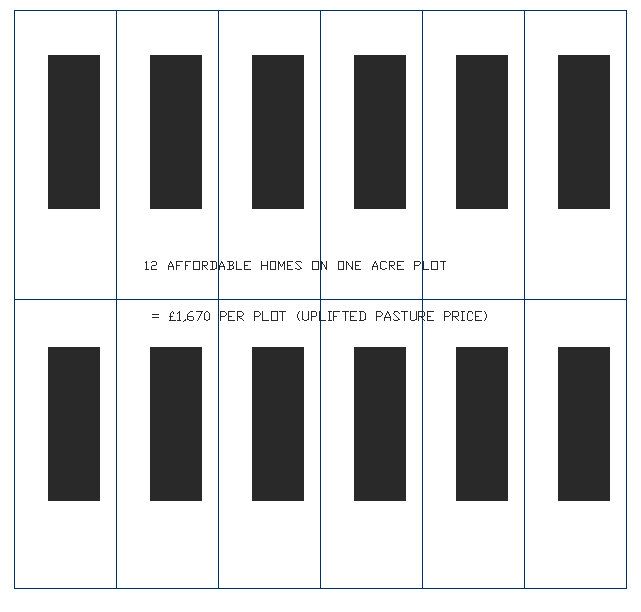 Unfortunately, simple solutions, like cutting the cost of living for millions of voters, with GENUINELY AFFORDABLE HOUSING - is something that eludes governments, once installed in power, they lose all incentive to change the political landscape to something more sustainable.
By way of example, the above diagram shows 12 building plots for 18' x 54' flatpack units - on a one acre site, to include parking, but not including an access road. Arable land is roughly £8-9k per acre. An uplift of 100% for compulsory purchase - on land earmarked for Low Cost Exceptions; self-build starter homes (NPPF). Sites thus acquired for villages, will yield plots for registered persons at around £1,670 per plot.
Now, this really is affordable stuff. Flatpacks are around £30-40k, with solar power, borehole/pump and waste treatment pack coming in well under £50k per home. Against which mortgage repayments are roughly £250 per month. And a reduction in Council Tax, to Band A, for those renting executive houses at over £9000 per month. Good news for the homeless, not so good for overpriced market dealers, and price fixing councils, who use their power to monopolize the planning system, to obtain higher rateable bandings - to pay their enhanced pensions. Such councils, dealing in human misery, might be deemed planning criminals, no better than King Charles II and his African Royal Trading Company, officially sanctioning slave trading.
Conservative cost-of-living crisis, National debt and Chancellor Jeremy Hunt
https://www.msn.com/en-gb/money/other/britain-could-suddenly-go-bust-as-national-debt-is-now-bigger-than-entire-economy/ar-AA1cRZCz
https://www.msn.com/en-gb/money/other/britain-could-suddenly-go-bust-as-national-debt-is-now-bigger-than-entire-economy/ar-AA1cRZCz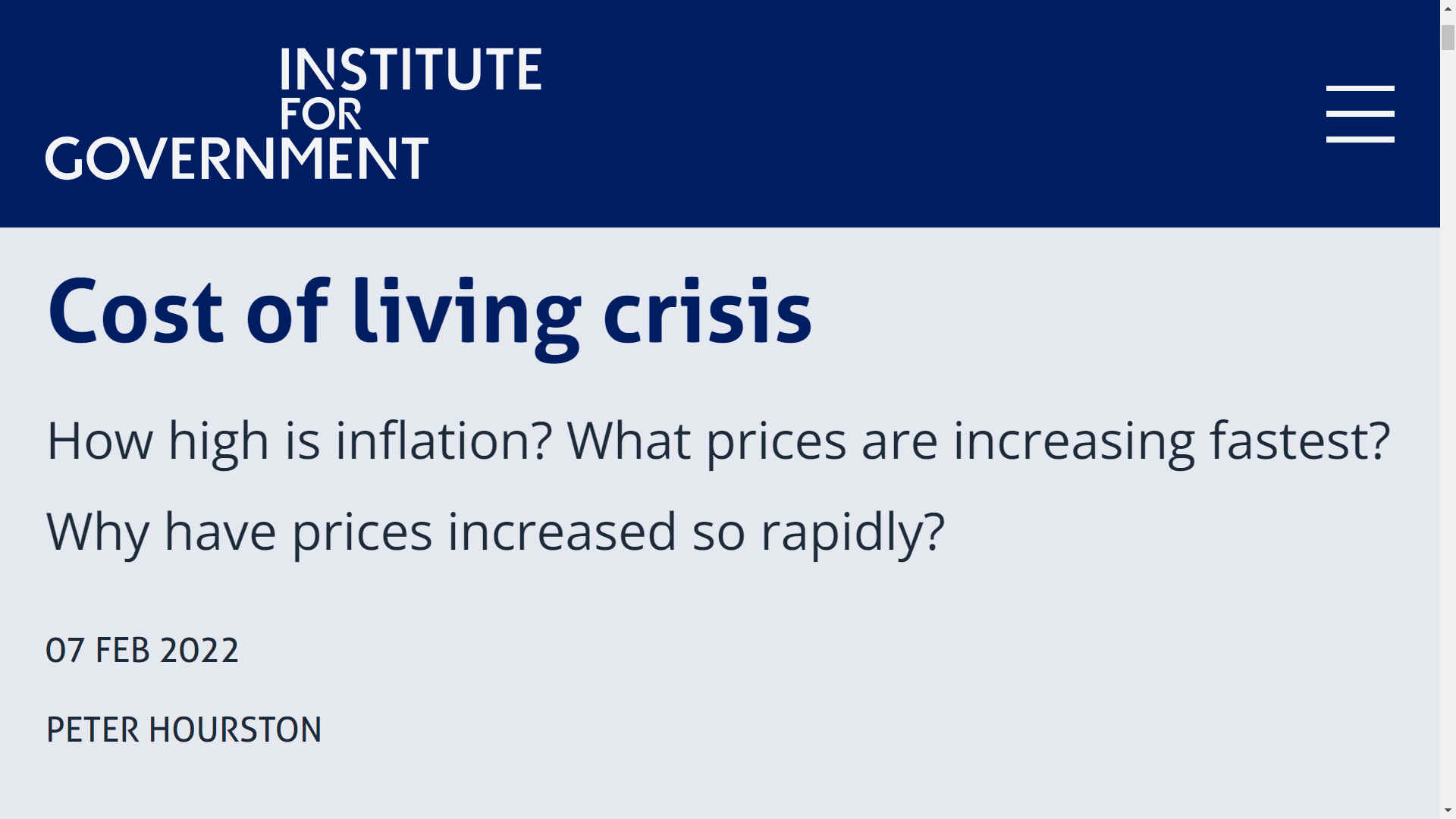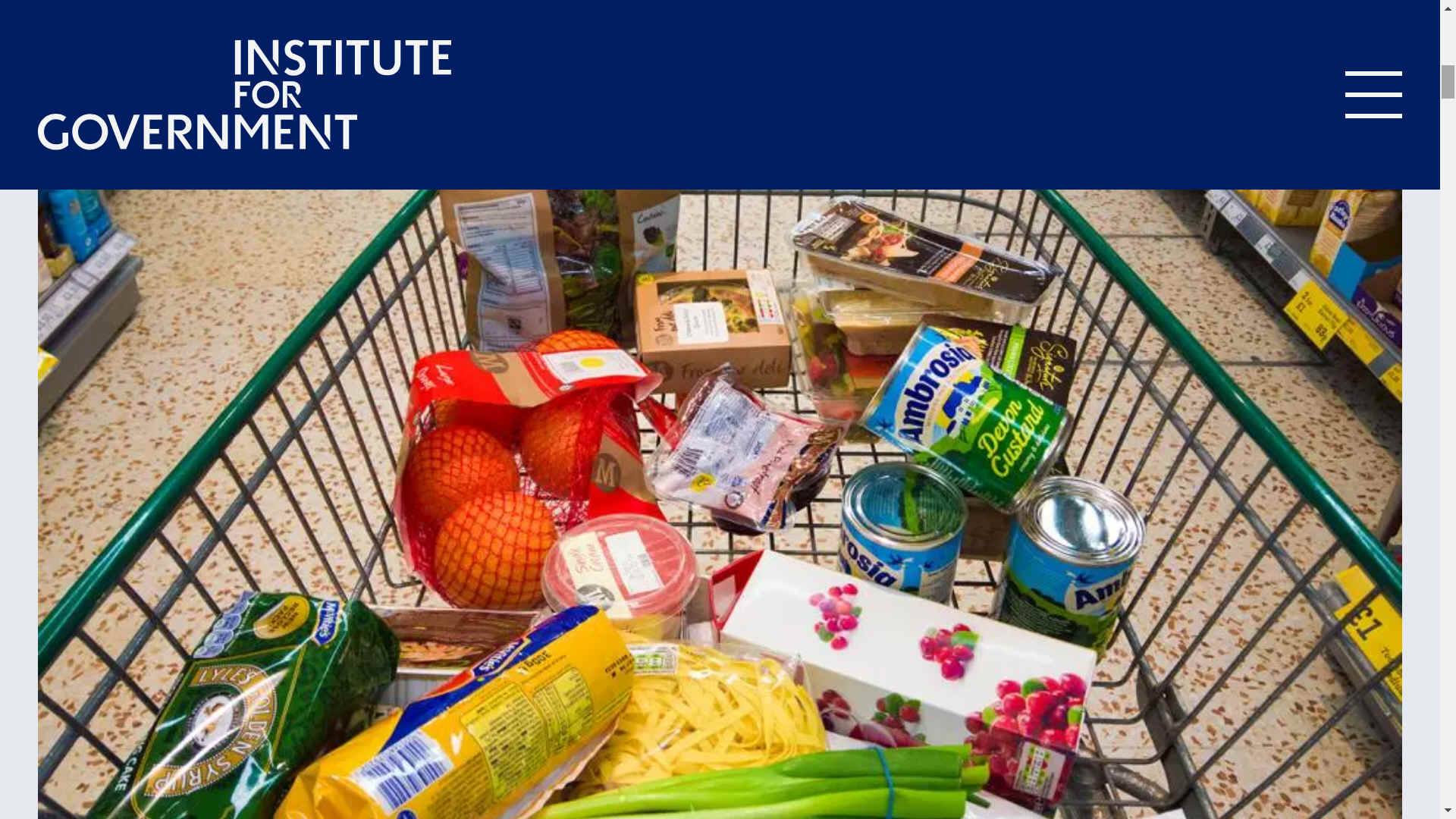 SOARING FOOD PRICES - Nothing is more alarming than doing a shop, and finding the prices have literally doubled overnight. Then coming home to find the government are saying inflation is running at 10%. Energy prices are also ridiculously high, even though the UK could be energy independent, if we harnesses our wind turbines more effectively. And we need to build more, with energy storage in batteries or as hydrogen, or hydrogen compounds.
One way of beating food prices is to grow your own vegetables, and plant an apple tree. Cherries and grapes also grow in the south of England. For EV's park and charging prices, need to be regulated, to stop profiteering from electric motorists. We need to transition to renewable energy for transport, as well as for home heating. All of these things can combine to reduce imports, and lower our national debt. Provided that politicians pull our belt in and stop strutting around pretending to be doing good. We need policy changes to speed our national recovery, not promises. The sad thing is, those in power do not have what it takes to make new statute to get things moving the right way.