STATE OF THE NATION - The Green Party will have to work much harder if they are going to form an alliance with the Libdems in any general election. The results for the Greens in Wealden were staggering, as were the losses for the Conservatives with shamed leader Boris Johnson at the helm, lying to Parliament, lying to Queen Elizabeth and Lying to the electorate during his Big Red Bus campaign. How then was he voted in as Prime Minister, when so untrustworthy and demonstrably unreliable. Presumably, because of the under the table deals he was prepared to do. Covid fast track procurement fraud and cash for honours. When, in reality, he did not have a clue how to run the country, except to keep on borrowing, and building executive housing, so that the homeless, remained homeless, and the renting generation became extended to the next generation of slaves, to row Great Britain into yet more choppy water. With King Charles also coming under fire for his empty properties in a housing and cost of living crisis. The backbone of a nation is it's workforce. Those who physically carry the country forward with skills and services the ruling class shy from. It makes sense to reward workers with reasonable living conditions and equitable rewards. Not to enslave or shackle to the oars of financial servitude. To render them Galley Slaves, to the economic frauds so rampant in the UK. Thus, taxation in all forms needs to become totally transparent - so that the electorate can see what the governments, local and national are doing about the year on year deficit - doubtless fuelled by procurement fraudsters.


DAILY EXPRESS 22 JUNE 2023 - BRITAIN COULD SUDDENLY GO BUST AS NATIONAL DEBT IS NOW BIGGER THAN ENTIRE ECONOMY

he UK has just hit a new and totally unwanted milestone as the country now owes more money than its entire economy is worth. And it's only going to grow as government borrowing continues to soar.

It's a major symbolic moment but one that is in danger of getting lost, as the cost-of-living crisis rages unchecked and homeowners panic over how they're going to pay their soaring mortgage bills.

The Conservative government continues to spend a lot more than the nation collectively earns, forcing it to fund everyday spending by borrowing money.

Heaps of it.

In May, the public sector spent £20billion more than it received in taxes and other income, forcing it to plug the shortfall by borrowing yet more money.

That's more than double the £9.4billion it borrowed in May last year, according to latest official date.

The only time we borrowed more in May was in 2020, during the first Covid lockdown, when then Chancellor Rishi Sunak splurged on furlough, PPE and a host of other pandemic one-offs.

Public sector net debt at the end of last month stood at a mind-boggling £2.567 trillion, which is 100.1 percent of the country's gross domestic product (GDP).

This is the first time it has topped 100 percent since way back in March 1961, when we were still paying off war debt.

While the Office for National Statistics says the figure is "highly provisional" and may be revised, the direction of travel is clear.

National debt is poised to hit £3 trillion in just two years.

The only consolation is that a handful of countries are ahead of us, notably France, which has a government debt-to-GDP ratio of 111.4 percent, and Italy at 140.3 percent. [Mama Mia]

We've all grown so accustomed to the UK owing trillions that it's scarcely remarked upon, when we should be worried stiff.

Our rising debt mountain is getting ever costlier to service, as interest rates and gilt yields rocket. The cost is expected to hit an eye-watering this £115billion this financial year, according to the Office for Budget Responsibility (OBR).

That's more than the £112.5billion we spent on the state pension in the 2022/23 tax year.

So instead of boosting the state pension, slashing NHS waiting list or cutting taxes, we're paying a small fortune servicing our borrowing costs. [Insane policies, living on tick and in denial]

The UK is particularly vulnerable because much of our debt is linked to inflation, and the cost of it rises with prices.

Which you may have noticed are rocketing now.

The ONS blamed the rise in borrowing on increases to the state pension and state benefits such as universal credit and child benefit.

These all climbed by 10.1 percent in April to match increases in living costs.

Chancellor Jeremy Hunt pledged in his March budget to meet his fiscal rule of having debt falling as a proportion of the size of economy in five years' time. [Shades of Bojo, promises, promises]

We've heard it before. In every Budget since the financial crisis, the Chancellor of the day has set out optimistic debt redemption plans, but they're never achieved.

Taxes may be at a 70-year high - and set to rise even higher - but it's still not enough.

As the nation gets sicker and older, the shortfall will grow. We're a nation in denial. So are France, Italy and even the US, but that doesn't make it right.

There was even a trendy economic theory kicking around for a time claiming that debt isn't a problem and the UK can borrow as much as it likes.

Modern monetary theory (MMT) stated that governments can print and spend money limitlessly.

Deficits don't matter. Neither does the national debt. Central bankers can always print more money. [That's the danger of paper promises, there is no natural brake, leading politicians to believe that we can spend more than the planet can afford]

It had its adherents on the left who saw it as a licence to spend, spend, spend.

Yet Tory governments and the Bank of England are the ones who have been putting it into practice by borrowing billions and printing even more, to bail out first the bankers, then the rest of us.

We see the results as inflation rips out of control and the our debt grows and grows.

When a character in Ernest Hemingway's novel The Sun Also Rises was asked how he went bankrupt, he famously replied: "Two ways. Gradually, then suddenly."

Today, we're going bust gradually. Guess what bit comes next. By Harvey Jones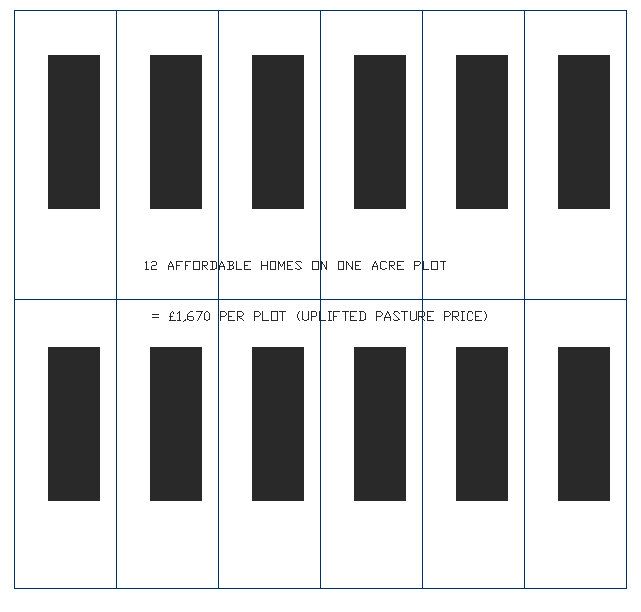 Unfortunately, simple solutions, like cutting the cost of living for millions of voters, with GENUINELY AFFORDABLE HOUSING - is something that eludes governments, once installed in power, they lose all incentive to change the political landscape to something more sustainable.
By way of example, the above diagram shows 12 building plots for 18' x 54' flatpack units - on a one acre site, to include parking, but not including an access road. Arable land is roughly £8-9k per acre. An uplift of 100% for compulsory purchase - on land earmarked for Low Cost Exceptions; self-build starter homes (NPPF). Sites thus acquired for villages, will yield plots for registered persons at around £1,670 per plot.
Now, this really is affordable stuff. Flatpacks are around £30-40k, with solar power, borehole/pump and waste treatment pack coming in well under £50k per home. Against which mortgage repayments are roughly £250 per month. And a reduction in Council Tax, to Band A, for those renting executive houses at over £9000 per month. Good news for the homeless, not so good for overpriced market dealers, and price fixing councils, who use their power to monopolize the planning system, to obtain higher rateable bandings - to pay their enhanced pensions. Such councils, dealing in human misery, might be deemed planning criminals, no better than King Charles II and his African Royal Trading Company, officially sanctioning slave trading.
https://www.msn.com/en-gb/money/other/britain-could-suddenly-go-bust-as-national-debt-is-now-bigger-than-entire-economy/ar-AA1cRZCz
https://www.msn.com/en-gb/money/other/britain-could-suddenly-go-bust-as-national-debt-is-now-bigger-than-entire-economy/ar-AA1cRZCz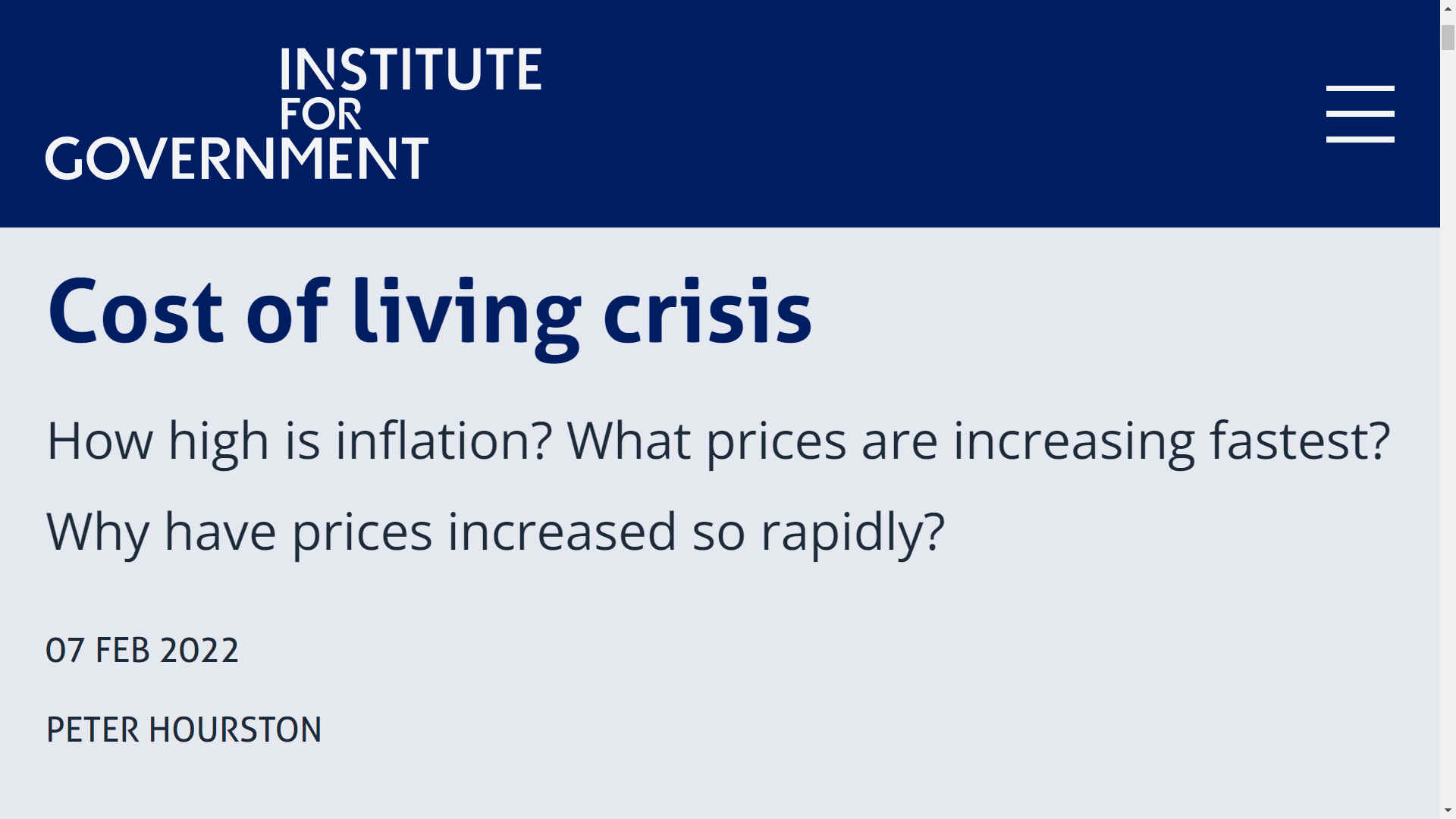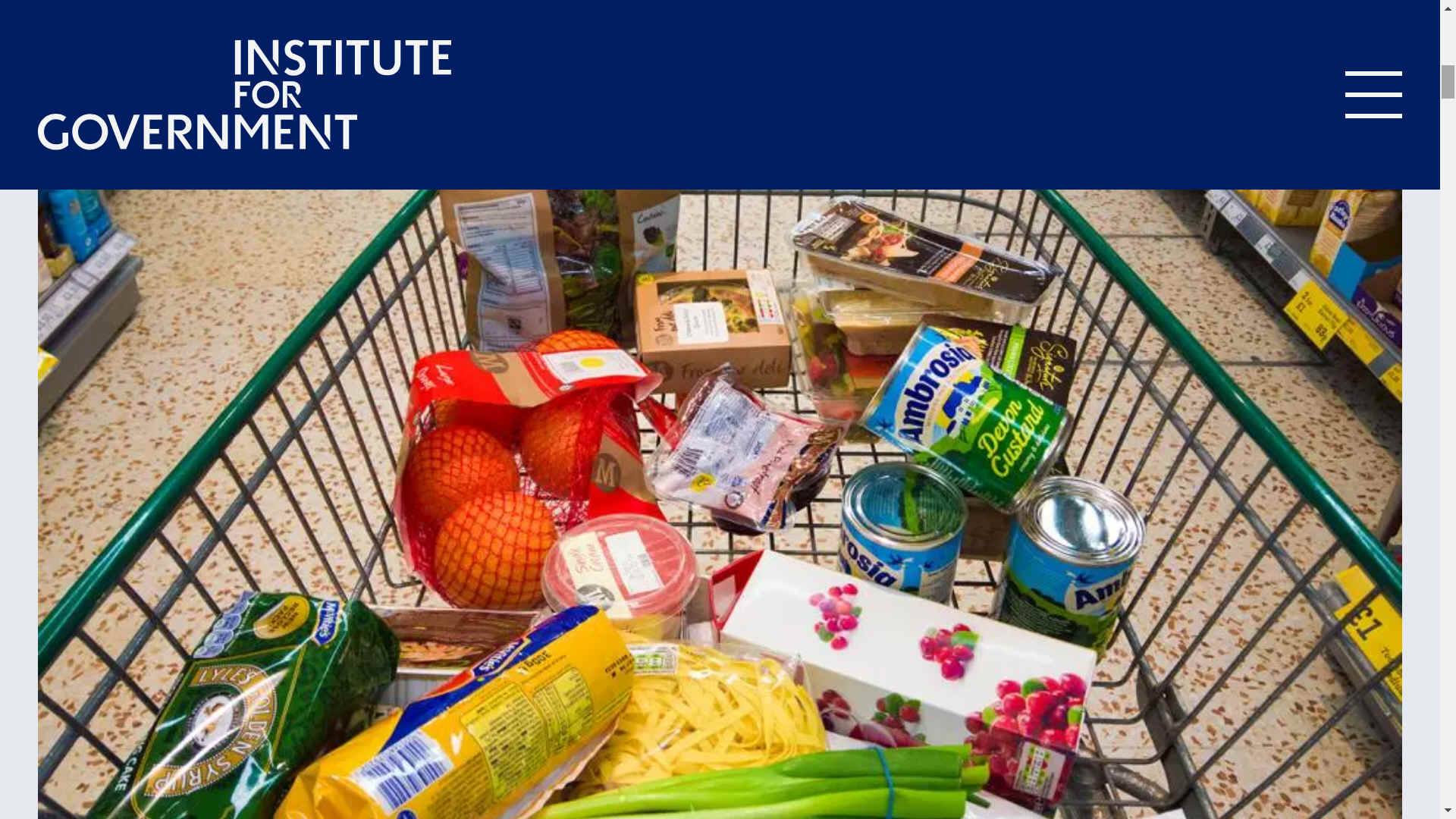 SOARING FOOD PRICES - Nothing is more alarming than doing a shop, and finding the prices have literally doubled overnight. Then coming home to find the government are saying inflation is running at 10%. Energy prices are also ridiculously high, even though the UK could be energy independent, if we harnesses our wind turbines more effectively. And we need to build more, with energy storage in batteries or as hydrogen, or hydrogen compounds.
One way of beating food prices is to grow your own vegetables, and plant an apple tree. Cherries and grapes also grow in the south of England. For EV's park and charging prices, need to be regulated, to stop profiteering from electric motorists. We need to transition to renewable energy for transport, as well as for home heating. All of these things can combine to reduce imports, and lower our national debt. Provided that politicians pull our belt in and stop strutting around pretending to be doing good. We need policy changes to speed our national recovery, not promises. The sad thing is, those in power do not have what it takes to make new statute to get things moving the right way.