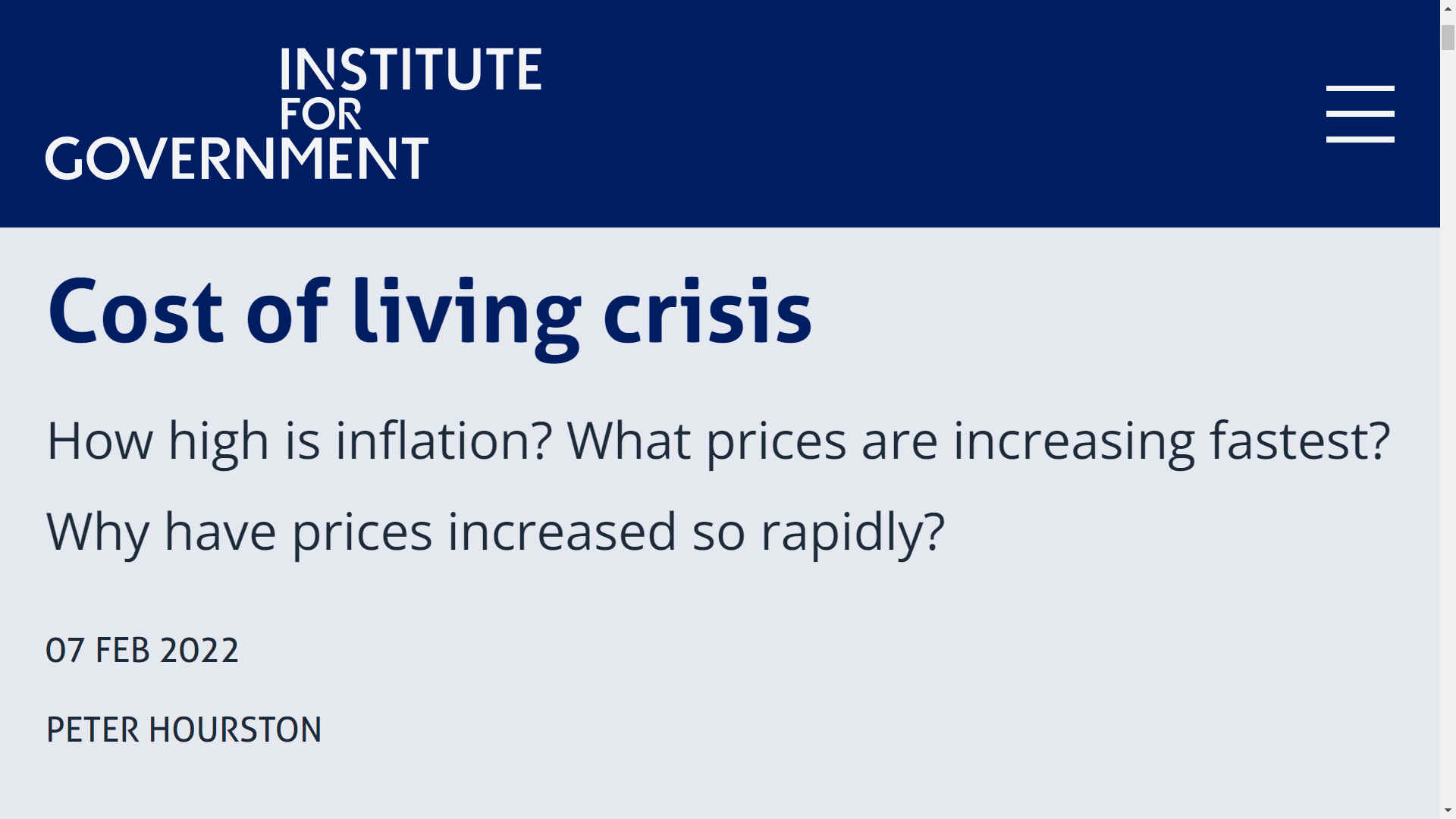 STATE OF THE NATION - The Green Party will have to work much harder if they are going to form an alliance with the Libdems in any general election. The results for the Greens in Wealden were staggering, as were the losses for the Conservatives with shamed leader Boris Johnson at the helm, lying to Parliament, lying to Queen Elizabeth and Lying to the electorate during his Big Red Bus campaign. How then was he voted in as Prime Minister, when so untrustworthy and demonstrably unreliable. Presumably, because of the under the table deals he was prepared to do. Covid fast track procurement fraud and cash for honours. When, in reality, he did not have a clue how to run the country, except to keep on borrowing, and building executive housing, so that the homeless, remained homeless, and the renting generation became extended to the next generation of slaves, to row Great Britain into yet more choppy water. With King Charles also coming under fire for his empty properties in a housing and cost of living crisis. The backbone of a nation is it's workforce. Those who physically carry the country forward with skills and services the ruling class shy from. It makes sense to reward workers with reasonable living conditions and equitable rewards. Not to enslave or shackle to the oars of financial servitude. To render them Galley Slaves, to the economic frauds so rampant in the UK.

INSTITUTE FOR GOVERNMENT

What is the cost of living crisis?

The 'cost of living crisis' refers to the fall in 'real' disposable incomes (that is, adjusted for inflation and after taxes and benefits) that the UK has experienced since late 2021.
A crisis, is a reflection of poor management of the country: this is the fault of the government of the day. Not dealing with running the country, but more worried about consultancy fees, and cash contributions for titles.
It is policies that controls the nations, with statute and other rules to ensure that energy and food are supplied at the right prices. Food is down to agricultural and fisheries policies - with Michael Gove in the mix of late, there was little hope of advancement. Energy was either oil and gas, with the tantalising prospect of hydrogen and low cost electricity. But, the Conservatives will/would not give tax breaks to renewables, all the while they have/had their hands in the pockets of the oil cartels.
And we don't produce as much timber locally as we might, if only we'd plant more trees. Sailing fleets of old depended on home grown oak. Now a rarity, that could be replaced with softwoods.
Idiots just borrow more, instead of creating renewable energy policies

The government has responded to the crisis with several packages of support throughout this and last year, in 2022/23 household income support totaled £59.8bn and it is forecast to spend a further £21.5bn for 2023/24. The latest updates on support were announced in the Spring Budget, including an extension of the Energy Price Guarantee (EPG), however, the recent fall in the energy price cap means this support will now end. Despite extensive government support, household incomes are not keeping up with living costs and are not expected to return to 2021 levels in real terms until 2027.

How high is inflation?

Inflation is calculated as the average change in the price of typical goods and services purchased by UK households over 12 months. This is tracked using the Consumer Price Index (CPI), massaged by the Office for National Statistics using a sample of 180,000 prices of 700 common consumer goods and services. The latest data has the current CPI at 8.7% in the 12 months to April 2023. The Bank of England aims to keep the CPI rate of inflation at 2% plus or minus 1% (i.e. between 1% and 3%) and adjusts interest rates to achieve this.
They are obviously not taking mortgage interest rates into account. Or, we'd be looking at 50-100% inflation.
They are not looking at changing policies. Policy changes via statute, could help stop council's wasting public money on vendettas. Especially those affecting assets of potentially international importance, such as Herstmonceux Museum.

How is inflation expected to change in the coming months?

Since inflation peaked at 11.1% in October 2022 the rate has been gradually coming down, although it spiked up a little in February. The latest forecasts from the Bank of England and the Office for Budget Responsibility both expect inflation to fall sharply this year, but the latest forecast from the Bank implies it will not return to the 2% target until 2024. Additionally both forecasts project an over-correction that leaves inflation below 1% until 2026.

Which prices are increasing fastest?

A rapid increase in energy costs, caused by a rise in the wholesale price of gas, has been a key driver in the increases in the price level since February 2022. Housing and household services (which include electricity and gas) as well as food and non-alcoholic beverages, made the largest annual contribution to CPIH inflation in April.

Had the government not intervened with the Energy Price Guarantee, capping the unit cost of electricity and gas, an average household's energy bill would have increased to over £4,000. Energy prices have been more expensive than in previous years. For example, based on typical consumption levels, the average annual gas bill in 2022 was £1,100, nearly double 2021 costs of £600.

Energy have begun to fall with wholesale prices being their lowest since Spring last year. This is reflected in Ofgem's latest price cap which has been set to an annual level of £2,074 for an average household.5 This is now below the EPG's £2,500 cap which will end 1 July.

Price increases have become increasingly broad based over the course of this and last year. On the lower end items such as second had cars and plumbing services increase by 1% between April 2022 and 2023 while items such as whole milk and pasta have increased by over 26%.6

Why are prices increasing rapidly?

Cost pressures have been apparent since mid-2021, driven by a range of issues from depleted gas supplies in Europe to semiconductor shortages in Asia. Impacts from the pandemic alongside disruptions to global supply chains also increased prices.

The main contribution to higher prices has been the Russian invasion of Ukraine. Many international companies have permanently ceased operations in Russia either to comply with economic sanctions or due to reputational risk. The war has led to a shortage of Ukrainian exports such as essential car parts which has pushed up prices of second hand cars. Agricultural commodities, such as grain and sunflower oil, are the majority of Ukrainian exports, the disruption of which has contributed to increases in global food prices.

The biggest impact has been on gas prices, as Russia has dramatically reduced gas sales to Europe. Although the UK imports only around 13% of its total fuel (oil, gas, LNG, electricity) from Russia, it is still vulnerable to any disruption to the supply of energy to the EU, which is more reliant on Russia for its energy. Due to the integration of energy markets, UK and EU gas and electricity prices move together. The recent announcement by the European Commission to phase out EU imports of Russian oil will likely push up prices in other markets the UK uses, such as Norway and Qatar. Gas is an important source of energy in the UK: nearly 80% of households in England are heated by mains gas and a third of electricity is generated in gas power stations.

Are incomes increasing as quickly as prices?

On the whole, no. Inflation is outstripping increases in nominal wages so incomes will fall in real terms. Wage growth since summer 2021 year has not sufficiently kept pace with inflation, between January and March 2023 the average growth in total pay was 5.8%.

The OBR expects nominal earnings to increase by 5% over 2023 but again inflation is expected to erode these earnings despite its anticipated downward turn. Real household disposable income (RHDI), which measures total household earnings (such as wages and benefits) after tax and accounting for inflation, fell by 2.5% in the 2022 calendar year and is expected to fall by another 2.6% in 2023.

Households receiving a part of their income from the government, through working age benefits or the state pension, see their incomes uprated each year. These were uprated by 10.1% in April 2023 as this was the CPI inflation rate last September, which is the usual reference month used to determine annual uprating. In April 2022, they increased by only 3.1% as that was the inflation rate the previous September.

Alongside the EPG and previous government measures, the one-off Cost of Living Payments 2023/24 are offering more targeted measures to support the most vulnerable. This approach risks leaving some gaps and cliff-edges in support: the means-tested £900 government support is fully available to those entitled to it but anyone just above the threshold receives nothing.

Which households are worst affected by the cost of living crisis?

Some households face a higher effective inflation rate because they spend a higher share of their income on energy and food, the prices of which are increasing fastest. On average, poorer households spend more of their income on these essentials. Based on November ONS price data, the Resolution Foundation estimates that the inflation rate for the poorest 10% of households is 12.5%, in contrast, it's 9.6% for the richest 10%.12 Furthermore, richer households who see big increases in the cost of the goods and services they buy may be able to adapt more easily, for example by reducing how much they save each month or changing spending on non-essentials.

The government is providing additional support to those on lower incomes through direct payments but the expected decline in real household incomes means poor households will continue to face hardships. For example, the Joseph Roundtree Foundation has reported that 75% of the bottom 20% of low-income households in the UK (4.3 million) have gone without essentials.

Overall, the worst-affected households are those on low incomes with higher-than-average energy bills (for example if they have a large family). While these households have received additional payments from government, these are not sufficient to match the increase in energy and other costs. The energy price guarantee provides a big benefit to this group, but on average they are still worse affected by the crisis.
What about rent and council taxes?
Most of the income for young families in rented accommodation, goes of paying landlords and councils, with water rates and sewage piling on the agony.
Affordable homes that are off-grid in energy and water/waste terms would be a real bonus, but council's don't want to help poorer families, they'd rather milk them dry, and then prosecute for debt. Without doubt, this is mental and physical torture. A from of modern slavery.
Council's have the power to provide land for low cost flatpack homes, but will not use their powers of compulsory purchase, or their income would reduce - and so too their kleptocratic empire building ambitions.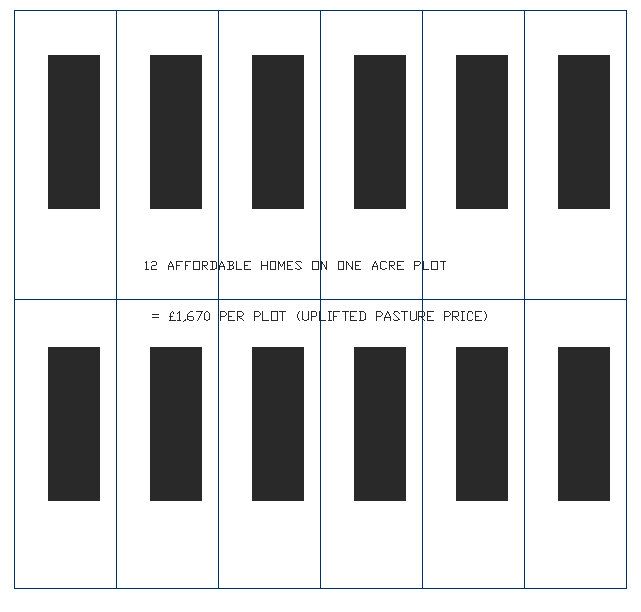 GENUINELY AFFORDABLE HOUSING - The above CAD generated diagram shows 12 building plots for 18' x 54' flatpack units - on a one acre site, to include parking, but not including an access road. Arable land is roughly £8-9k per acre. An uplift of 100% for compulsory purchase - on land earmarked for Low Cost Exceptions; self-build starter homes (NPPF). Sites thus acquired for villages, will yield plots for registered persons at around £1,670 per plot.
An acre can be any shape, so long as the area is 43,560 square feet, the size of a field one man can plough in a day with a horse. For local plans, longer thinner sites might meld better.
Now, this really is affordable stuff. Flatpacks are around £30-40k, with solar power, borehole/pump and waste treatment pack coming in well under £50k per home. Against which mortgage repayments are roughly £250 per month. And a reduction in Council Tax, to Band A, for those renting executive houses at over £9000 per month. Good news for the homeless, not so good for overpriced market dealers, and price fixing councils, who use their power to monopolize the planning system, to obtain higher rateable bandings - to pay their enhanced pensions. Such councils, dealing in human misery, might be deemed planning criminals, no better than King Charles II and his African Royal Trading Company, officially sanctioning slave trading.
How long is the cost of living crisis expected to last?

By 2024, living costs should be increasing by less than household incomes as inflation rates fall. But prices will remain high: inflation measures the change in prices over a 12-month period, and falling inflation only means prices are rising less quickly, not that they are falling.

Based on the latest forecasts, it will take a long time for household incomes to recover to their previous level in real terms. RHDI per person, a measure of living standards will not return to its 2021/22 level until 2027/28. And in that year living standards will still be below pre-pandemic levels in real terms, meaning that the effects of the cost of living crisis are likely to be felt for a long time.
THE INDEPENDENT 18 JUNE 2023 - THE TUNNEL HAS A GREAT VIEW IF YOU ARE INTO CONCRETE

Millions of people across the UK are struggling to meet their financial obligations as the cost of living crisis persists.

A Financial Conduct Authority study has put the total as high as 10 million, reporting a 3.1 million increase year-on-year and warning that many are having to choose between heating and eating and being forced to cancel insurance policies to make ends meet.

With inflation still in double digits at 10.1 per cent, the cost of goods in supermarket aisles and on high street shelves remains high – doubling in many cases, according to a recent survey from Which? – household budgets continue to be stretched after a long winter of sky-high energy bills.

And, while there is state support available to help those up against it on low incomes, several government initiatives that promised help throughout the winter, such as the Warm Home Discount and Cold Weather Payment schemes, have now ceased to apply, subsiding on 1 April with the changing of the seasons.

The government's Energy Bill Support Scheme, introduced by Rishi Sunak during his time in 11 Downing Street last year, has also now wound up, dishing out the final £67 instalment of its £400 total in late March.

Below, we look at what support is available to households this June.

Extra £1,350 of support being paid out

Despite the expiration of the Energy Bill Support Scheme, millions of households on low incomes will nevertheless receive further cost of living support from the government this year worth up to £1,350 in total.

Eight million eligible means-tested benefits claimants, including people on universal credit, pension credit and tax credits, will receive £900 in instalments from this spring, with the money going directly to bank accounts in three payments, the Department for Work and Pensions (DWP) has said.

There will also be a separate £150 payment for more than six million people with disabilities and an extra £300 for over eight million pensioners.

Here are the payment windows that have been announced so far, with more precise dates expected later in the year:

£301 – First cost of living payment – already issued between 25 April and 17 May (or 2 to 9 May for people on tax credits but no other low-income benefits)
£150 – Disability payment – during summer 2023
£300 – Second cost of living payment – during autumn 2023
£300 – Pensioner payment – during winter 2023/4
£299 – Third cost of living payment – during spring 2024
Energy Price Guarantee still in play

There was some good news in Jeremy Hunt's Budget of 15 March when the chancellor announced that the Energy Price Guarantee (EPG) – introduced by Liz Truss last September to ensure households paid no more than £2,500 for their electricity and gas, with the government subsidising the remainder owed to providers under Ofgem's Energy Price Cap – would be extended for a further three months.

Mr Hunt had reportedly been tempted to increase the EPG to £3,000, a considerably less generous offer that would have eased the burden on the state, but ultimately thought better of it, extending the guarantee into April, May and June.

"High energy bills are one of the biggest worries for families, which is why we're maintaining the energy price guarantee at its current level," the chancellor told Parliament in his Spring Statement.

"With energy bills set to fall from July onwards, this temporary change will bridge the gap and ease the pressure on families, while also helping to lower inflation too."

Without that help in place, the average household would have been paying an annualised bill of £4,279 between January and April but, because of the EPG, that was reduced to £2,500 with the government picking up the remaining £1,779.

Ofgem has since dropped the price cap by 23 per cent to £3,280 for the second quarter of the year, with Mr Hunt's decision meaning the public will continue to be shielded rather than pay that full amount while the state will be paying considerably less, more like £780 per household.

Benefits going out as usual

The usual state support in the shape of benefits and pensions payments will also be going out as usual in June, with no bank holidays scheduled to confuse delivery dates.

Anyone expecting to receive any of the following from the DWP can expect their money on the usual date this month.

Universal credit
State pension
Pension credit
Disability living allowance
Personal independence payment
Attendance allowance
Carer's allowance
Employment support allowance
Income support
Jobseeker's allowance

For more information on how and when state benefits are paid, please visit the government's website. Typically, money to settle these payments has been clawed in by Income Tax and National Insurance Contributions. Hence, reflect neutral in national accounts.
Income from corporations and other taxes such as Road Fund Licences, energy and food taxes, death duties, etc., give the government their budget. Which, unfortunately, they do not seem to understand too well. So, keep on borrowing, leading to inevitable bankruptcy and a £3trillion national debt.




https://www.independent.co.uk/news/uk/home-news/dwp-cost-of-living-payments-june-2023-b2359722.html
https://www.gov.uk/how-to-have-your-benefits-paid
https://www.instituteforgovernment.org.uk/explainer/cost-living-crisis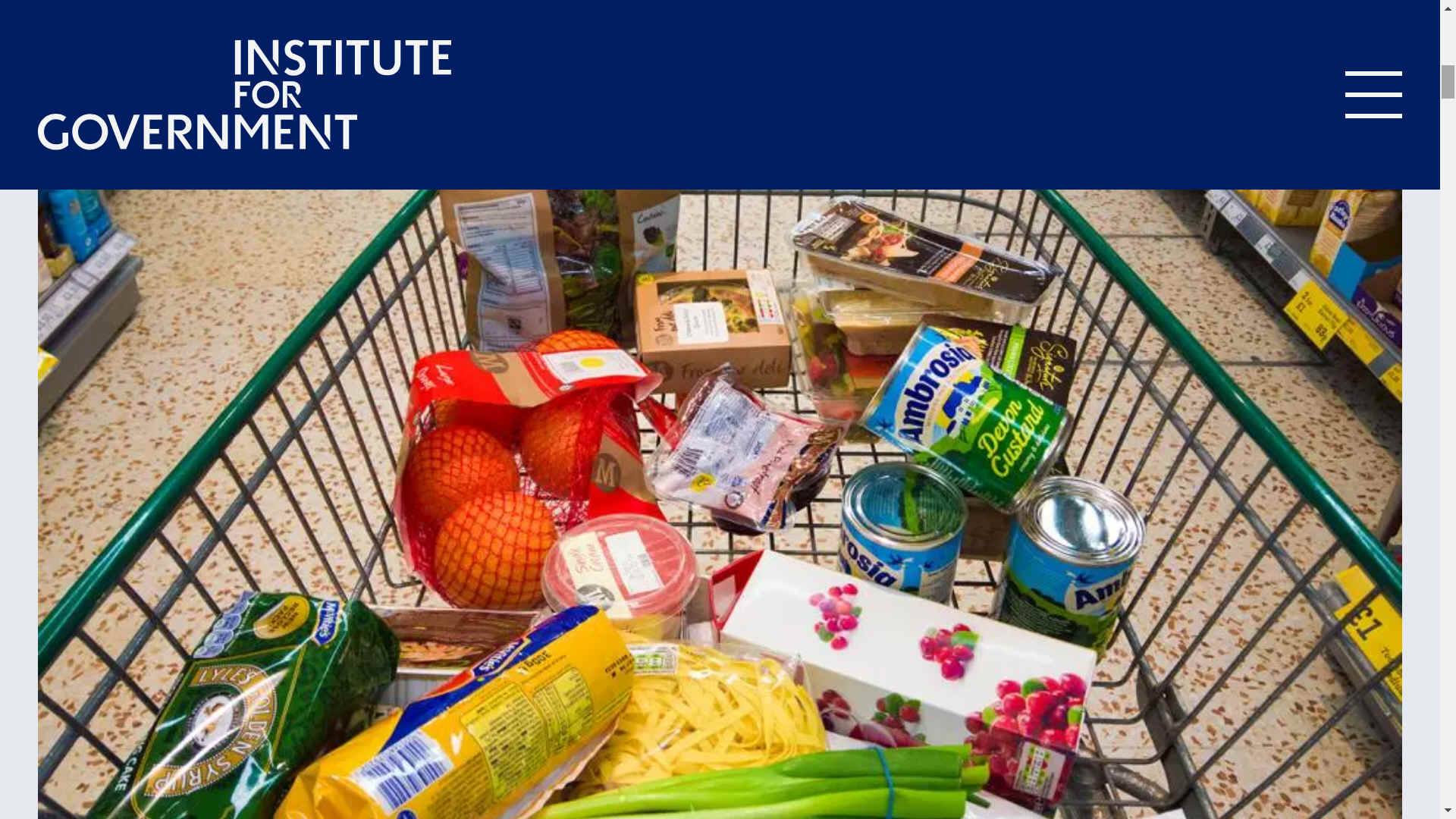 SOARING FOOD PRICES - Nothing is more alarming than doing a shop, and finding the prices have literally doubled overnight. Then coming home to find the government are saying inflation is running at 10%. Energy prices are also ridiculously high, even though the UK could be energy independent, if we harnesses our wind turbines more effectively. And we need to build more, with energy storage in batteries or as hydrogen, or hydrogen compounds.
One way of beating food prices is to grow your own vegetables, and plant an apply tree. Cherries and grapes also grow in the south of England. For EV's park and charging prices, need to be regulated, to stop profiteering from electric motorists. We need to transition to renewable energy for transport, as well as for home heating.