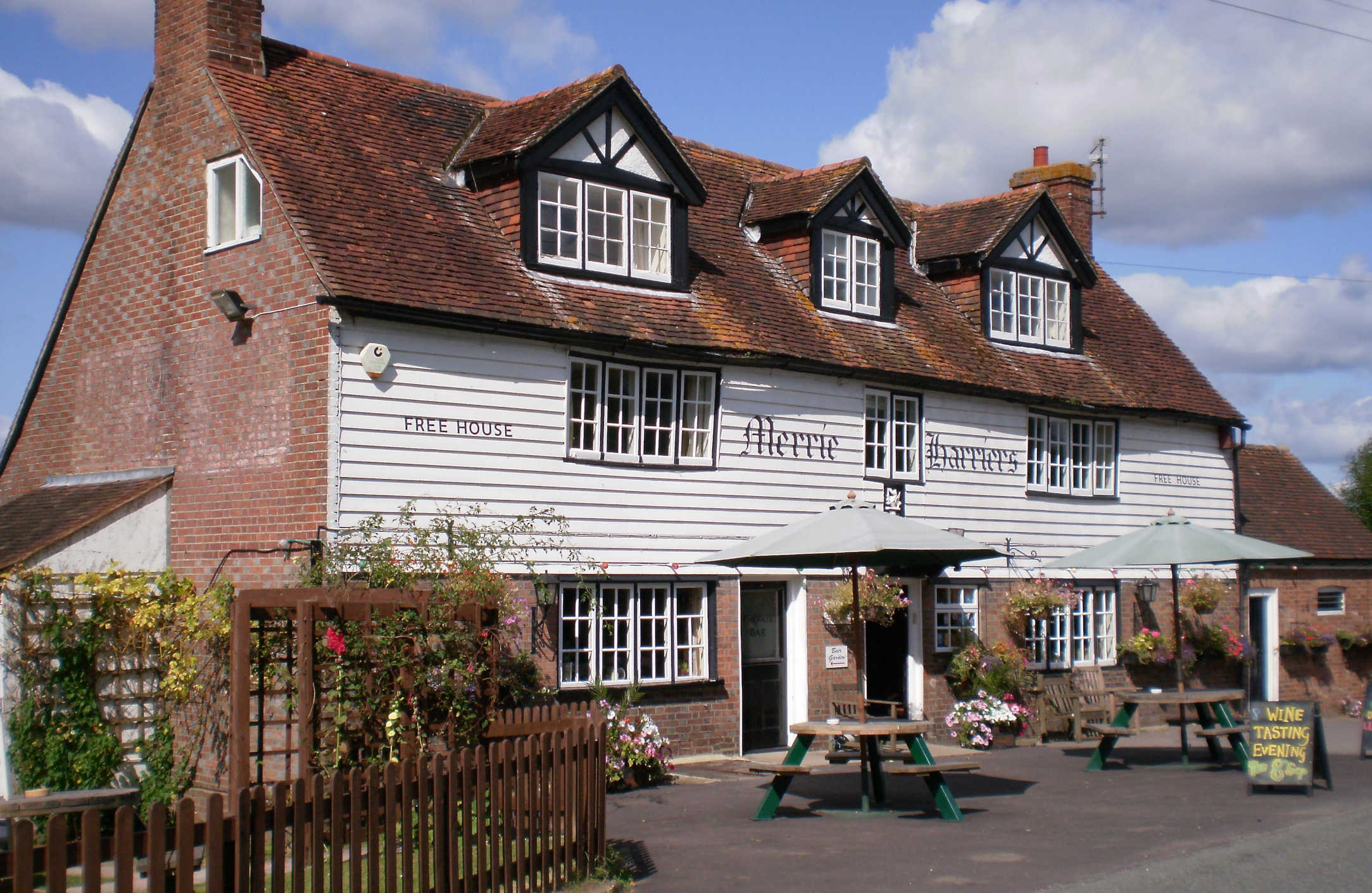 The Merrie Harriers at Cowbeech, received mixed reviews
The Merrie Harriers

175 reviews#20 of 34 Restaurants near Herstmonceux - £ Bar British Pub

Cowbeech Beech Road, Cowbeech, Hailsham, BN27 4JQ England From Herstmonceux, proceed up West End to Stunts Green, then turn right at triangle onto Cowbeeech Road.
+44 1323 833108 E. themerrieharriers@hotmail.com

The Merrie Harriers is a family run business, located in the village of Cowbeech. They source quality produce with honesty and integrity, guided by seasonal change and a commitment to the local community.

The sixteenth century interior embraces a spacious bar area and restaurant that stocks fine wines and local ales, including Harvey's Best Bitter which is always on tap, and other well known ales from other Breweries. The patio and expansive beer garden is set within an area of outstanding natural beauty with far reaching views over the Sussex countryside. In the autumn they have two great log fires to enjoy on a cold winters day.
It's a couple of minutes by car to Herstmonceux village, south, or to Furnace Brook, in the other direction, north-east.

OPENING HOURS

Monday - Closed Except Bank Holiday then Sunday Hours
Tuesday - Closed
Wednesday 12.00 - 2.30pm Food Till 2.00pm
Evening 6.00pm - 9.00pm Food Till 8.30pm
Thursday 12.00 - 2.30pm Food Till 2.00pm
Evening 6.00pm - 9.00pm Food Till 8.30pm
Friday 12.00 - 2.30pm Food Till 2.00pm
Evening 6.00pm - 9.00pm Food Till 8.30pm
Saturday 12.00 - 2.30pm Food Till 2.00pm
Evening 6.00pm - 9.00pm Food Till 8.30pm
Sunday 12.00- 6.00pm Food Till 3.00pm


SAMPLE MENU

STARTERS

Potted Ham Hock Terrine | £6.95 - Served with piccalilli & crusty ciabatta
Devilled whitebait | £6.95 - Served with garlic aioli
Crispy Vegan Parmesan & Red Pepper Arancini | £6.95 - Served with arrabbiata rocket pesto (V) (VG)
Homemade Smoked Haddock Scotch Egg | £7.95 - Served with lemon mayo & pea shoot salad
Assorted dips and olives | £8.95 (V) (GF) (GFA)
A mix of breads served with olives, oils & hummus
Garlic & Rosemary baked camembert | £12.95 (V) (GF) Served with red onion marmalade crusty ciabatta

HARRIERS CLASSIC MAIN COURSE

Harriers Homemade Pie of the day | £15.95 - Made with short crust pastry and served with creamy mash potato & fresh vegetables in a gravy.

Harvey's Beer batter fish & chips | £14.95 - With garden peas & tartare sauce.
Deep fried wholetail Scampi |£14.95 - Served with house salad & chunky chips

Merrie Harriers Sunday Roast - All roasts are served with roast potatoes, local seasonal vegetables, Yorkshire pudding &
a rich red wine jus

Roast Sussex reared beef | £16.50 - Served with Yorkshire pudding
Roast Sussex Leg of Lamb |£16.50 - Served with Yorkshire pudding
Roast Loin of Pork & crackling | £15.50 - Served with sage & onion stuffing, crackling & apple sauce
Roast Breast of Chicken | £15.50 - With sage & onion stuffing
Harriers Big Roast | £17.95 - 3 roasts of Sussex beef, Loin of pork, chicken breast. Served with sage & onion stuffing, crackling & Yorkshire pudding.
Chestnut roast | £14.95 (V) With a rich tomato & red pepper sauce & Yorkshire pudding.
Burgers gluten free on request.

VEGETARIAN

The Vegan Burger | £14.95 (VG)
Succulent plant-based burger In a Vegan bun, dressed
salad & vegan coleslaw with fries.
Vegetable Linguine |14.95 (V) (VG)
Vegan, Tomato & Roasted Mediterranean
(V)=Vegetarian | (VG)=Vegan | (GF)= Gluten free. If you have
any food allergies or dietary requirements, please let us know.

DESSERTS

All Puddings @ £6.95

Churros Spanish Doughnut with Cinnamon Sugar Served with Vanilla Ice cream & chocolate sauce
Lemon Posset Cheesecake With Blueberry & Almond Granola
Dark chocolate brownie with raspberry Coulis & Madagascan Vanilla ice cream (GF)
Vanilla Panna Cotta With Summer Berries Compote
Downsview Farmhouse Ice Cream (GF) £2.25 per scoop - Madagascar Vanilla, Strawberry, Chocolate
Mint Chocolate Chip, Honeycomb, Salted Caramel
Sorbets (GF) - Blood Orange, Lemon, Raspberry

If you have any food allergies or dietary requirements, please let them know
TRIP ADVISER REVIEWS
Curiosity97043 - Anniversary

I would have put zero in the review if it had allowed me to. It was definitely the worst meal we have ever eaten out. It was like a very badly overcooked school dinner. The whole thing was smothered in gravy, the broccoli was well past its use by date and had been boiled to within an inch of its life. The cabbage, soaked in gravy was also boiled till barely recognisable. The Yorkshire was overcooked and inedible. The chicken, frankly, tasted off. The roast potatoes were hard as rocks and were not roasted just barely boiled with oil on outside. For 18 pounds a head it was very unpleasant to say the least. We ate only less than 50%. When we paid the bill which we should not have done, in fact we should have returned it when it was delivered to the table, the young lady asked if everything was OK, we said no, we asked her did she want to know why and we told her. She said she would tell the chef and there was nothing she could do. We will be ringing Wednesday to speak to the manager. Date of visit: June 2022

CAAbcfc - Reviewed 23 May 2022
Irritated to say the least on this occasion....

Turned up for dinner having previously dined here superbly. Landlord promptly said his chef was away and his relief couldn't be bothered to turn up. Probably a rare occurrence but nevertheless disappointing for a customer who had driven out there specially to dine. Date of visit: May 2022

B4484PRjohns - Reviewed 8 May 2022
Can't fault The Harriers after eating 3 times there;

First time we were there as a foursome, for a Sunday lunch (Feb 27th) Brilliant roast, superb meat, beautiful veg, lovely home made Yorkshire.
Very impressed as this was our first visit there to what used to be our local 40 years ago. Then Mum passed away so we wanted somewhere for a family meal the evening after the funeral.
James, the landlord, was amenable and helpful from the word go and it turned into a roast and desert for 30 family (Friday 29th April). He gave us the garden room which was ideal.
The food lived up to all our expectations; a tough audience as 2 of the relatives have run their own cookery schools!
James and the staff were spot on with friendly service and the food all came out quickly, efficiently and piping hot.
The evening before this big event My wife and I also ate in The Harriers. (Thurs 28th Apr) On that occasion we both had Seabass on a Chorizo base. Very tasty.
For those who compare it to mass-market pubs, you stick with going to those, as the Merrie Harriers is definitely in a much higher league Date of visit: April 2022

977barbiec - Reviewed 18 December 2021
Disappointment with Xmas meal

On Friday evening , myself and four friends went for our Christmas meal at £ 29.50 a head !! The table was unlaid. (no table -cloth, No Mats , table was sticky , and also chipped in places.) The food was almost inedible, the vegetables NOT COOKED, ( left uneaten on the plate ) The starter ( Salmon ?? ) was also not up to a reasonable standard also . (Tasteless ) Pudding was only thing we all enjoyed ( Creme Brûlée ) Without doubt we will not be using this facilities EVER AGAIN . We have experienced of good Christmas meals locally. Date of visit: December 2021

James C, Owner at The Merrie Harriers, responded to this review Responded 22 December 2021

Hi there, We sincerely apologise for your experience here at the Merrie Harriers. As a traditional country pub we have never used table cloths or mats and unfortunately can't help our wooden tables being chipped. We never like to have any of our customers leave...

beachbumEastSussex - Reviewed 18 November 2021
lunch with friends

The Guinea fowl was as good as you could get in a top restaurant The pie was a "proper pie " fantastic with lots of gravy Fish and chips were excellent Must say we could not fault the food Date of visit: November 2021

X7094DAjanetm - Reviewed 22 October 2021 via mobile
Lovely village pub

Staying in the area and the owners recommended this pub. Wasn't disappointed food was excellent and good portions, beers good and relaxing location. Visited twice. Keep up the good work. Date of visit: October 2021

Jo D - Reviewed 2 July 2021
Friday night dinner

Friendly and welcoming manager and staff, comfortable spacious pub and all COVID measures in place, felt very safe. Menu a good mix of traditional and a little out of the ordinary, all well cooked generous and delicious. Steaks tasty and good quality. Being dog friendly. Date of visit: July 2021

Cidermonster - Reviewed 1 July 2021 via mobile
Really nice Sunday lunch

Went here for Sunday lunch when staying at a local cottage for the weekend, to be honest we only went because it was in walking distance and we fancied a drink but we really enjoyed it. It's a proper old village pub with lovely staff. Date of visit: May 2021
Eastern Promise
Geo's Coffee House
The Merrie Harriers
The White Horse Inn
Willows Fish And Chip Shop
See our A - Z of places to stay local to Herstmonceux


In and around Herstmonceux village in East Sussex, there were eight places to whet your whistle, until recently, when the Horseshoe Inn closed, the owners of the site, presumably, suffering from Covid 19, have taken the opportunity to bulldoze this landmark public house and restaurant, and build houses that are not affordable or sustainable, and will inevitably lead to more congestion along the A271. Given the almost total lack of affordable housing in Wealden, it may have been more appropriate to convert the existing buildings to social housing, flats, etc., with a significantly reduced carbon footprint. What a climate and traffic congestion catastrophe Herstmonceux is becoming from over development, the district and parish councils packing us in like sardines in a can - as kleptocratic empire builders - but not providing us with proportionally better services. And as for the potholed roads! Getting to Herstmonceux by road is a nightmare. The 'Woolpack' has also closed, now given over to yet more accommodation, without associated parking.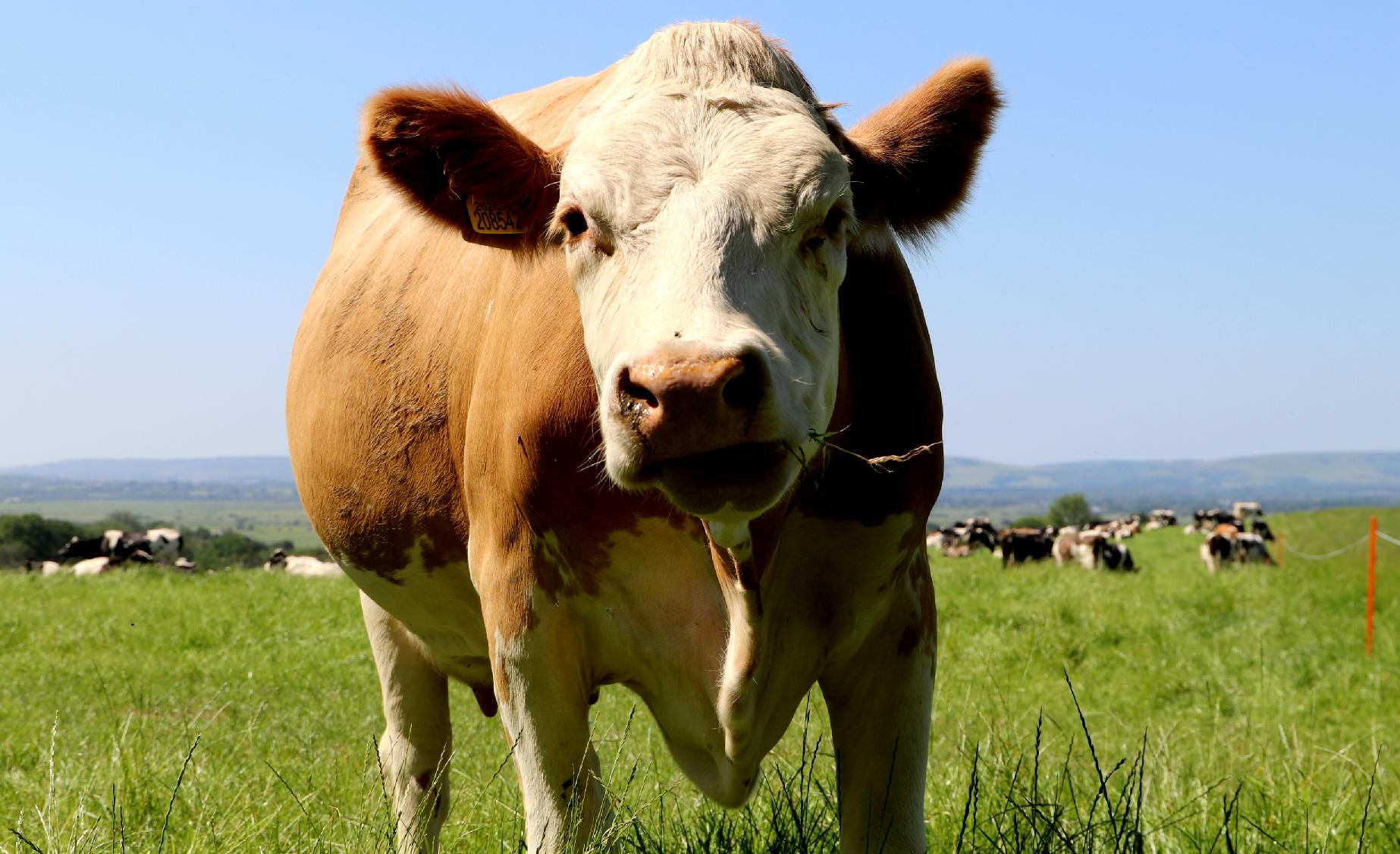 FOR THE CHOP - Give us a break, why not be a vegetarian. Red meat is not conducive to a long healthy life. If you saw how cattle are slaughtered, you'd probably be scarred for life. So called, humane butchery, is still killing and chopping up animals for food, like burgers and sausages, that could be made from soya and other high protein plants. Pescetarians fare better, in living longer, but with fish now tainted from plastics, we wonder if Japan will still have so many centegenarians in years to come, as cancer rates begin to creep up.
SUSTAINABILITY - FOOD SECURITY
Fish stocks on the south coast of England are seriously depleted. Seaweed, the oxygenator of the ocean, equivalent of the Amazon rainforest, has been trawled up (illegally) by local fishermen, forcing the creation of conservation areas - that are unfortunately - not well policed. Micro plastics and other fibers have entered the seafood chain along the English Channel via river pollution, with Chichester being one of the worst affected areas from the GRP manufacturing and boat building industries. Fish and shellfish, such as crabs, lobsters, mussels, shrimps, oysters and prawns, are shown to have micro plastic in the gut. Plastic is like a sponge to carcinogenic toxins in the ocean.
Then there is acidification and anthropogenic warming of the oceans, also reducing fishery output.
To add to that we have desertification, where once arable land has been turned into deserts from climate change, from the burning of fossil fuels in cars and trucks, heating of homes with gas and oil, and rearing of animals that produce methane, to feed a growing world population.
Strangely, much of the seafood that you are likely to eat locally, will be imported. Especially white fish from fish and chip shops. But we have to eat, or starve. There is always the Hannibal Lecter cookery book, if all goes pear shaped, with politicians first on the menu. Sustainability and the 'Blue' or Circular Economy, not being high on the agendas of local authorities. Though we now have towns that are certified Plastic Free, such as Eastbourne. Thanks to the sterling efforts of Oliver Sterno and his crew, and many more teams around the country who organise beach cleaning, and certification of local businesses, under the Surfers Against Sewage banner.
So please eat responsibly. If you can't finish your meal, ask for a doggy bag. Don't waste food. Even better, consider going veggie, or vegan. Or at least try to cut down on your meat intake, with no meat Mondays. Having said that, what is life without the occasional celebration. It's just good to be alive, unlike the dinosaurs, mammoths and even rhinos, that once roamed the British Isles. We killed off such mega-fauna, when we hunted them to extinction, and began farming domestic animals. Mooooo, baaaaa.
Pescetarians tend to live longer than meat eaters. Vegans are also healthier as with Vegetarians who are helping to save the planet, while also staying fit and strong. In a village like Herstmonceux, you are not going to get these choices. But there is good food available locally, if you are exploring the Sussex delights.
FOOD LINKS & REFERENCE
https://www.themerrieharriers.co.uk/