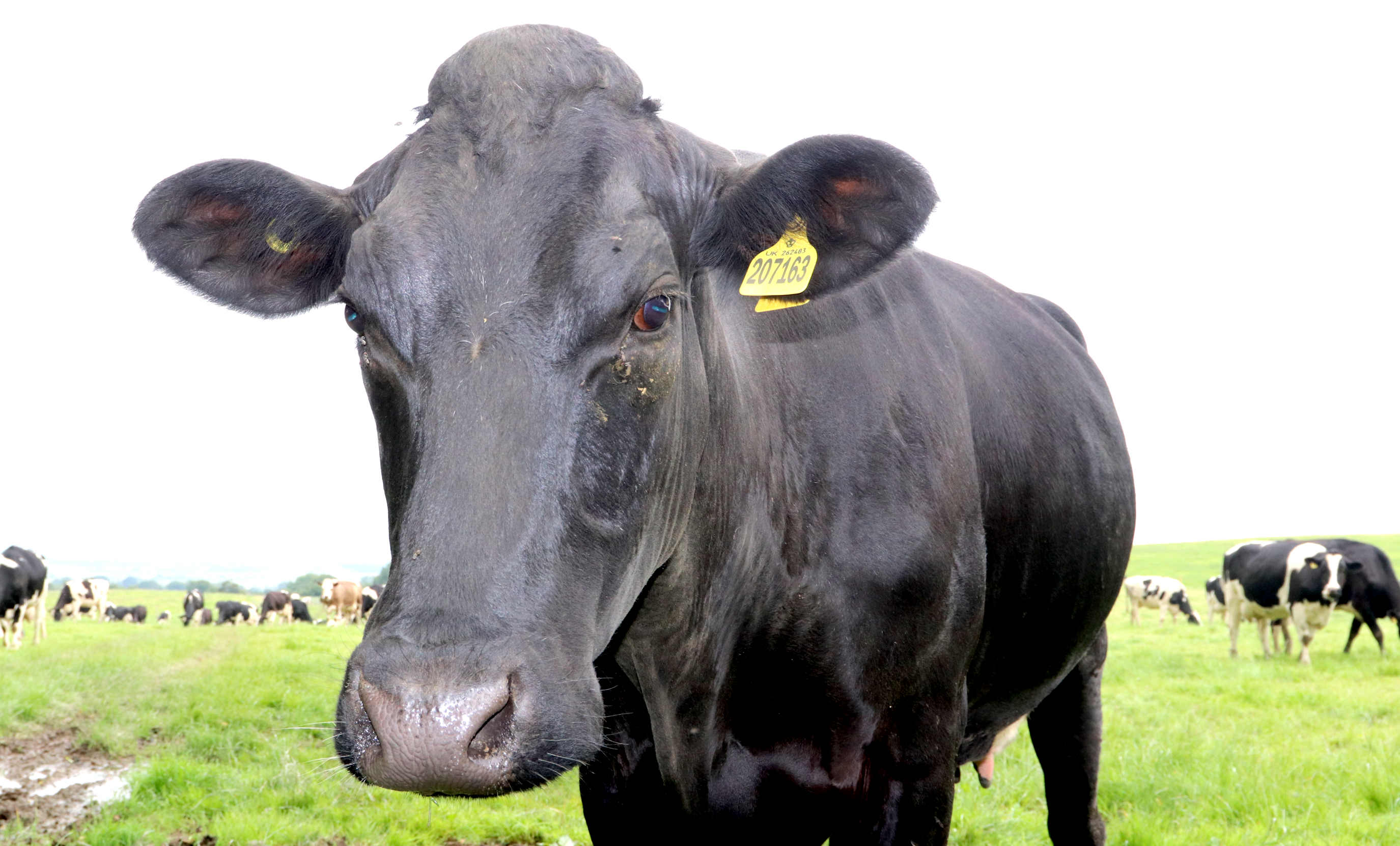 JILL THE DAIRY COW SAYS: - Hey, don't you tell me when I need to do something. Do you know who you are talking to? I am above the law sucker. You can take that awful looking electricity generating building in the field across the way and stick it up your rear end. See if I care about conserving our heritage. I'll do what I want, and you can't stop me, no matter my actions may put the building at risk. So there. But then, I'm only a cow chewing the cud in a close by pasture. Presumably, human applicants would want to protect evidence of their past, for future generations, no matter the industrial landscape is less palatable to ruminants. If I ever come back in another form, I hope I have two legs and opposable thumbs. Then we'll see. I might get a job with the council. I hear they are in the pooh in a big way, having been caught discriminating against some of the residents in their area, for the benefit of others. I'd feel right at home, even if I do let a package go occasionally. Nobody would notice with all the brown stuff hitting the fan from all that institutionalised bullshit. Cows don't violate Article 14, they just make milk, beef and leather from grass. Bovines have no human rights.
A heritage vandal is a person who individually, or working with others, conspires to cause harm to a historic asset. This may not be visible damage, and may just be failing to follow correct procedures, which has the effect of putting a structure with archaeological value at risk.
The kind of vandalism you'd normally encounter is graffiti, broken windows and smashed up bus shelters, etc. Occasionally, there are revenge attacks like damage to cars, and of course some of the most serious vandalism is arson, which still carries the death penalty in England, if it is in any of Her Majesty's shipyards.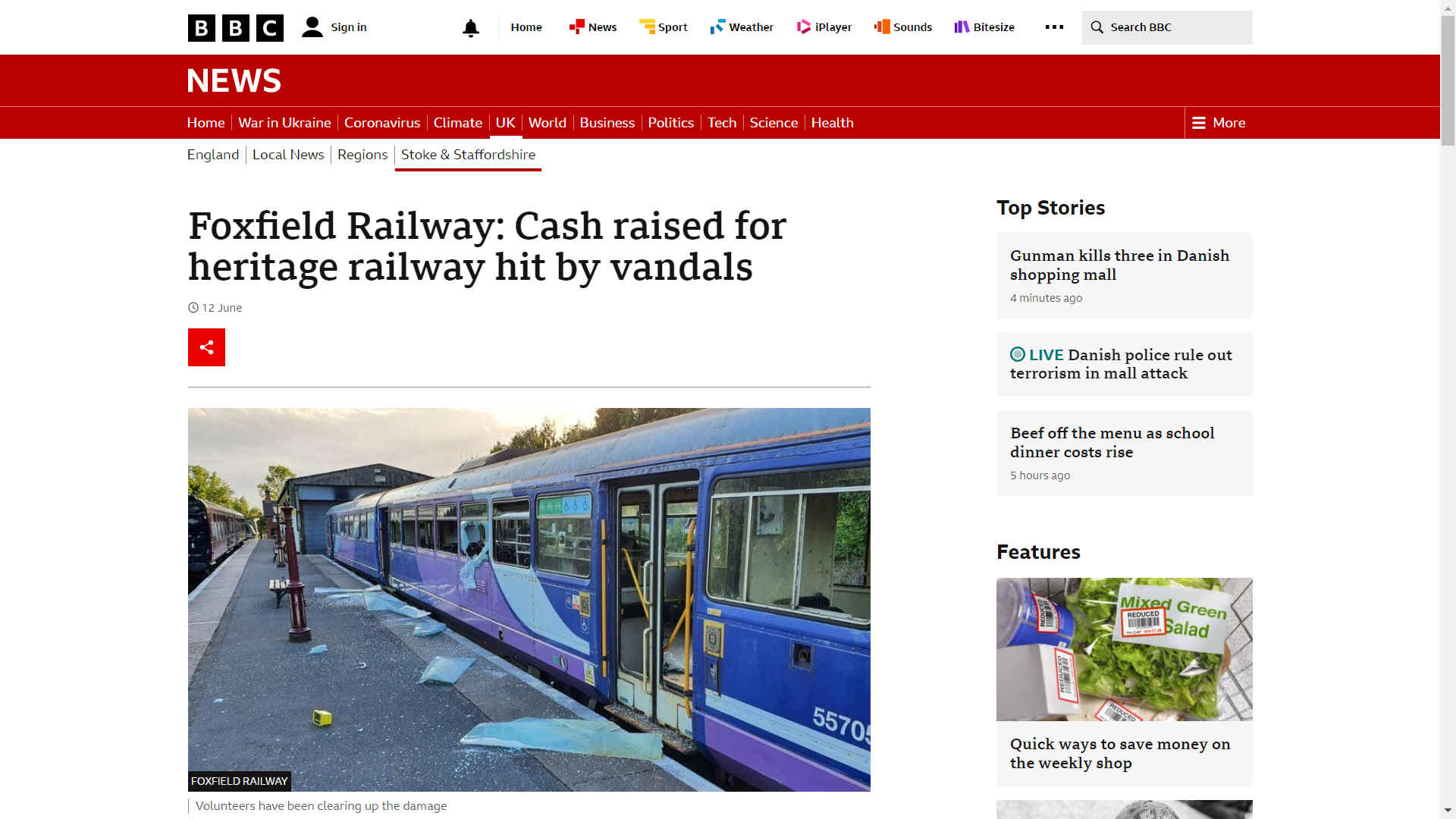 BBC NEWS 12 JUNE 2022 - FOXFIELD RAILWAY: CASH RAISED FOR HERITAGE RAILWAY HIT BY VANDALS

Supporters of a heritage railway that was attacked by vandals three times in a week have raised almost £1,500 towards repairs.

Volunteers who run Foxfield Railway at Caverswall, Staffordshire, said damage caused in the latest attack on Friday would cost more than £25,000 to fix.

Vandals smashed 24 panes of glass on a Class 142 Pender, which was being prepared for trips, and broke signals.

Those who run the railway set up an online fundraiser asking for support.

The Foxfield Railway Society said it needed help bringing its trains back to life following the "reckless act of vandalism".

"The damage caused will run into the tens of thousands of pounds, which is a devastating blow to the volunteers that work so hard to preserve the railway that is at the heart of the local community," it said.

Staffordshire Police are investigating Friday's incident as well as smaller acts of vandalism at the site earlier in the week.

Harry Alcock, a volunteer for 12 years, said the Pacer was a recent addition to the railway and a lot of work had gone into getting it ready for passenger trips this summer.

He said this was now unlikely to happen, but they hoped to resume steam train trips next month.

The society was set up to preserve the line after the colliery closed in 1965 and they were keen to tell its story, he added.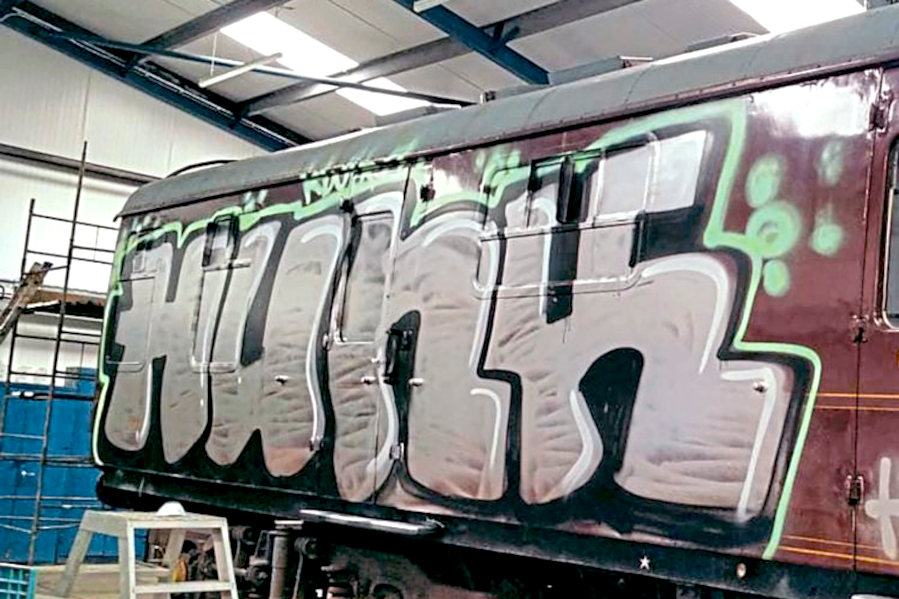 HERITAGE RAILWAYS - 11 MAY 2018

VANDALS who attack historic sites like heritage railways could face prison sentences of up to four years under tough new sentencing guidelines for judges and magistrates.

For the first time the Sentencing Council for England and Wales has specifically said "arson or criminal damage to national heritage assets" should be seen as an aggravating factor in advice for courts weighing up prison terms.

With Category 1 criminal damage cases, pre-meditated or revenge attacks, this could extend an 18-month sentence to a four-year term, if the recommendations are adopted.

The Sentencing Council promotes greater consistency in sentencing of offenders, while maintaining the independence of the judiciary. It produces guidelines on sentencing for the judiciary and criminal justice professionals and aims to increase public understanding of sentencing.

The new tougher sentences proposal has been published in the wake of a spate of vandalism at heritage lines. In the past year, historic coaches on the North Yorkshire Moors and Severn Valley railways have been damaged.

In the latest incident, at the Churnet Valley Railway, overnight between Saturday, April 7, and Sunday, April 8, graffiti was sprayed on several carriages.

Once the damage was discovered, volunteers rallied round to rectify what they could in order to prevent a special Paw Patrol family event on the Sunday being cancelled.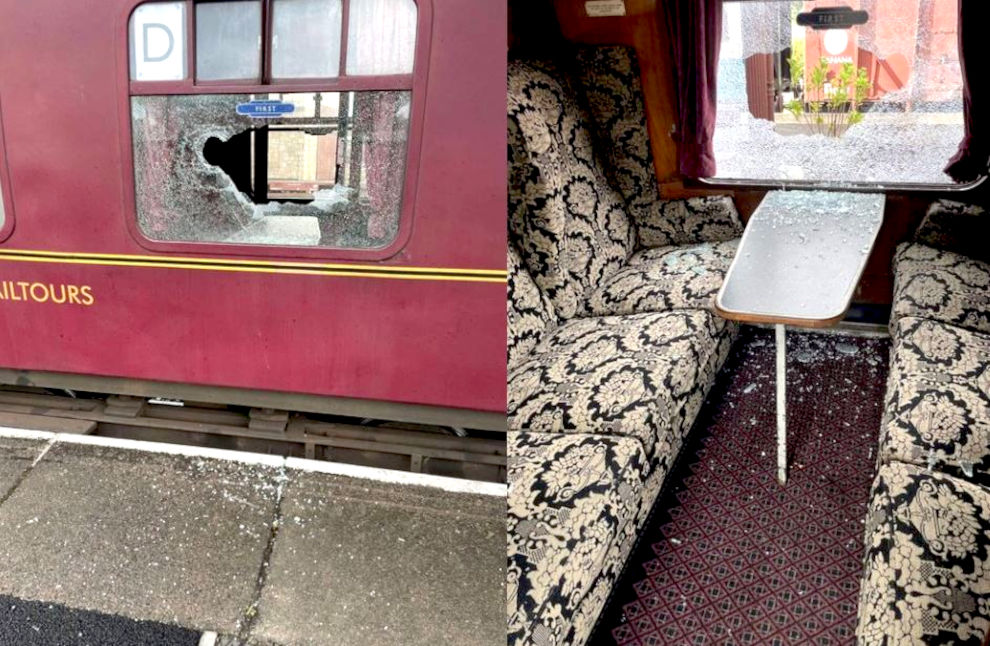 STV NEWS 1 JULY 2022 - Heritage railway appeals for help after vandals damage train and station
Bo'ness and Kinneil Railway said it cannot afford to replace the windows.

A heritage railway has appealed for help after vandals smashed the windows of a train and building at one of its stations.

The incident took place at the Bo'ness and Kinneil Railway in West Lothian on Wednesday.

Images posted online showed shards of broken glass on the floor of one of its vintage trains.

The railway takes passengers on a scenic ten-mile journey along the Forth Estuary on steam or diesel-hauled engines.

It also runs a programme of special events including Santa Steam Trains at Christmas and a Thomas the Tank Engine themed day out.

In a statement, the railway said that after the struggles of the last two years, including Covid and a major landslide, it cannot afford the time and expense of replacing several windows.

They said that they have good quality CCTV footage of the incident and would be in touch with the local authorities.

However, the railway has encouraged people to make a donation if they are able to help with the immediate cost of the repairs.

Amanda Kilburn, business development director at the Scottish Railway Preservation Society, said that the train seen in the images was built in 1959.

"We are all really sad about this needless vandalism," she told STV News.

"So many hours of mainly volunteer labour have got us to where we are today, the railway has been on this site and built from scratch by volunteers of the Scottish Railway Preservation Society (SRPS) since 1979.

"It is a four-star VisitScotland rated visitor attraction and we welcome thousands of visitors aboard our trains and through our museum doors annually.

"We're still in a recovery period and about to hit our busiest season, the summer holidays, with many people travelling from all over the world to ride on our steam and heritage diesel trains in our beautifully restored carriages.

"The first-class compartment coach which is the one in the photo is part of our Core Collection, it was built in 1959 and saved from being scrapped by volunteers of the SRPS in 1992 where it has become one of our most popular luxury carriages."

Ms Kilburn said that the railway will be running steam and heritage diesel fuel trains this weekend, despite the vandalism caused.

"We are really touched by the support of people near and far to help us cover the cost of repairs and it is rewarding to get so many positive comments about what we have at our site in Bo'ness," she said.

"The Bo'ness & Kinneil Railway and Museum of Scottish Railways, which is Scotland's largest railway museum, are operated almost entirely by volunteers of the SRPS which is a registered charity.

"Many people don't realise that our collection has been recognised through the Scottish Government Recognition Scheme as being of national significance and the items in that collection are irreplaceable since they are part of long-gone railway history.

"Despite the vandalism and our sadness, we are a passionate bunch and will be running steam and heritage diesel trains this weekend and beyond, and our Museum will be open as usual 7 days a week until the end of October.

"We really do love welcoming visitors to our site and their train fares and admissions go straight back in to helping us preserve Scotland's railway heritage for future generations to come."

The Criminal Damage Act 1971 (CDA 1971) is the primary source of offences involving damage to property. It created a statutory offence of arson and abolished the common law offence (s.11 CDA 1971).
Offences contrary to the Ancient Monuments and Archaeological Areas Act 1979 should generally be prosecuted under that Act rather than under the CDA 1971.
Access to Neighbouring Land Act 1992
Ancient Monuments and Archaeological Areas Act 1979
Beaumont Vs Florala 2020 - Right to Light case precedent
Planning (Listed Buildings and Conservation Areas) Act 1990
R v Dytham 1979 QBD, Malfeasance in Public Office
R v Sussex Justices ex-parte McCarthy 1924, bias undoes conviction
When submitting an application for planning permission, the National Planning Policy Framework (NPPF) requires applicants to describe the significance of any heritage assets affected, including any impact on the setting of the heritage asset (see paragraph 189 of the NPPF).
"189. In determining applications, local planning authorities should require an applicant to describe the significance of any heritage assets affected, including any contribution made by their setting. The level of detail should be proportionate to the asset's importance and no more than is sufficient to understand the potential impact of the proposal on their significance. As a minimum the relevant historic environment record should have been consulted and the heritage assets assessed using appropriate expertise where necessary. Where a site on which development is proposed includes or has the potential to include heritage assets with archaeological interest, local planning authorities should require developers to submit an appropriate desk-based assessment and, where necessary, a field evaluation."
'All aspects of the environment resulting from the interaction between people and places through time, including surviving physical remains of past human activity, whether visible, buried or submerged, and landscaped and planted or managed flora.'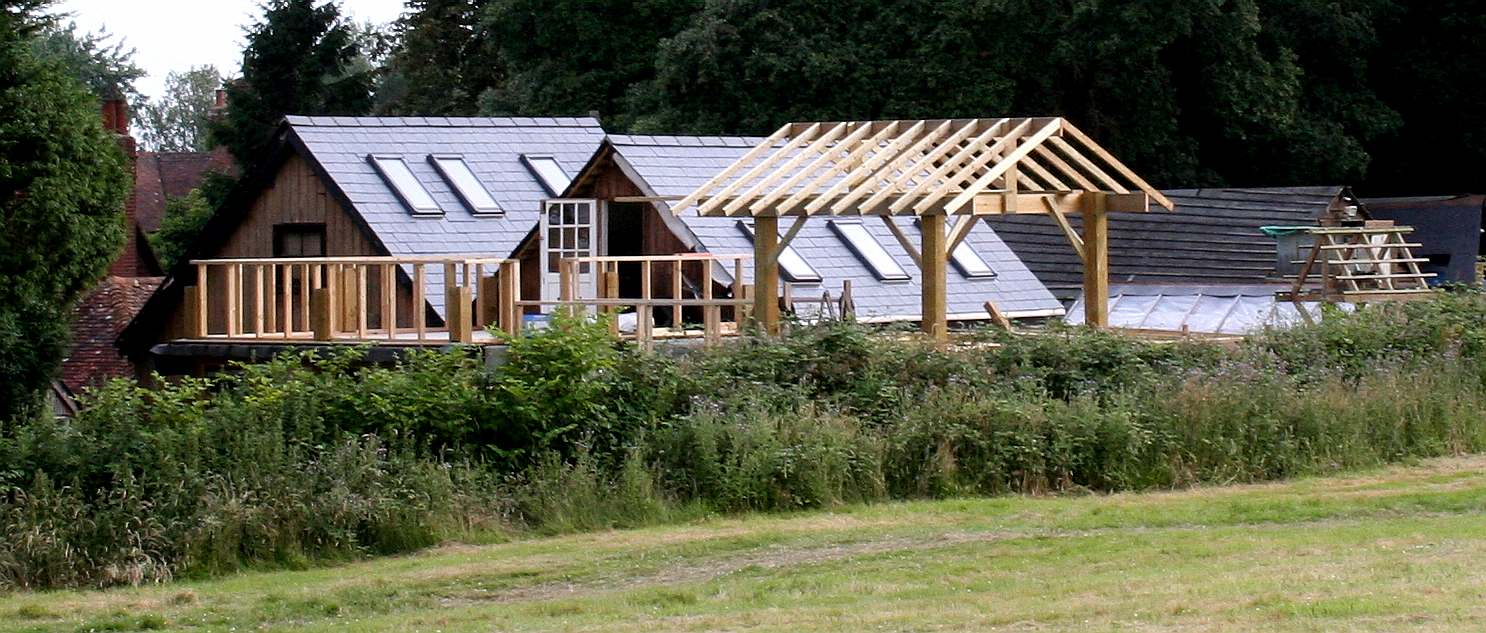 THE ONLY ONE LEFT - This unassuming building is believed to be the earliest surviving example of electricity generating and load leveling on the planet. In the world of industrial archaeology, this is a gem. All the more intriguing for being nestled out of the way in the country. Notably not understood for it's importance by local politicians and even some immediate neighbors. Some of which had in the past wanted to purchase it, simply to knock it down. Sadly, with the local authority aiding and abetting such ambition. We hope those days are gone for good. But the fact remains, that the building still has no reasonable or beneficial use. Despite a Court Order from 2003/4, where Wealden DC agreed to rectify that malady. Progress was made up to 2008, then all cooperation ceased. It has been 14 years, and once again we are waiting for answers to correspondence, as to what the council intend doing to remedy their maladministration.
The heritage asset above in included on Step 4 of a Monument Protection Programme focusing on the electrical generating industry, and how it began. There are two recent planning applications affecting this building. One was a Major development for up to 70 houses in the adjacent field. The other was from within Lime Park, from the new owners of The Rectory, in 2022, Ms Finn and Mr Flood. Yet, it seems (it is alleged) that no Heritage Statement accompanied their application: WD/2022/0497/F, and no Notice as to the Party Wall Act was given concerning the Generating Buildings. We await clarification from the applicants.
REFERENCE
https://www.bbc.co.uk/news/uk-england-stoke-staffordshire-61777898
https://news.stv.tv/east-central/heritage-railway-appeals-for-help-after-vandals-damage-train-and-station
https://www.heritagerailway.co.uk/4278/harsher-prison-terms-for-heritage-vandals-under-new-guidelines/
https://www.bbc.co.uk/news/uk-england-stoke-staffordshire-61777898
https://news.stv.tv/east-central/heritage-railway-appeals-for-help-after-vandals-damage-train-and-station
https://www.heritagerailway.co.uk/4278/harsher-prison-terms-for-heritage-vandals-under-new-guidelines/
2022 - Herstmonceux in Sussex is not what it used to be. Villagers are being forced to rent in towns, rather than being able to live where they were brought up - at reasonable prices. In modern England, councils are operated against the interests of young families. Rents for new builds in Herstmonceux are exorbitant. There are no genuinely affordable houses. Wealden only grant consent for executive housing in major development. Wealden provide no rolling stock of land for sustainable and affordable (self builds) flat packs, etc. The rich get richer and the poor, poorer. This seems to be the Conservative way, with Labour failing to change statute, when they finally get voted in. Political wrangling like this is unproductive and climate unfriendly, as is financial slavery: living off the backs of others.
Please use our A-Z INDEX to navigate this site