Light is essential to all life on earth. When man comes along and builds houses and office blocks, he claims that light for himself, regardless of all others. As with all walks of life, there are those who will take advantage of others, no matter what the morals of such actions might be. For example, there are heritage vandals, who would despoil a view, for their own purposes, taking advantage of the system, and depriving future generations of their legacy. Naturally, those doing the taking will seek to mitigate the nuisance they have caused. Bringing just about everything to the table, including the kitchen sink. But the issue is and remains, has light been taken. And nothing else.
LEAD CASE: BEAUMONT Vs FLORALA 2020
Beaumont Business Centres Limited v Florala Properties Limited [2020] EWHC 550

Guy Fetherstonhaugh QC and Elizabeth Fitzgerald, instructed by Dewar Hogan LLP, acted for the successful Claimant in a rights to light infringement case concerning a poorly lit building. The High Court considered, for the first time, the effect of loss of light where a building was badly lit to start with.

The Claimant ('Beaumont') was the lessee of an office building in the City of London which it occupied for the purposes of its business, the provision of high class serviced offices and business services. Beaumont sought an injunction, alternatively damages, against the defendant, the freehold owner of the adjacent building. Beaumont claimed that the defendant's extension of its building had interfered with its rights to light.

The affected part of Beaumont's building was relatively poorly lit before the infringement, and, like many offices, electric lighting was used. The defendant argued that where a room is already badly lit, making it darker still is not an actionable nuisance. It also argued that an interference which translated to only a small amount of loss of rental or capital value should not be regarded as substantial, even though the loss is more than de minimis.

The court rejected this argument. It held that to establish a claim in nuisance Beaumont needed to prove that the reduction in light to its premises had made them substantially less comfortable than before. In practice this meant that it must show that by virtue of the light reduction it was likely to suffer a loss of rental income over the course of its lease which was more than de minimis. It was therefore irrelevant whether the premises were well lit before the reduction.

The judge, Peter Knox QC, considered whether the Waldram method and its 50/50 rule was still appropriate today. In this case none of the affected rooms moved from 'well lit' to 'badly lit', so the 50/50 rule was irrelevant. The judge however declined to ignore the Waldram test, finding it a useful starting point. He also had regard to radiance evidence (false colour images and human response images) and found this demonstrated a perceptible reduction in light levels. He then went on to find that the reduction in light did result in a reduction in rents Beaumont received for the affected rooms. However difficult it was to quantify that reduction, Beaumont had established that the reduction caused a substantial interference to amount to a nuisance.

The court rejected the defendant's argument that Beaumont was simply trying to extract a ransom payment from the defendant, so as to disentitle it from an injunction.

The judge found that it would be appropriate to grant an injunction ordering the defendant to cut back its development. The premises were, however, occupied by a tenant, who had been granted a long lease after the claimant had first complained about the infringement, but who was not a party to the proceedings. Judgment was accordingly given for Beaumont in the form of a declaration that, as against the defendant, Beaumont was entitled to an injunction and that if, so advised, it might join the tenant to the proceedings to seek an injunction. Failing that, Beaumont would be entitled to damages in lieu of an injunction in the sum of £350,000.

This was the first decision since the ruling of the Supreme Court in Coventry v Lawrence to declare that an injunction requiring demolition of an interfering part of a building was an appropriate remedy in a rights of light case.
Access to Neighbouring Land Act 1992
Ancient Monuments and Archaeological Areas Act 1979
Planning (Listed Buildings and Conservation Areas) Act 1990
R v Dytham 1979 QBD, Malfeasance in Public Office
R v Sussex Justices ex-parte McCarthy 1924, bias undoes conviction
When submitting a planning application, the National Planning Policy Framework (NPPF) requires applicants to describe the significance of any heritage assets affected, including any impact on the setting of the heritage asset (see paragraph 189 of the NPPF). Any professional would know that, and any Council accepting such an application would be bound to point out if an application is or was so deficient.
In English law there is no automatic right to light, or right of way for access, unless established, without consent for a period of time, typically twenty years. Rights are thus acquired over time, and protected from abuses, after they have been attained. Even becoming absolute in law, if enjoyed over long periods.
One building in Lime Park that is known to have acquired rights over a very long period, is the historic generating station, presently threatened by the occupiers of The Rectory, Jill Finn and Nigel Flood. The pitfalls of proceeding with a development that will obscure windows of the old Generating Station in Herstmonceux, was known to them via correspondence in relation to their application WD/2022/0497/F.
The former owner of The Rectory, Peter Townley, had attempted to upset the acquired right to light, almost falling foul of the law with an application to the local authority, for the making of an Anti Social Behaviour Order (ASBO). The Rectory was sold on the basis of the views enjoyed by the adjacent historic asset. So achieving a transfer in title at a lower value, than might have been obtained if the adjacent property held no rights.
The owner preceding Peter and June Townley, Roger Hall, had planted a row of leylandii with the intention to establish a fast growing line as a boundary hedge, in replacement to an iron railing fence, that had previously been the boundary divider. Peter Townley installed a fence consisting of larch lap, along this boundary, but the fencing soon rotted away from the ministrations of the fast growing evergreen. All the while the leylandii was kept in check height wise until about 2010. But as Peter Townley grew older, he infrequently trimmed the leylandii, causing the occupiers of the adjacent building to trim from their side, which is of course a lawful activity. But he not trimming from his side.
The present purchasers (as at 2022) appear to have accepted the right of the occupiers of the heritage asset, to cut this hedge. So, far not seeking to prevent such lawful activity.
It is reasonable to assume then, and it is so alleged, that the newcomers (purchasers) in seeking to deprive the present occupiers of their right to light, had purchased The Old Rectory in Lime Park, with a view to depriving the Generating Station of light, so increasing the value of their purchase, by other means than planting trees or shrubs, that would inevitably fall foul of Hedge Law. So, leading to the construction of an extension without the benefit of a valid planning permission, such a development that is expressly designed to obscure that right to light. In the process hiding the Generating Station from their garden, presumably a factor in adopting such extreme measures, to deprive the historic asset of light.
Planning application WD/2022/0497/F was withdrawn, with the invitation from the local authority to resubmit, as a free go. The newcomers have not re-submitted what would now be a retrospective application. Presumably, and it is alleged, because they would then be required to submit a Heritage Statement, to allow the local authority to determine based on correct information, and take into account the damage such development may cause to an asset of considerable local importance. Being the only surviving example of its kind worldwide.
In the making of application WD/2022/0497/F, it appears that the failure to provide a Heritage Statement, was not accidental as it may appear on the face of it, but more of a deliberate effort to deprive the Area Plans South Sub-Committee of the relevant information, or so it is alleged.
The newcomers claim not to be property developers, but declarations made to Companies House, appear to indicate otherwise, and appear to be current. Provided that such declarations relate to Jill Finn and Nigel Flood, as being the newcomers to The Old Rectory - and not some other Jill Finn and Nigel Flood with the same name. Doubtless they will advise.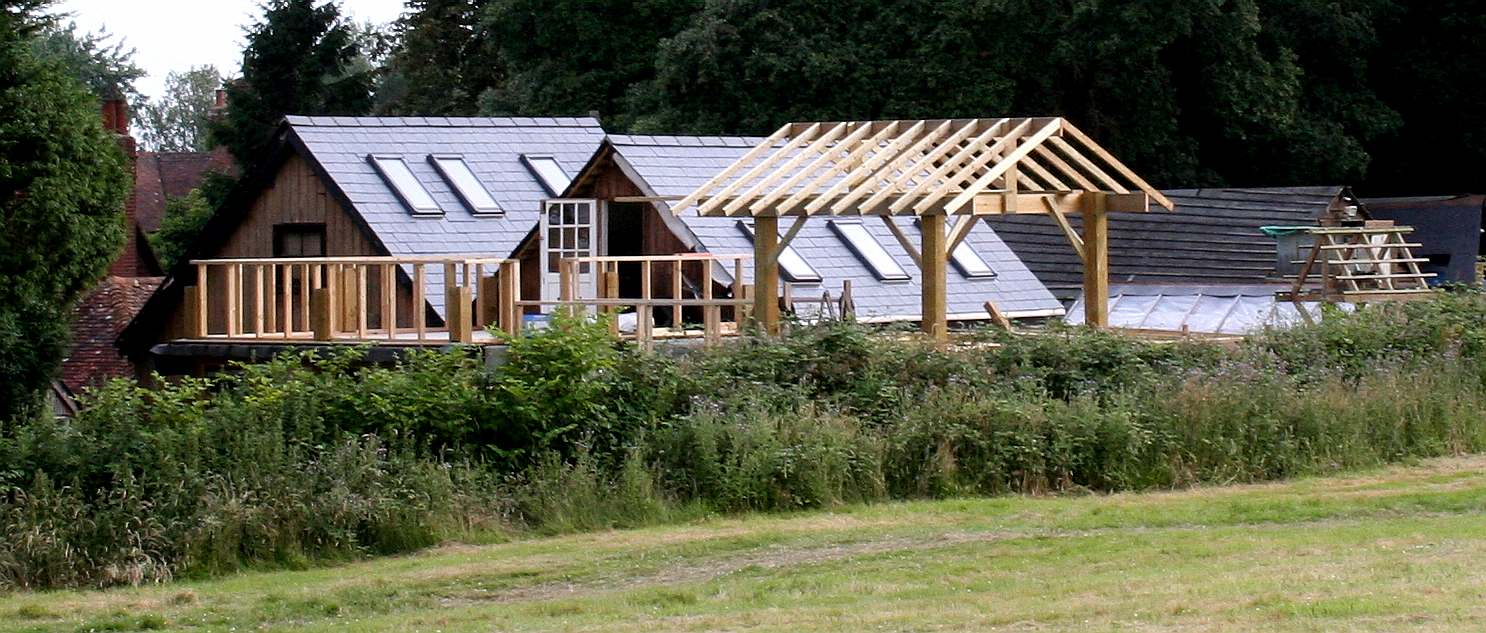 THE ONLY ONE LEFT - This unassuming building is believed to be the earliest surviving example of electricity generating and load leveling on the planet. In the world of industrial archaeology, this is a gem. All the more intriguing for being nestled out of the way in the country. Notably not understood for it's importance by local politicians and even some immediate neighbors. Some of which had in the past wanted to purchase it, simply to knock it down. Sadly, with the local authority aiding and abetting such ambition. We hope those days are gone for good. But the fact remains, that the building still has no reasonable or beneficial use. Despite a Court Order from 2003/4, where Wealden DC agreed to rectify that malady. Progress was made up to 2008, then all cooperation ceased. It has been 14 years, and once again we are waiting for answers to correspondence, as to what the council intend doing to remedy their maladministration.
The heritage asset above in included on Step 4 of a Monument Protection Programme focusing on the electrical generating industry, and how it began. There are two recent planning applications affecting this building. The other was a Major development for up to 70 houses in the adjacent field to the north.
REFERENCE
https://www.legislation.gov.uk/ukpga/1979/46/contents
https://www.falcon-chambers.com/news/beaumont-business-centres-limited-v-florala-properties-limited-2020-ewhc-55
https://www.legislation.gov.uk/ukpga/Will4/2-3/71/contents
https://www.wealden.gov.uk/planning-and-building-control/heritage/heritage-statements/
https://www.wealden.gov.uk/planning-and-building-control/heritage/
2022 - Herstmonceux in Sussex is not what it used to be. Villagers are being forced to rent in towns, rather than being able to live where they were brought up - at reasonable prices. In modern England, councils are operated against the interests of young families. Rents for new builds in Herstmonceux are exorbitant. There are no genuinely affordable houses. Wealden only grant consent for executive housing in major development. Wealden provide no rolling stock of land for affordable (self builds) flat packs, etc. The rich get richer and the poor, poorer. This seems to be the Conservative way, with Labour failing to change statute, when they finally get voted in.
Please use our A-Z INDEX to navigate this site