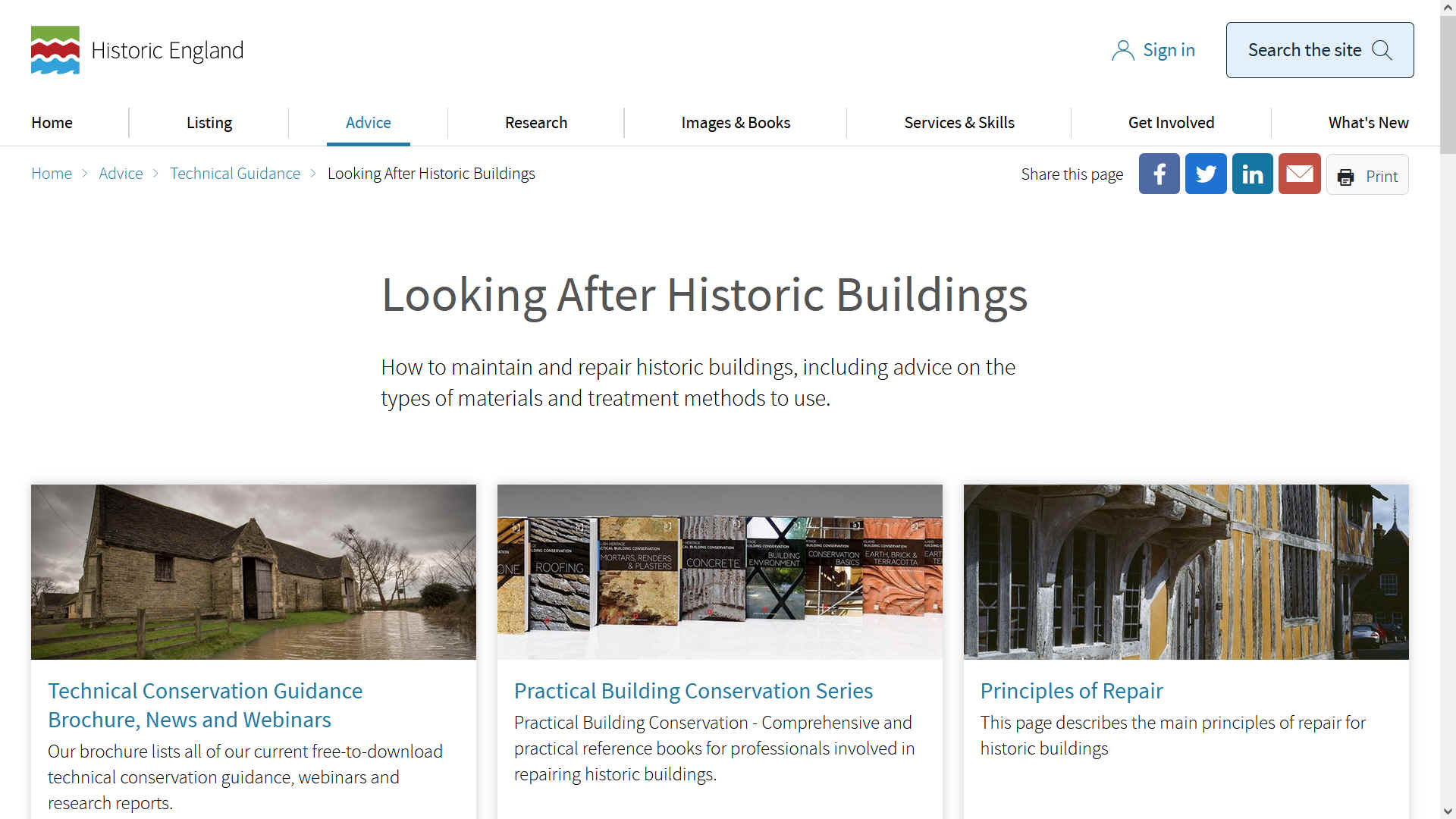 ACQUISITIONS - Given that English Heritage owns buildings of national importance, there is the potential for a conflict of interest, where newly discovered remains might be of interest, and if blighted for any reason, might be acquired at less than market value. It might be worth plugging that gap, such that the present system remains fit for purpose.
Historic England (officially the Historic Buildings and Monuments Commission for England) is an executive non-departmental public body of the British Government sponsored by the Department for Culture, Media and Sport. It is tasked with protecting the historic environment of England by preserving and listing historic buildings, scheduling ancient monuments, registering historic parks and gardens and by advising central and local government.

The body was officially created by the National Heritage Act 1983, and operated from April 1984 to April 2015 under the name of English Heritage. In 2015, following the changes to English Heritage's structure that moved the protection of the National Heritage Collection into the voluntary sector in the English Heritage Trust; the body that remained was rebranded as Historic England.

The body also inherited the Historic England Archive from the old English Heritage, and projects linked to the archive such as Britain from Above, which saw the archive work with the Royal Commission on the Ancient and Historical Monuments of Wales and the Royal Commission on the Ancient and Historical Monuments of Scotland to digitise, catalogue and put online 96,000 of the oldest Aerofilms images. The archive also houses various national collections, including the results of older projects, such as the Royal Commission on the Historical Monuments of England and Images of England (providing online access to images of listed buildings in England as of 2002).

REMIT

Historic England inherited English Heritage's position as the UK government's statutory adviser and a statutory consultee on all aspects of the historic environment and its heritage assets. This includes archaeology on land and underwater, historic buildings sites and areas, designated landscapes and the historic elements of the wider landscape. It monitors and reports on the state of England's heritage and publishes the annual Heritage at Risk survey which is one of the UK government's official statistics. It is tasked to secure the preservation and enhancement of the human-made heritage of England for the benefit of future generations.

Its remit involves:

- Caring for nationally important archive collections of photographs, drawings and other records which document the historic environment of England and date from the eighteenth century onwards.

- Giving grants to national and local organisations for the conservation of historic buildings, monuments and landscapes. In 2013/14 over £13 million worth of grants were made to support heritage buildings.

- Advising central UK government on which English heritage assets are nationally important and should be protected by designation (i.e. listing, scheduling, etc.).

- Administering and maintaining the register of England's listed buildings, scheduled monuments, registered battlefields, World Heritage Sites and protected parks and gardens. This is published online as the National Heritage List for England.

- Advising local authorities on managing changes to the most important parts of heritage.
- Providing expertise through advice, training and guidance to improve the standards and skills of people working in heritage, practical conservation and access to resources. In 2009–2010 it trained around 200 professionals working in local authorities and the wider sector.

- Consulting and collaborating with other heritage bodies, local and national planning organisations e.g. the preparation of the 2010 Planning Policy statement for the Historic Environment (PPS5).

- Commissioning and conducting archaeological research, including the publication of Heritage Counts and Heritage at Risk on behalf of the heritage sector; these are annual research surveys into the state of England's heritage.

It is not responsible for approving alterations to listed buildings. The management of listed buildings is the responsibility of local planning authorities and the Department for Communities and Local Government.

Historic England also owns the National Heritage Collection of nationally important historic sites, currently in public care. However, it does not run these sites as this function is instead carried out by the English Heritage Trust under licence until 2023.
The Department for Culture, Media and Sport (DCMS) is a department of His Majesty King Charles III's Government.
DAME JULIE KENNY DBE DL APPOINTED COMMISSIONER OF HISTORIC ENGLAND

The Secretary of State has appointed Dame Julie Kenny as a Commissioner of Historic England for a term of four years from 1 February 2023 until 31 January 2027.

Dame Julie Kenny is a successful South Yorkshire based entrepreneur. Following the sale in 2016 of award winning Pyronix Limited which she built from start up in 1986, Julie continues her involvement in serving business and local communities.

Founding Chair of Wentworth Woodhouse Preservation Trust which is committed to securing a sustainable future for the largest restoration project in the Country. A true Levelling Up project in the North. Julie also Chairs Robson Handling Technology Limited, a NED of AES Engineering, Chair of Maltby Learning Trust, a multi-academy trust Chair of RISC and Joint Chair of SRGP, two national committees dealing with Security, Resilience and Growth for the Defence, Security and Tech UK Sector.

Julie served as an Intervention Commissioner with Rotherham Metropolitan Borough Council between 2015 and 2018.

Julie was honoured in Her Majesty the Queen's Birthday Honours List in June 2019 with a Damehood for her work with heritage. Julie's CBE in 2002 and Honorary Doctorate from Sheffield Hallam University in 2005 were conferred in recognition of her contribution to business in the region. Julie was awarded Freewoman of Rotherham in 2020.

Julie has 3 grown-up children and had a successful career as a litigation lawyer in local authority and private practice before changing direction and founding Pyronix Limited.
REMUNERATION & GOVERNANCE CODE

Commissioners of Historic England are remunerated £4,113 per annum. This appointment has been made in accordance with the Cabinet Office's Governance Code on Public Appointments. The appointments process is regulated by the Commissioner for Public Appointments. Under the Code, any significant political activity undertaken by an appointee in the last five years must be declared. This is defined as including holding office, public speaking, making a recordable donation, or candidature for election. Dame Julie Kenny has declared no such activity.
CONTACT HISTORIC ENGLAND

Email: customers@HistoricEngland.org.uk
Telephone: 0370 333 0607

Normal operating hours: 9am to 5pm Monday to Friday. Offices are closed on bank holidays and over the Christmas period.

London office

4th Floor
Cannon Bridge House
25 Dowgate Hill
London EC4R 2YA

Phone: 0207 973 3700
Fax: 0207 9733001

Email: londonseast@HistoricEngland.org.uk

For listing application enquiries, please contact applicationssouth@HistoricEngland.org.uk

For any queries relating to the Greater London Historic Environment Record, please contact: glher@HistoricEngland.org.uk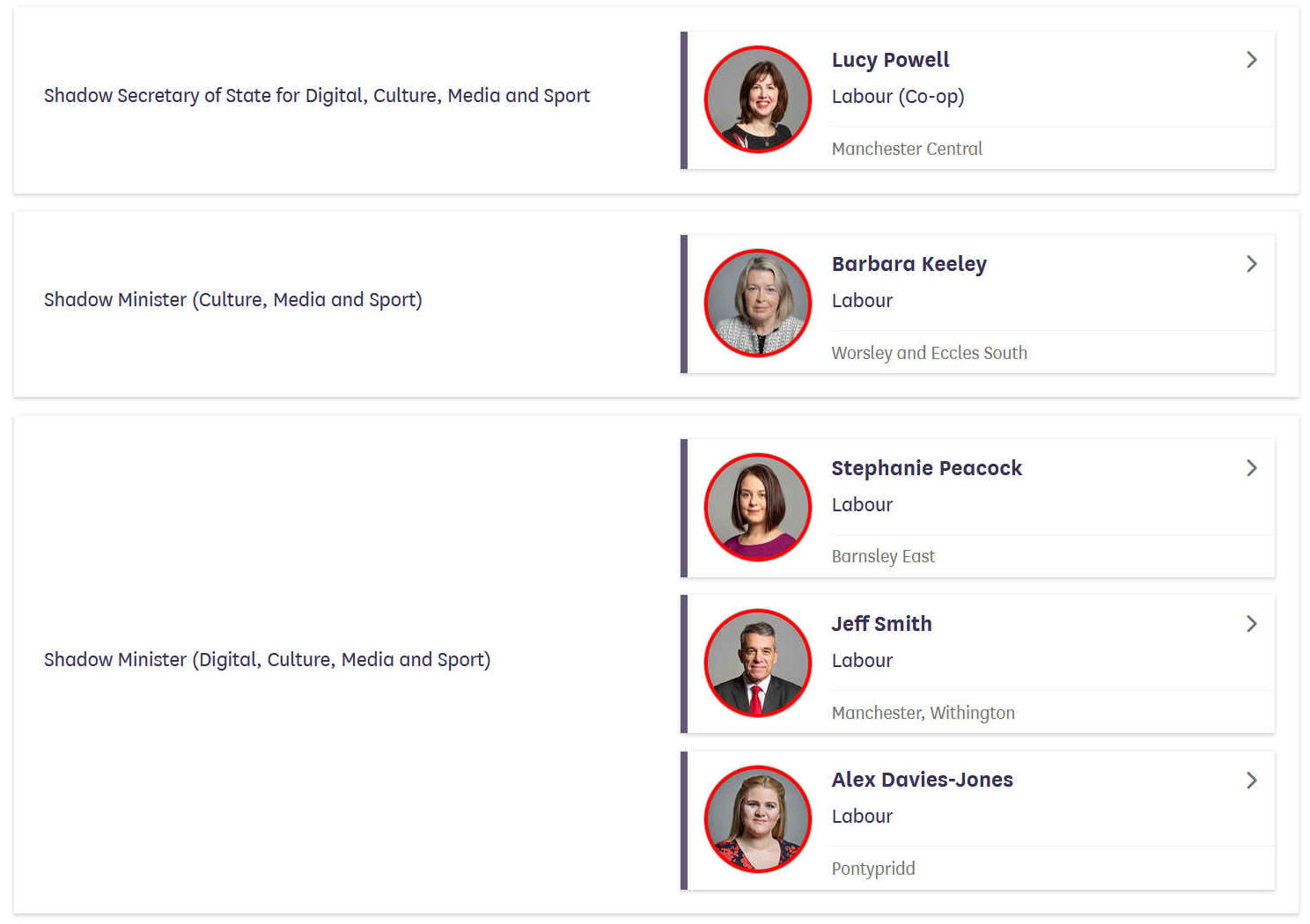 HIS MAJESTY'S OFFICIAL OPPOSITION - DCMS - SHADOW CABINET

Shadow Secretary of State for Digital, Culture, Media and Sport - Lucy Powell - Labour (Co-op) - Manchester Central

Email: contact@lucypowell.org.uk

House of Commons
London
SW1A 0AA

Shadow Minister (Culture, Media and Sport) - Barbara Keeley - Labour - Worsley and Eccles South

Shadow Ministers (Digital, Culture, Media and Sport) - Stephanie Peacock - Labour -Barnsley East

stephanie.peacock.mp@parliament.uk

and Jeff Smith - Labour - Manchester, Withington - Email: jeff.smith.mp@parliament.uk

and Alex Davies-Jones - Labour - Pontypridd - Email: alex.daviesjones.mp@parliament.uk

Shadow Spokespersons (Culture, Media and Sport) - Lord Bassam of Brighton - Labour Life peer

Email: contactholmember@parliament.uk

and Baroness Merron - Labour - Life peer

House of Lords
London
SW1A 0PW

020 7219 5353

Email: merrong@parliament.uk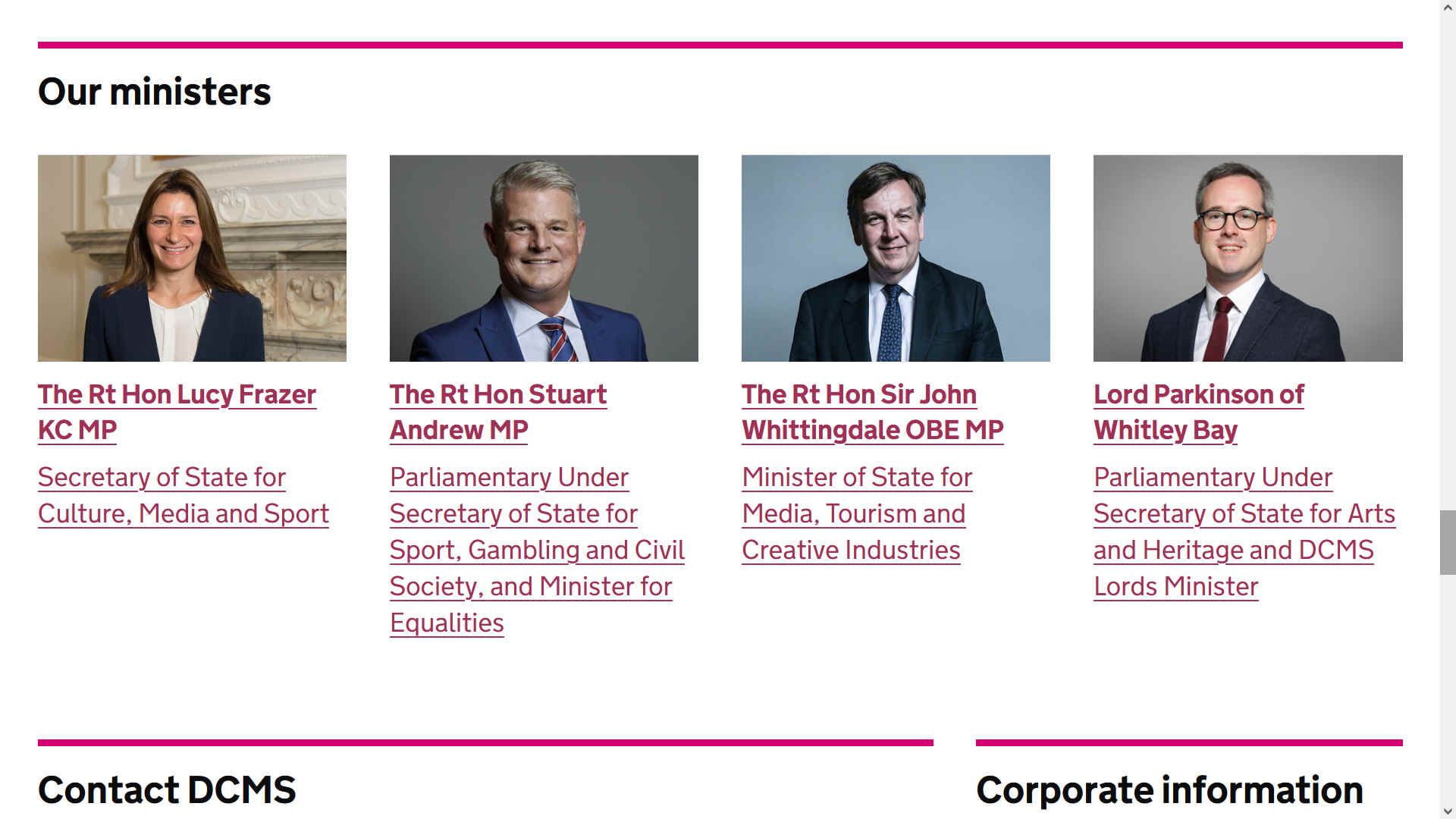 HEADQUARTERS

The main offices are at 100 Parliament Street, occupying part of the building known as Government Offices Great George Street.

Department for Culture, Media and Sport
100 Parliament Street
London
SW1A 2BQ
United Kingdom

Phone: 020 8080 3054 (Media enquiries only 24 hours)

Email: enquiries@dcms.gov.uk

CONSERVING THE HISTORIC ENVIRONMENT
The Government's objective is that the historic environment should be conserved and enjoyed for the quality of life it brings to this and future generations.

The Government has defined the historic environment as:
'All aspects of the environment resulting from the interaction between people and places through time, including surviving physical remains of past human activity, whether visible, buried or submerged, and landscaped and planted or managed flora.'
A snapshot of the heritage that can be found within Wealden includes:

- Evidence for human settlement and activity from Prehistoric through to Post Medieval Periods.
- Over 2000 Listed Buildings
- 20 Historic Parks and Gardens
- 104 Scheduled Monuments
- 33 designated Conservation Areas (not including the South Downs National Park Authority area)
- Non-designated and locally designated heritage assets (Herstmonceux Old Generating Station)
- Areas of archaeological potential and interest, many identified as Archaeological Notification Areas (ANAs)
- Industrial, economic and agricultural uses and impacts
- Trading
- Transport
- Military History
- Influence of famous people and notable local figures throughout history
- High Weald designated Area of Outstanding Natural Beauty (AONB) to the north
- Low Weald non-designated landscape area to the southeast
- Pevensey Levels Site of Special Scientific Interest (SSSI) to the south
- Large number of historic settlements.

For more details information on the rich heritage in Wealden, a brief timeline of historic settlement and activity in Wealden has been compiled.

WHAT IS A HERITAGE ASSET?

A Heritage Asset is a building, monument, site, place, area or landscape identified as having a degree of significance meriting consideration in planning decisions, because of its heritage interest.

These Heritage pages provide information on Heritage Assets, which include:

- listed buildings
- conservation areas
- scheduled monuments and areas of archaeological potential and interest
- unlisted buildings of historic interest (referred to as non-designated assets)
- historic parks and gardens

When an application affects a heritage asset, a heritage statement will be required.

Advice on works to listed buildings may be available on your Council's heritage webpages and from Historic England.
FREEDOM OF INFORMATION (FoI) REQUESTS

Email: foi@dcms.gov.uk

Call: 0207 211 6111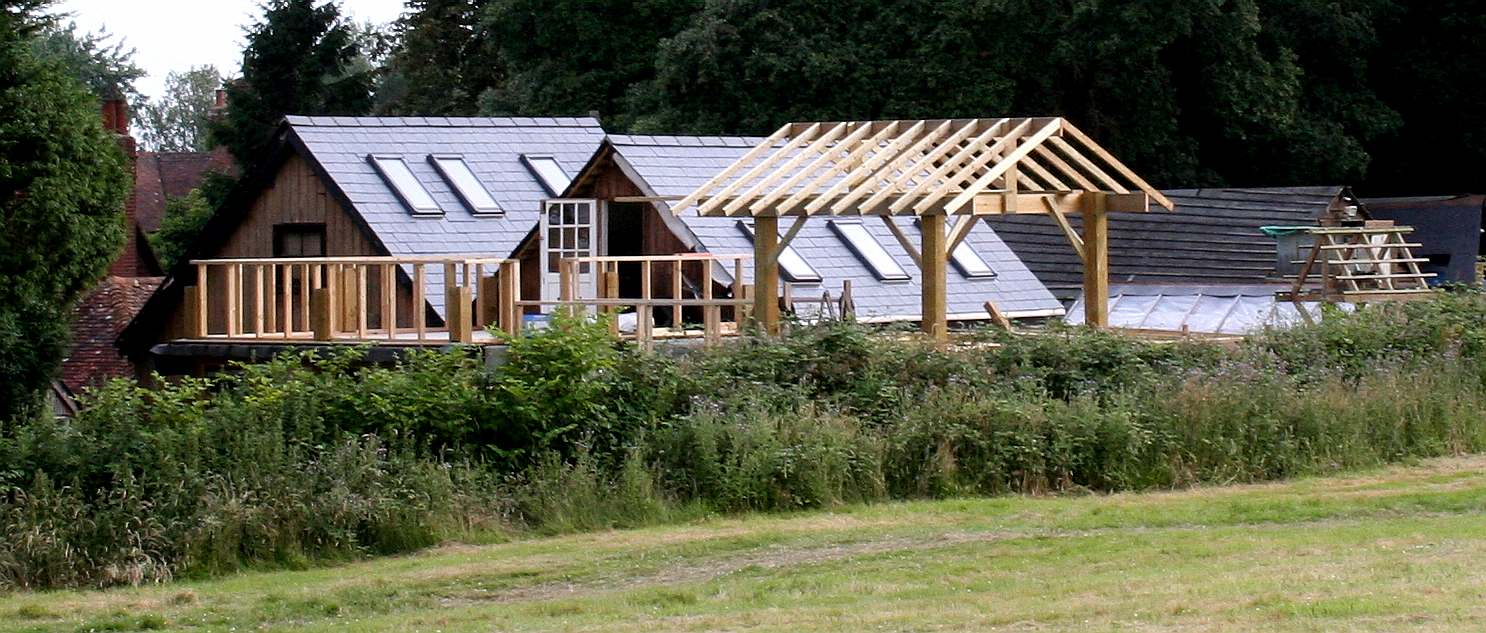 THE ONLY EXAMPLE LEFT - This unassuming building is believed to be the earliest, and only surviving example of electricity generating and load leveling on the planet. In the world of industrial archaeology, this is a gem. All the more intriguing for being nestled out of the way in the country and being built of wood. As a power generator in Lime Park featuring a battery store, the complex is a future contender as a UNESCO World Heritage Site.
REFERENCE
https://historicengland.org.uk/
https://historicengland.org.uk/
https://www.gov.uk/government/organisations/department-for-culture-media-and-sport
https://www.gov.uk/government/organisations/department-for-culture-media-and-sport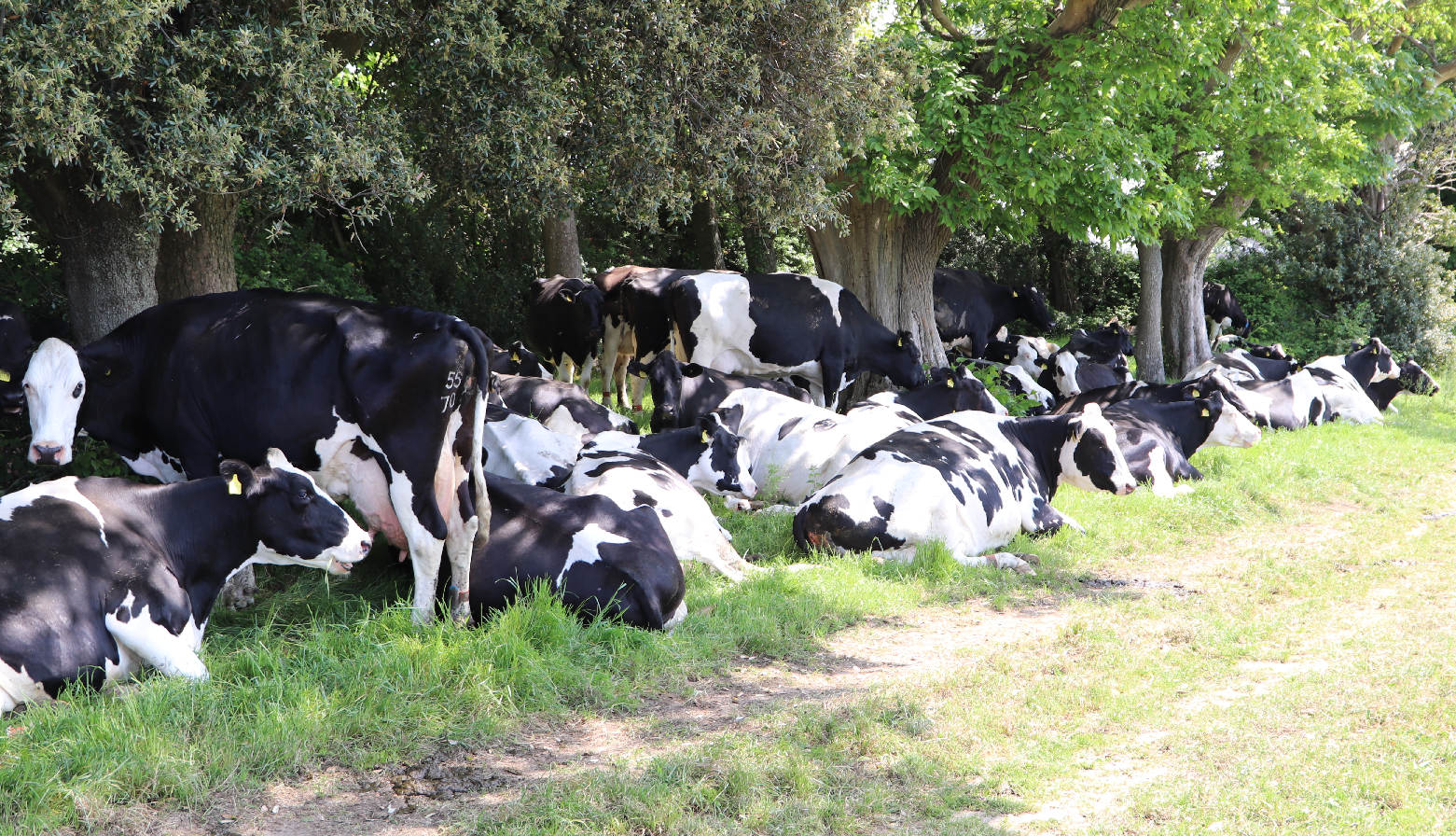 2023 - Taking it easy in the Sussex countryside, a herd of cows are allowed to block a right of way, public access, but on this occasion no harm was done. Perhaps the farmer might like to take note that Herstmonceux Museum is open to the public in the summer, when these bovines might fall foul of the Wildlife, Road and Traffic Acts. Or rather, present as a risk to drivers.
Please use our A-Z INDEX to navigate this site