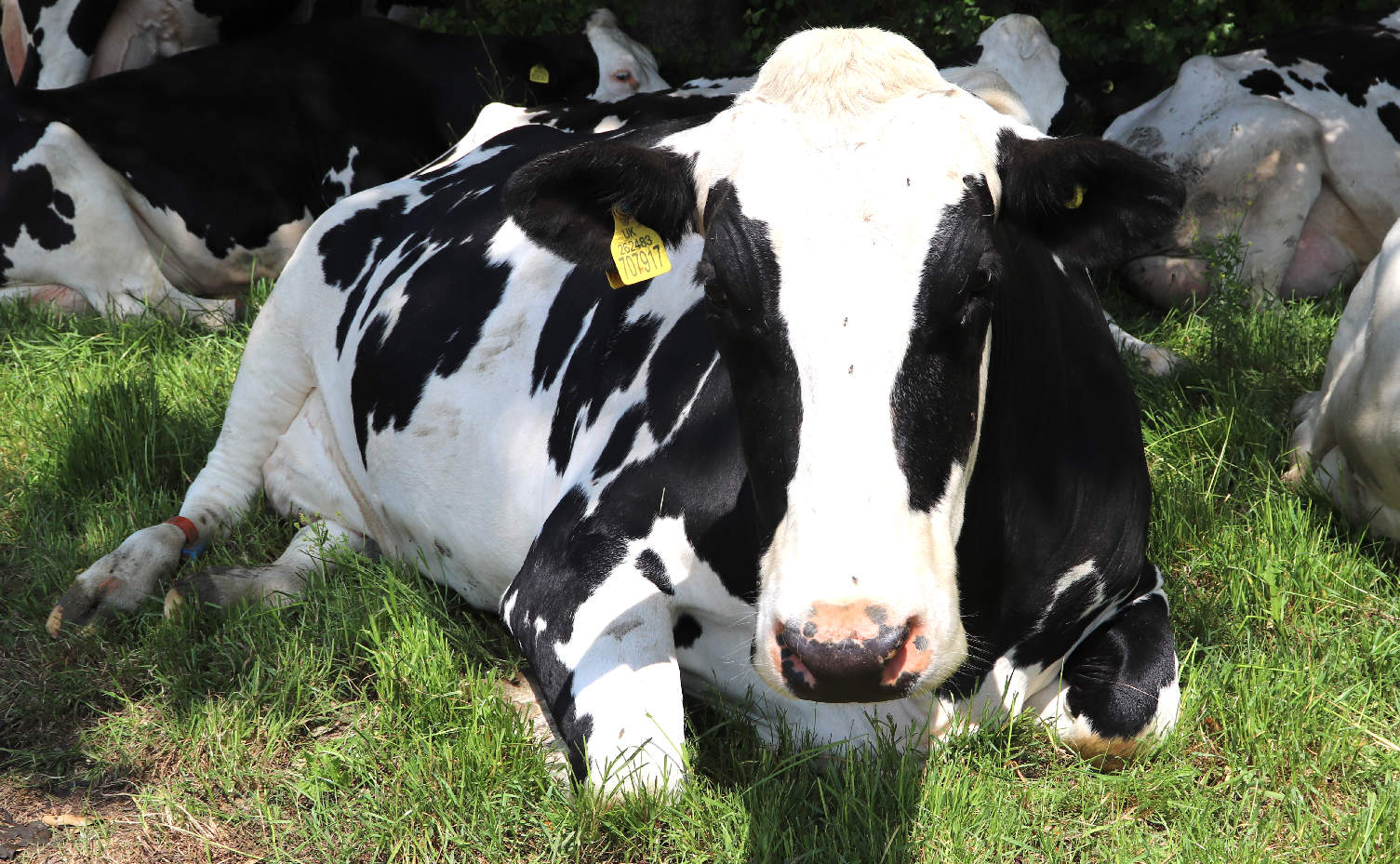 MATILDA SAYS - Pardon me for asking, but the girls were wondering how the DCMS helps local museums gain recognition and viable uses, where they may have lain redundant for years. We rather like that old wooden building. Might they not identify some beneficial activity to counter rot from lack of use?
The Department for Culture, Media and Sport (DCMS) is a department of His Majesty King Charles III's Government, with responsibility for culture and sport in England, and some aspects of the media throughout the UK, such as broadcasting.

It also has responsibility for the tourism, leisure and creative industries (some joint with Department for Business and Trade). The department was also responsible for the delivery of the 2012 Olympic Games and Paralympic Games. The department also had responsibility for the building of a digital economy and the internet from 2017 to 2023.

From 2017 until the 2023 British cabinet reshuffle, the department was known as Department for Digital, Culture, Media and Sport.

HISTORY & RESPONSIBILITIES

DCMS originates from the Department of National Heritage (DNH), which itself was created on 11 April 1992 out of various other departments, soon after the Conservative election victory. The former ministers for the Arts and for Sport had previously been located in other departments.

DNH was renamed as the Department for Culture, Media and Sport (DCMS) on 14 July 1997, under the premiership of Tony Blair. It was renamed to Department for Digital, Culture, Media and Sport on 3 July 2017, staying DCMS under the premiership of Theresa May to reflect the department's increased activity in the digital sector. The department was renamed back to the Department for Culture, Media and Sport (DCMS) in February 2023, with responsibility for digital moving to the new Department for Science, Innovation and Technology.
2012 Olympics

DCMS was the co-ordinating department for the successful bid by London to host the 2012 Olympics and appointed and oversees the agencies delivering the Games' infrastructure and programme, principally the Olympic Delivery Authority (ODA) and LOCOG.

The June 2007 Cabinet reshuffle led to Tessa Jowell MP taking on the role of Paymaster General and then Minister for the Cabinet Office while remaining Minister for the Olympics. Ministerial responsibility for the Olympics was shared with Ms Jowell in the Cabinet Office, but the staff of the Government Olympic Executive (GOE) remained based in DCMS.
2010 – PRESENT

Following the 2010 general election, ministerial responsibility for the Olympics returned to the Secretary of State. Although Jeremy Hunt's full title was Secretary of State for Culture, Olympics, Media and Sport, the department's name remained unchanged. On 4 September 2012, Hunt was appointed Health Secretary in a cabinet reshuffle and replaced by Maria Miller. Maria Miller later resigned due to controversy over her expenses. Her replacement was announced later that day as Sajid Javid.

After the 2015 general election, John Whittingdale was appointed as Secretary of State, tasked with initiating the BBC Charter review process. DCMS received full responsibility for the digital economy policy, formerly jointly held with BIS, and sponsorship of the Information Commissioner's Office from the Ministry of Justice.

Whittingdale was replaced by Karen Bradley after the referendum on the UK's membership of the EU in July 2016. The Office for Civil Society moved from the Cabinet Office to DCMS as part of the same reshuffle.

In January 2018, Matthew Hancock, previous Minister of State for Digital, was appointed Secretary of State as part of a Cabinet reshuffle. In the 9 July 2018 reshuffle, Jeremy Wright became the Secretary of State. Nicky Morgan became Secretary of State in July 2019; she stood down as an MP at the 2019 United Kingdom general election but was ennobled as Baroness Morgan of Cotes and retained her position from within the House of Lords. As part of the 13 February 2020 reshuffle, Oliver Dowden MP was appointed Secretary of State for Digital, Culture, Media and Sport.
You may care to agree, that previously the position appears anything but stable, with so much shuffling going on.
HIS MAJESTY'S DCMS MINISTERS 2023
The Rt Hon Lucy Frazer KC MP - Secretary of State for Culture, Media and Sport

The Rt Hon Stuart Andrew MP - Parliamentary Under Secretary of State for Sport, Gambling and Civil Society, and Minister for Equalities

The Rt Hon Sir John Whittingdale OBE MP - Minister of State for Media, Tourism and Creative Industries

Lord Parkinson of Whitley Bay - Parliamentary Under Secretary of State for Arts and Heritage and DCMS Lords Minister
SECRETARY OF STATE 2023
The Rt Hon Lucy Frazer KC MP was appointed Secretary of State for Culture, Media and Sport on 7 February 2023.

She was previously Minister of State in the Department for Levelling Up, Housing and Communities from 26 October 2022 to 7 February 2023. Lucy was previously Minister of State at the Department for Transport from 7 September to 26 October 2022. She was Financial Secretary to the Treasury from 16 September 2021 to 7 September 2022.

Lucy Frazer was Minister of State in the Ministry of Justice from 10 September 2021 to 16 September 2021 and from 25 July 2019 to 2 March 2021. She previously served as Parliamentary Under Secretary of State at the Ministry of Justice from 9 January 2018 to 9 May 2019. She was Solicitor General from 2 March 2021 to 10 September 2021 and from 9 May 2019 to 25 July 2019.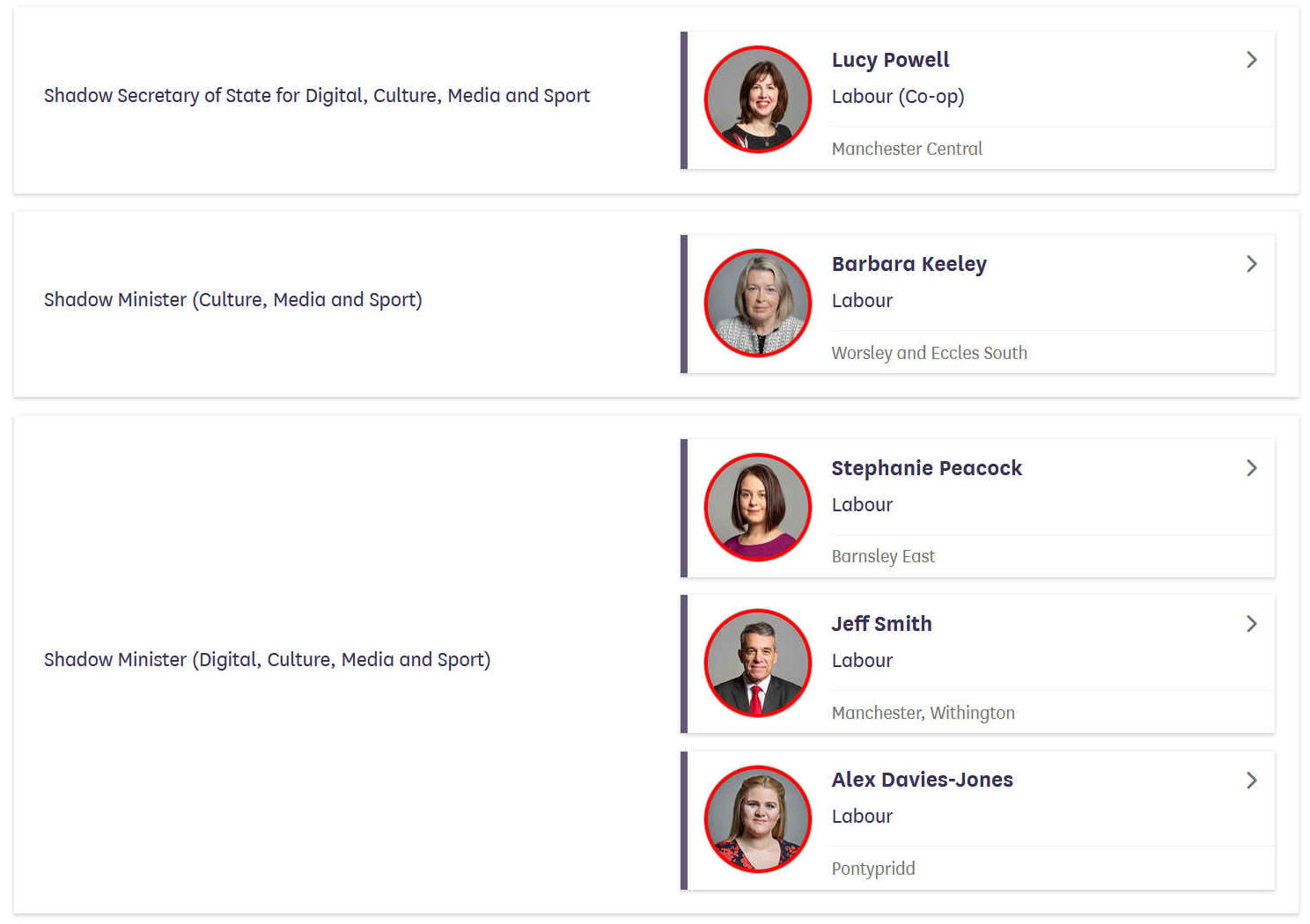 HIS MAJESTY'S OFFICIAL OPPOSITION - DCMS - SHADOW CABINET

Shadow Secretary of State for Digital, Culture, Media and Sport - Lucy Powell - Labour (Co-op) - Manchester Central

Email: contact@lucypowell.org.uk

House of Commons
London
SW1A 0AA

Shadow Minister (Culture, Media and Sport) - Barbara Keeley - Labour - Worsley and Eccles South

Shadow Ministers (Digital, Culture, Media and Sport) - Stephanie Peacock - Labour -Barnsley East

stephanie.peacock.mp@parliament.uk

and Jeff Smith - Labour - Manchester, Withington - Email: jeff.smith.mp@parliament.uk

and Alex Davies-Jones - Labour - Pontypridd - Email: alex.daviesjones.mp@parliament.uk

Shadow Spokespersons (Culture, Media and Sport) - Lord Bassam of Brighton - Labour Life peer

Email: contactholmember@parliament.uk

and Baroness Merron - Labour - Life peer

House of Lords
London
SW1A 0PW

020 7219 5353

Email: merrong@parliament.uk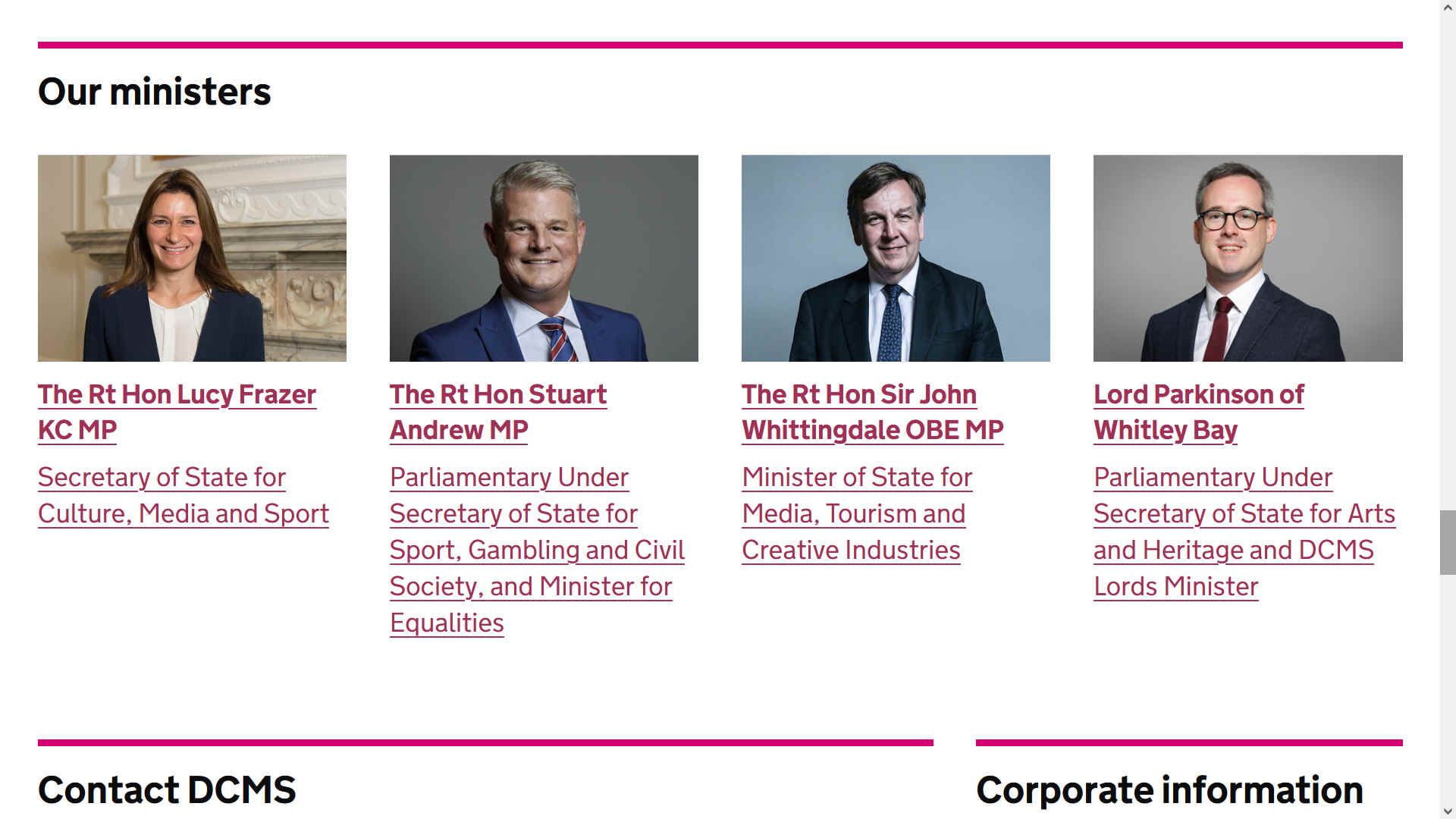 HEADQUARTERS

The main offices are at 100 Parliament Street, occupying part of the building known as Government Offices Great George Street.

Department for Culture, Media and Sport
100 Parliament Street
London
SW1A 2BQ
United Kingdom

Phone: 020 8080 3054 (Media enquiries only 24 hours)

Email: enquiries@dcms.gov.uk
POLICY AREAS

It is responsible for government policy in the following areas:

The arts
Broadcasting, including the BBC and Channel 4
Civil society
Charities
Creative industries
Advertising
Arts market
Design
Fashion
Film
Music industry
Publishing
Historic environment
Architecture and design
Cultural property and heritage
Entertainment licensing
Gambling and racing
Press freedom and regulation
Libraries
Museums and galleries
The National Lottery
Tourism
Sport
Olympic legacy

OTHER RESPONSIBILITIES

Other responsibilities of DCMS include listing of historic buildings, scheduling of ancient monuments, export licensing of cultural goods, and management of the Government Art Collection (GAC).

The Secretary of State has responsibility for the maintenance of the land and buildings making up the historic Royal Estate under the Crown Lands Act 1851. These inherited functions, which were once centralised in the Office of Works, are now delivered as follows:

- The Royal Parks are maintained by an executive agency within DCMS, the Royal Parks Agency;
- The unoccupied royal palaces in England are managed by a contract with Historic Royal Palaces;
- Maintenance of the occupied royal palaces in England was funded by an annual grant-in-aid to the Royal Household until 31 March 2012. The Secretary of State for Culture retains legal responsibility for these palaces, but from 1 April 2012 this funding was amalgamated with the Civil List into a single Sovereign Grant administered by HM Treasury. DCMS continues to make a separate small grant to the Royal Household for the maintenance of Marlborough House

The department also has responsibility for state ceremonial occasions and royal funerals. However, responsibility for the Civil List element of head-of-state expenditure and income from the separate Crown Estate remains with the Chancellor of the Exchequer.

DCMS works jointly with the Department for Business, Innovation and Skills (BIS) on design issues, including sponsorship of the Design Council, and on relations with the computer games and publishing industries.

DCMS works with local community system providers in broadcasting service via TV and Internet channels. On September 2022, it managed to hold a home office visit activity for media and data security knowledge sharing across different government departments.

DCMS organises the annual Remembrance Day Ceremony at the Cenotaph and has responsibility for providing humanitarian assistance in the event of a disaster. In the government's response to the 7 July 2005 London bombings the department coordinated humanitarian support to the relatives of victims and arranged the memorial events.

DCMS has also supported cyber initiatives such as Cyber Discovery and the UK Cyber Security Forum to support innovation in the cyber industry.
Historic England is the government's statutory adviser on the historic environment, championing historic places and helping people to understand, value and care for them.

HE is an executive non-departmental public body, sponsored by the Department for Culture, Media and Sport.

CONSERVING THE HISTORIC ENVIRONMENT
The Government's objective is that the historic environment should be conserved and enjoyed for the quality of life it brings to this and future generations.

The Government has defined the historic environment as:
'All aspects of the environment resulting from the interaction between people and places through time, including surviving physical remains of past human activity, whether visible, buried or submerged, and landscaped and planted or managed flora.'
A snapshot of the heritage that can be found within Wealden includes:

- Evidence for human settlement and activity from Prehistoric through to Post Medieval Periods.
- Over 2000 Listed Buildings
- 20 Historic Parks and Gardens
- 104 Scheduled Monuments
- 33 designated Conservation Areas (not including the South Downs National Park Authority area)
- Non-designated and locally designated heritage assets (Herstmonceux Old Generating Station)
- Areas of archaeological potential and interest, many identified as Archaeological Notification Areas (ANAs)
- Industrial, economic and agricultural uses and impacts
- Trading
- Transport
- Military History
- Influence of famous people and notable local figures throughout history
- High Weald designated Area of Outstanding Natural Beauty (AONB) to the north
- Low Weald non-designated landscape area to the southeast
- Pevensey Levels Site of Special Scientific Interest (SSSI) to the south
- Large number of historic settlements.

For more details information on the rich heritage in Wealden, a brief timeline of historic settlement and activity in Wealden has been compiled.

WHAT IS A HERITAGE ASSET?

A Heritage Asset is a building, monument, site, place, area or landscape identified as having a degree of significance meriting consideration in planning decisions, because of its heritage interest.

These Heritage pages provide information on Heritage Assets, which include:

- listed buildings
- conservation areas
- scheduled monuments and areas of archaeological potential and interest
- unlisted buildings of historic interest (referred to as non-designated assets)
- historic parks and gardens

When an application affects a heritage asset, a heritage statement will be required.

Advice on works to listed buildings may be available on your Council's heritage webpages and from Historic England.
FREEDOM OF INFORMATION (FoI) REQUESTS

Email: foi@dcms.gov.uk

Call: 0207 211 6111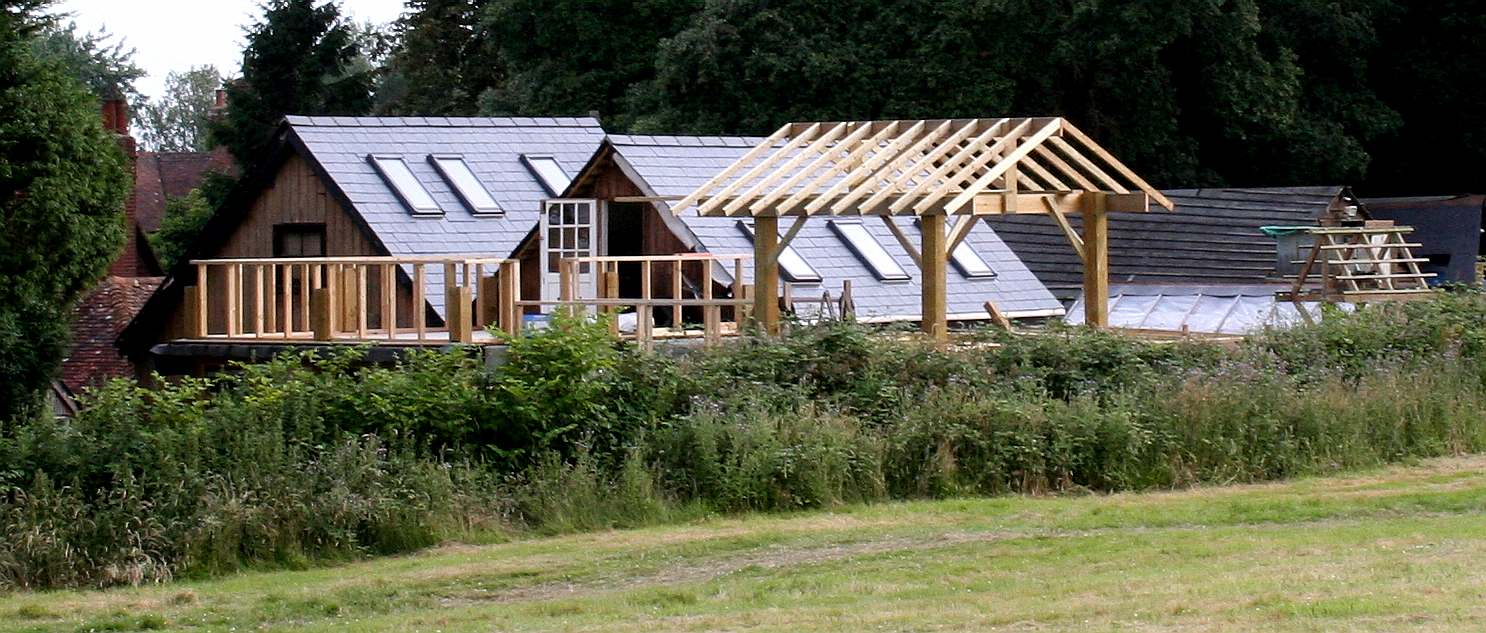 THE ONLY EXAMPLE LEFT - This unassuming building is believed to be the earliest, and only surviving example of electricity generating and load leveling on the planet. In the world of industrial archaeology, this is a gem. All the more intriguing for being nestled out of the way in the country and being built of wood. As a power generator in Lime Park featuring a battery store, the complex is a future contender as a UNESCO World Heritage Site.
REFERENCE
https://members.parliament.uk/Opposition/Department?departmentId=15
https://members.parliament.uk/Opposition/Department?departmentId=15
https://www.gov.uk/government/organisations/department-for-culture-media-and-sport
https://www.gov.uk/government/organisations/department-for-culture-media-and-sport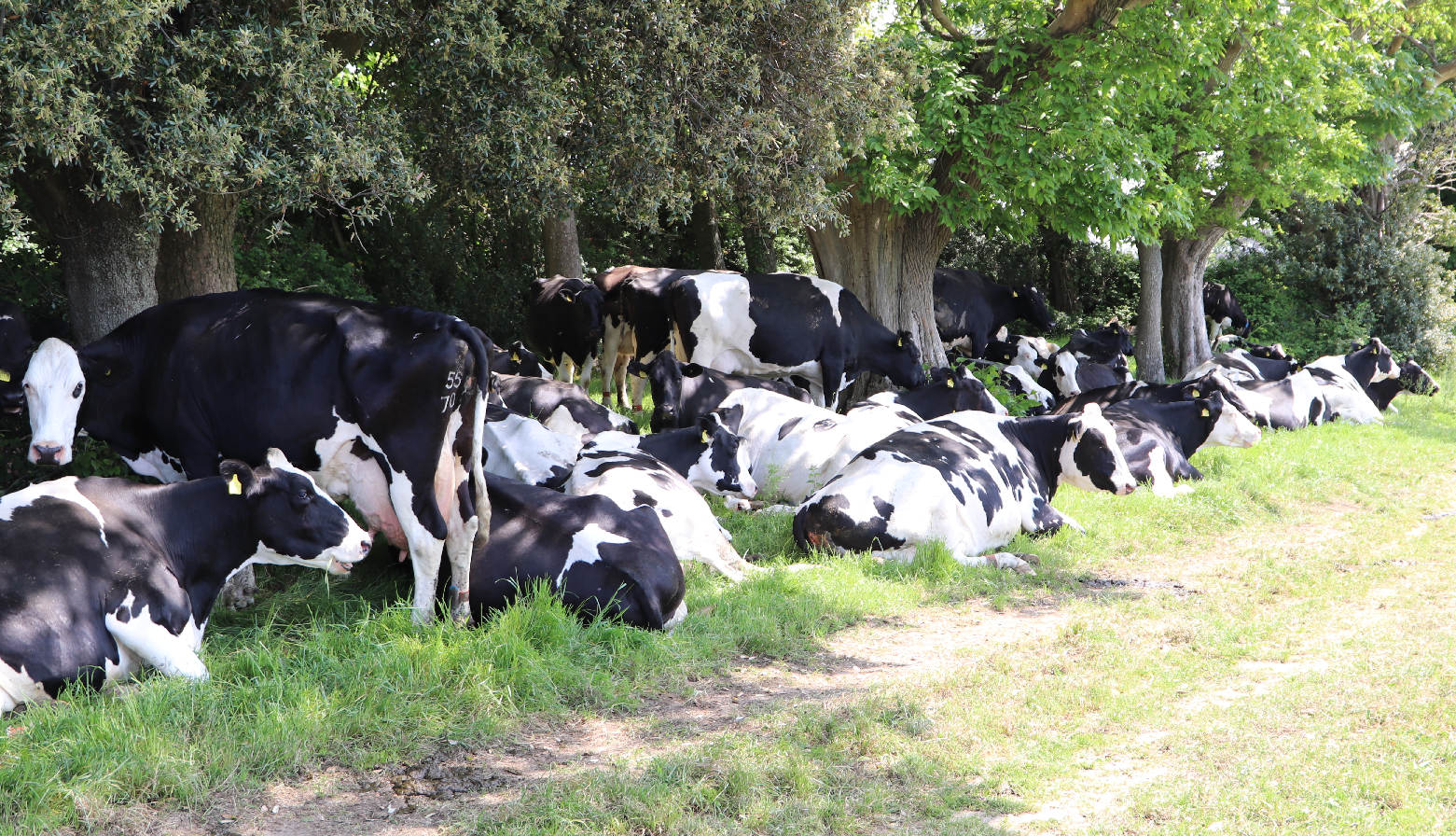 2023 - A herd of cows in a nearby field, frequently wander across this access road, from the car park at the Cricket Ground.
Please use our A-Z INDEX to navigate this site