MANOR HOUSE - Lime Park benefited by a large manor house, a stables, market garden, twin-wells, and electricity from a generating station in the grounds - that also sold power to the nearby village of Herstmonceux. The Baron Karl von Roemer and his family benefited from a full staff to help run his estate.
FROM DOWN AMONG THE FARMS

One of the interesting centres of electrical development between the was was centered in the beautiful stretch of fertile countryside which runs across the middle of Sussex into Kent and is known as the Weald.

It contains no big towns, even though - particularly in Sussex - the rural stretches surprisingly to run out sometimes to be more residential than agricultural. But the farms there are good farms, and on them were pioneered many of the stages of rural electrification which are nowadays taken for granted all over our area.

Electricity came to the Weald in a not very rational pattern because there were several small undertakings, if one counts the private ones, without large-scale generation resources under their own control.

Nevertheless, the pioneering work was carried on, and now that our Weald district has been largely absorbed by the new Tunbridge Wells district, it is fitting that we should put on record something about its history and achievements.

THE FORMER DISTRICT ENGINEER

The former district engineer, R. F. Counchman, now with West-Kent, tells us that the first supply was taken from Tunbridge Wells corporation at 6.6kV, and underground feeders were laid to Cranbrook and the borough of Tenterden via Frant, Wadhurst and Ticehurst. The company's main substation and depot, or course, were established at Hawkhurst.

The first consumers were connected in Frant in November, 1925, and supplies were available in Hawkhurst, Cranbrook and Tenterden in the following year.

In is reputed that instant planning was carried out in the field by Mr. Tom Callendar, then the senior director of the parent company, and his mood would dictate the route and size of a main. Many oof the original feeders were designed for 22 and 33 kV working. They were laid by the parent company in Holland and India, and failed at these voltages. So they had to be redesigned and relaid. The old cables were recovered and laid in the Weald to operate at 6.6 kV, at which pressure they have given satisfactory service for over forty years.

(A local consumer who also had access to these cheap cables was Rudyard Kipling - possibly through his India connections - and he had one laid for his private generating plant at Batemans, and that also gave satisfactory service.)

When the company brought the electricity section of the Crowborough undertaking in 1928, there was a small power station operating at Crowborough with a total capacity of 250 kVA. It was driven by 'town gas' engines. This 240v single-phase supply was stepped up to 2.4 kV and transmitted by 2.5 kV concentric mains. There were twenty small substations in the village, from which the two-wire 240v system was fed, and much of the system remained in commission until the early 1950's.

Then the company laid a 6.6 kV feeder from Wadhurst to Crowborough via Rotherfield to supply 6.6/2.4 kV transformers at Crowborough Broadway, and the generating station was withdrawn. But a mains depot and showroom were opened at Crowborough.

When the 6.6 kV system had been extended to Forest Row in 1929/30, the company sold East Grinstead U'D.C. a bulk supply which was metered at Forest Row substation.

At about the same time the offices at Hawkhurst were transferred from some old stables at the rear of Hawkhurst substation to the large house known as 'Fairview', where they remained until the district was amalgamated into the new Tunbridge Wells district in January of this year.

In 1929 a 0.075 sq.in. 6.6 kV feeder was laid from Tunbridge Wells power stations to Cranbrook, a distance of fifteen miles, to reinforce the system in the Cranbrook area, the villages of Matfield, Paddock Wood, Brenchley, Goudhurst and other hamlets being put on supply en route.

In spite of the very light load on the network at these early sages, pressure difficulties were being experienced and two induction-type regulators were installed at Tunbridge Wells to control the Company's two feeders.

During 1929/30 the system was also extended to Mayfield and Heathfield, Waldron and Horam areas in East Sussex.

The Central Electricity Board established a 33/11 kV substation at Hailsham in 1932 in order to provide bulk supplies to the Weald company and to Eastbourne corporation. This resulted in the company developing the northern half of Hailsham rural district, and the Eastbourne corporation the other part. The company had a model overhead system in this part of its area. The 11 kV overhead lines were erected on steel towers and steel 'P.B.' poles, and the MV distribution was also on this type of pole.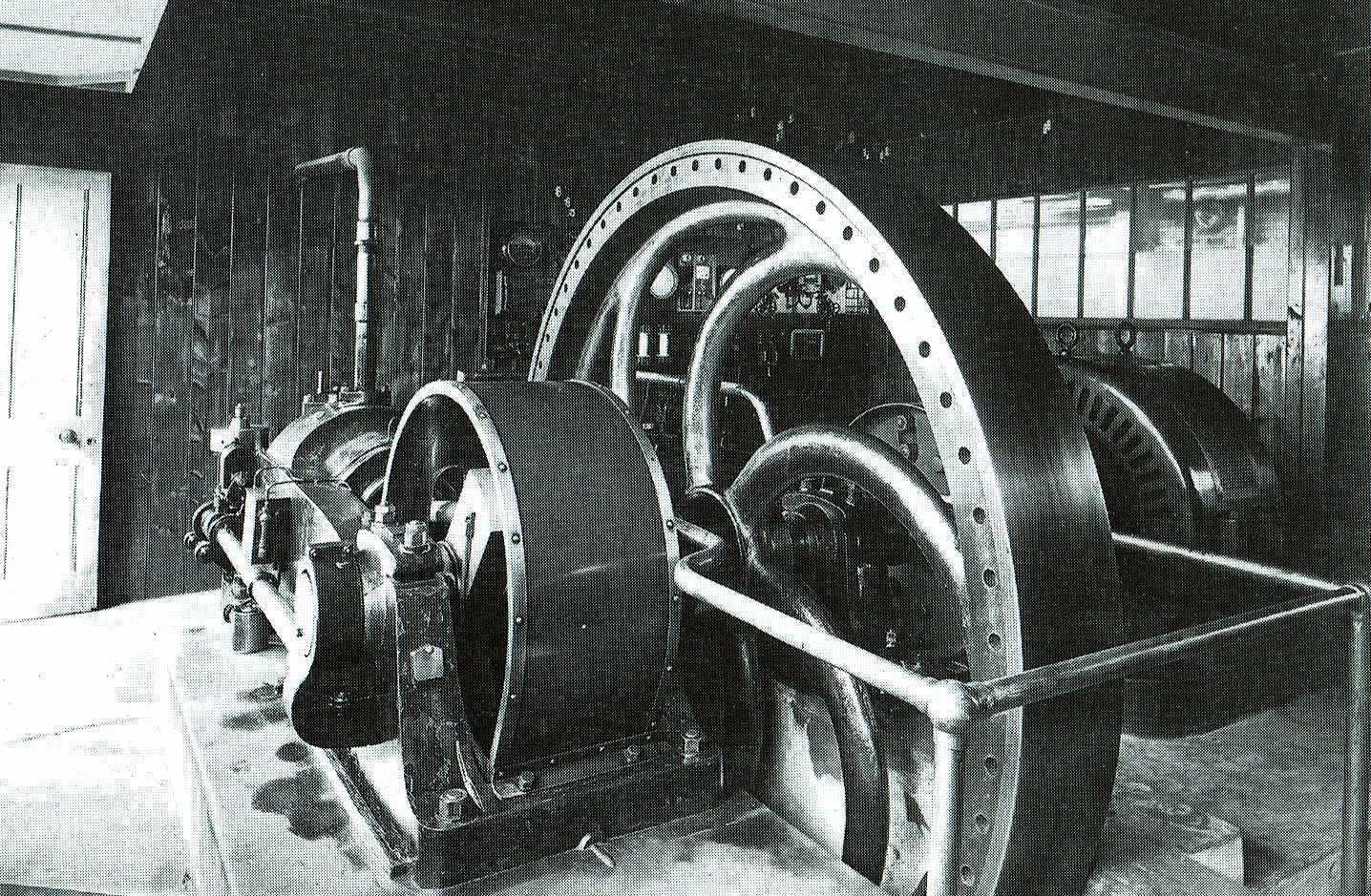 GENERATION GAP - Lime Park is now more famous for the work of Charles de Roemer, who brought electricity to Herstmonceux via the development of his Generating Station, in the most efficient form, powered by a 39 horsepower National, gas engine, as seen in the picture above. While Barness von Roemer was alive, guests to the Park included: Lady and Lord Gage from Firle Place, Lady and Lord Shawcross (famous for the Nazi war trials) from East Dean, and Lady and Lord Hailsham ( first wife).
It is interesting to note that when this part of the area was developed, a small non-statutory undertaking was taken over at Herstmonceux. A Mr. de Rhomer, of Lime House, operated a three-wire 220/110v D/C system in the village. His generating station at Lime House comprised a Crompton D/C generator driven by an oil engine,* and a battery for offpeak periods. Distribution was by means of a single-core paper-insulated, armoured, three-wire 0.10x0.05x0.10 sq.in. mains.

All the underground services were terminated in weather-tight cut-outs on the outside of consumers' premises. As the mains were laid in 1908, the system was very advanced for its day and age.

This little undertaking was closed down in about 1930, and it is alleged that it was recommissioned six months before the Weald company brought a supply to Herstmonceux in order that the owner could obtain compensation.

In 1933 a mains depot was opened at Horsebridge to cover that part of the area in Hailsham rural district and parts of Battle rural district.

The area supply now covered about 500 square miles and stretched from Hunton, near Maidstone, in the north to .....
* There was a smaller concrete base with a flywheel scallop in the third range of the generating complex at Herstmonceux. The main generator was a gas engine, evidenced by the coal bunkers and pyrolysis chamber dug up on site, coupled with the fact that Charles de Roemer had installed a duplicate installation at his airplane factory in Eastbourne, with a superb photograph of that engine, the footprint of which matches that in the second range in Lime Park. More investigation of the site will be necessary to catalogue and fully understand how the complex developed over the years. We know there was also an ice-making plant in the second range, from the instructions to the operating engineer.
WILLIAM GREEN - Was chauffeur to Lady and Charles de Roemer. He lived in North Lodge, now demolished, for a block of rather ordinary flats. Thank heavens Ernie did not have to witness that kind of heritage vandalism. East Lodge, at the other end of the private through road, is a Grade II listed building. Herstmonceux is being ravaged, adding to the UK's collective carbon footprint, and the heat waves that saw 60 houses in England burn down in July 2022. More houses are being built in and around the village. Will the Parish and District Council's ever learn? Unfortunately not. Their actions constitute the beginning of the end.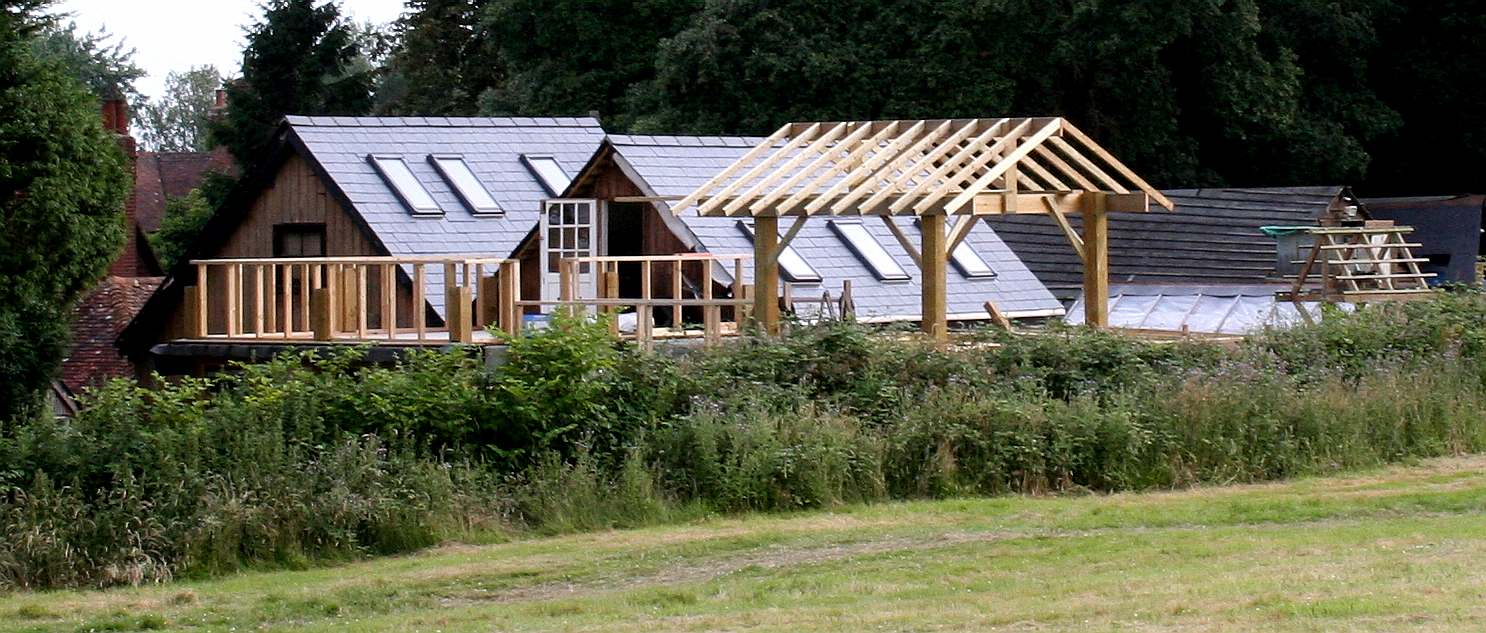 POTENTIAL FUTURE UNESCO CONTENDER - Archaeologically, the old Generating Works in Lime Park, is the most important building in the village of Herstmonceux. Saved from collapse in 1981, in this unassuming complex, the new age of electricity began with wealthy landowners flexing their wallets - the only people who could afford Joseph Swann, and Thomas Edison's 'EdiSwan' light bulbs. For in order to have electricity to run the new fangled lighting, you needed your own generator - and that was noisy, offsetting the advantage of gas lamps and candles that frequently blew out with gusts of wind. Silence was then and is now highly valued. Only the very few could also afford batteries to store power. But in Herstmonceux, they had a massive energy store, with a whole unit full of giant lead plate batteries on shelves, crammed to ceiling height with huge glass cases filled with gallons of sulfuric acid. This is the very first distribution load-levelling arrangement, and the only example surviving anywhere in the world, of a massive battery store. It is quite simply unique. See ESCC SMR. Or visit at TheKeep in Lewes, or online.
NORTH LODGE - William (Ernie), Margaret (Peggy) and Doris Green, standing outside North Lodge, Gardner Street. Now demolished for a small block of flats. It is interesting to cross reference the memories of Margaret with Ronald Saunders, who only worked in Lime Park for about a year, but whose father was the chief engineer in charge of the Generating Station. You can read more about this by clicking on the picture above.
LINKS & REFERENCE
https://