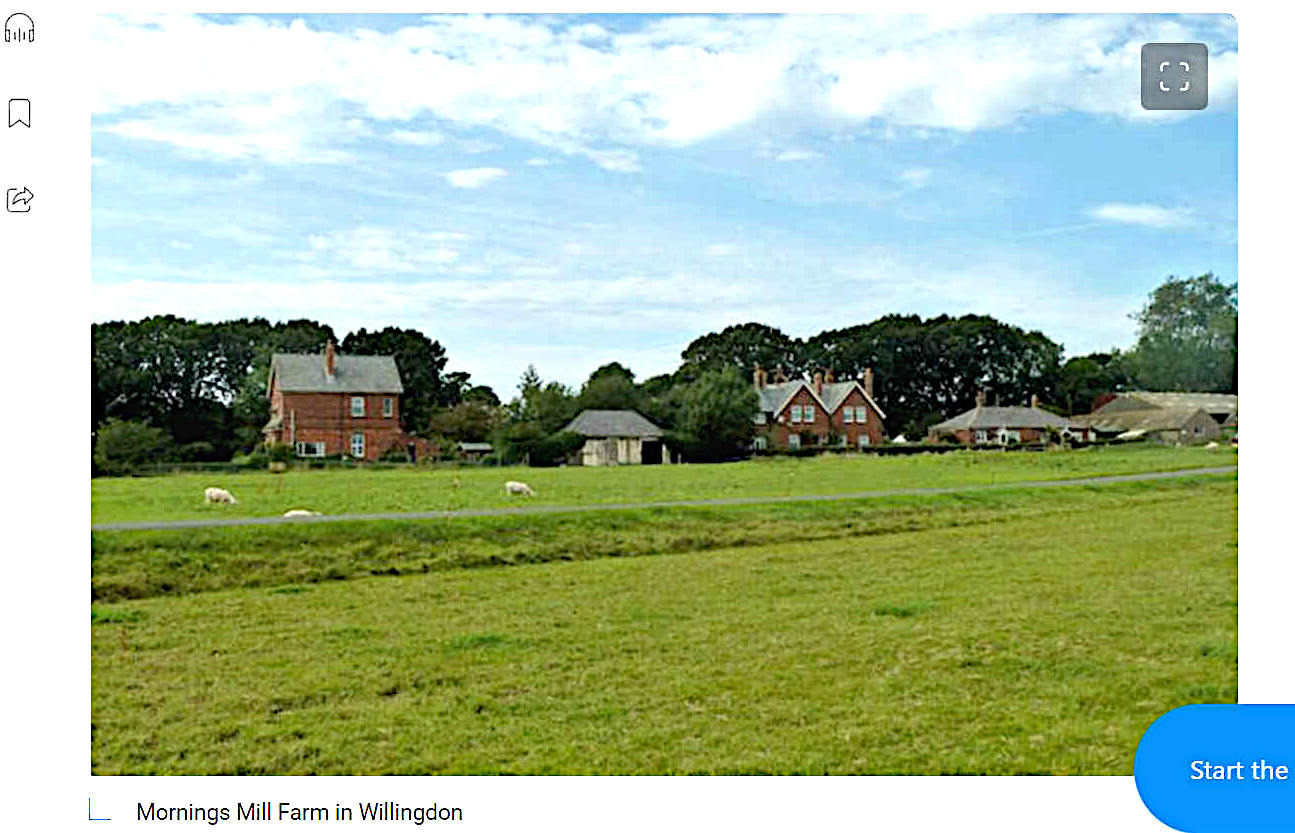 Morning Mill Farm, Willingdon - proposal for 700 new homes. Have they not heard about the climate, water and sewage crises? Congestion on this busy (A22) road is at an all time high, in the morning and evening rush hours. We can imagine the gridlock that will come with another seven hundred new houses. None of which will be truly affordable, compared to timber flatpacks - as an example - that are a more sustainable form of housing with carbon lock a feature, so a lower CO2 footprint.
Hence, climate change is a major issue in two areas where they have declared a Climate Emergency; Eastbourne and Wealden. Next we have Southern Water SE Water Services, pumping out raw sewage into the English Channel. And, the water shortages, where all new developments must be water neutral. Hence, we have already exceeded the natural capacity of the local infrastructure as it stands.
We would also add, that solar panels on the proposed new houses and electric vehicle charging points, should be mandatory.
IN THE NEWS 8 SEPTEMBER 2022 - EASTBOURNE COUNCILLORS FIGHT AGAINST PROPOSALS FOR 700 HOMES ON OUTSKIRTS OF TOWN
Councillors in Eastbourne are battling against proposal to build 700 homes, shops and amenities on the town's outskirts. The site in Mornings Mill Farm in Willingdon was refused by Wealden District Council in December last year due to concerns around highways safety, concerns around flood risk; and that it would be beyond the 1998 development boundary.

However, planning officers have since said they do not think these grounds can be defended in an appeal. At the appeal meeting, Eastbourne MP Caroline Ansell said: "This appeal hearing was a critically important opportunity in the planning process to protect both Willingdon and Eastbourne's interests. We were there fighting for our residents and making it clear we do not want this development.

"I pay tribute to all those who addressed the inspector and who campaigned tirelessly to protect this beautiful place. We remain in steadfast support of you and urge the inspector to refuse this appeal."

Speaking at the hearing in Hellingly, Councillor Robert Smart, leader of the Conservative Group on Eastbourne Borough Council, said he spoke for residents of the seaside town. He claimed residents in both Eastbourne and Willingdon were "almost unanimously horrified by this proposal" and referred to the record number of objections received by the planning authority.

Cllr Smart said administrative boundaries meant that Eastbourne's infrastructure would be expected to support the huge new development, whereas it would be Wealden District that accrued financial benefits.

"The voice of Eastbourne should be of paramount importance to the inquiry", Cllr Smart said to inspector Michael Boniface, in asking him to weigh carefully the overall planning balance.

Traffic concerns were key to determining the appeal, said Cllr Smart. He cited the likely effects on the A2270, described as 'the most congested A-road in England'. He claimed the 103,000 residents of his town would be "locked, perhaps gridlocked at the mouth of a funnel of traffic".

Cllr Smart, also a member of the Pevensey and Cuckmere Water Levels Management Board, said he had pressed for rigorous modelling to understand the effects of concreting the green-field site along with the cumulative effects of so many developments. He expressed fears that saturation point, literally, may have already been reached.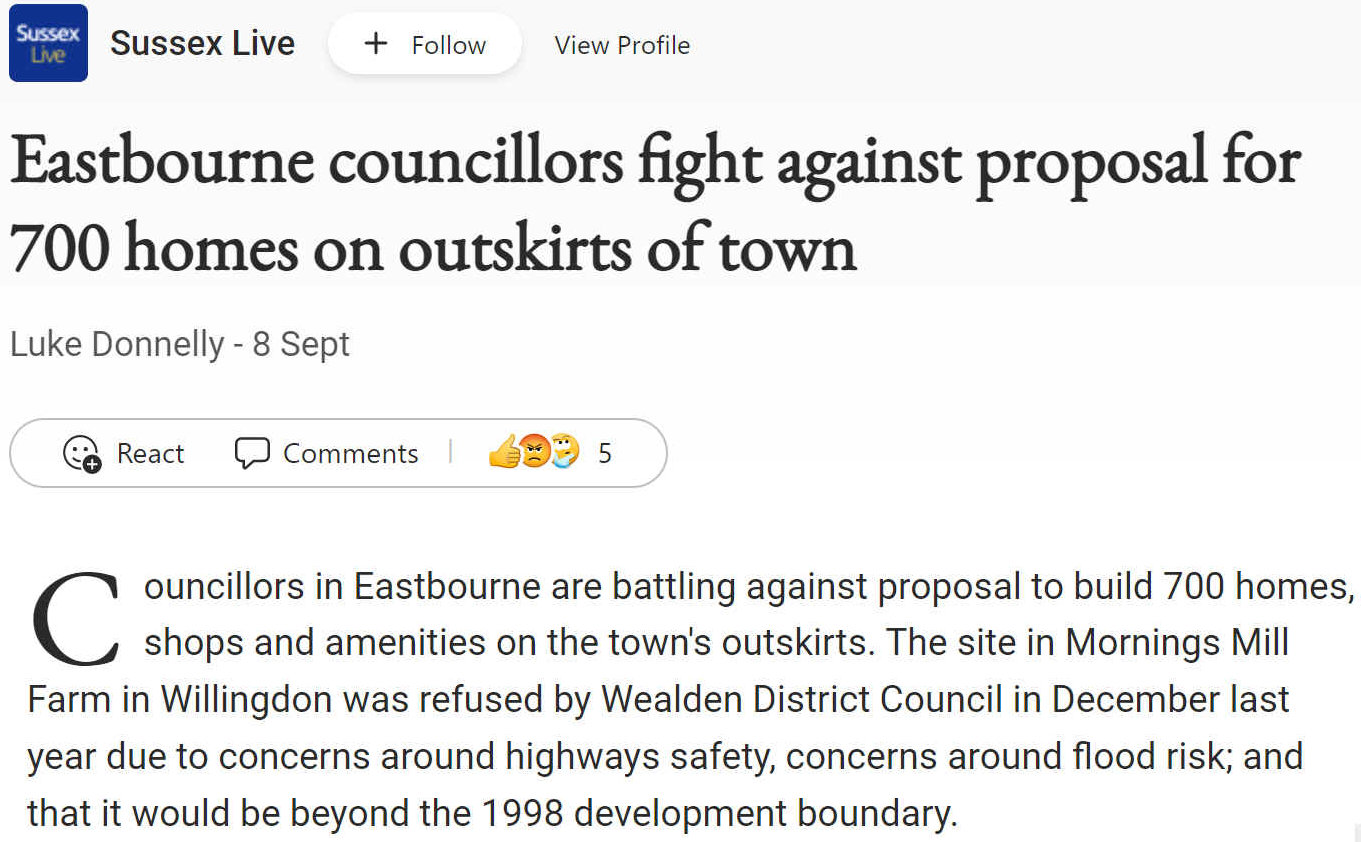 ABOUT WILLINGDON
Willingdon and Jevington is one of the civil parishes in the Wealden District of East Sussex, England. The two villages lie one mile (1.6 km) south of Polegate. The two parishes, two decades ago, were separate; the merger of the two has produced a parish of over 7,000 people. Willingdon is part of the built-up area which is Eastbourne, and lies on the main A22 road, whilst Jevington is on a minor road leading to Friston. In addition under the name of Willingdon it is also an electoral ward.


THE VILLAGES

WILLINGDON

Willingdon ancient ecclesiastical parish stretched across the entire north of the town of Eastbourne, reaching the English Channel at Langney Point. It included Hampden Park, now also part of the Eastbourne area. See map here: Willingdon was the base for the local village of the same name in George Orwell's Animal Farm. The Red Lion Inn is also a real place in the village.

Willingdon is in fact two villages, (Upper Willingdon and Lower Willingdon).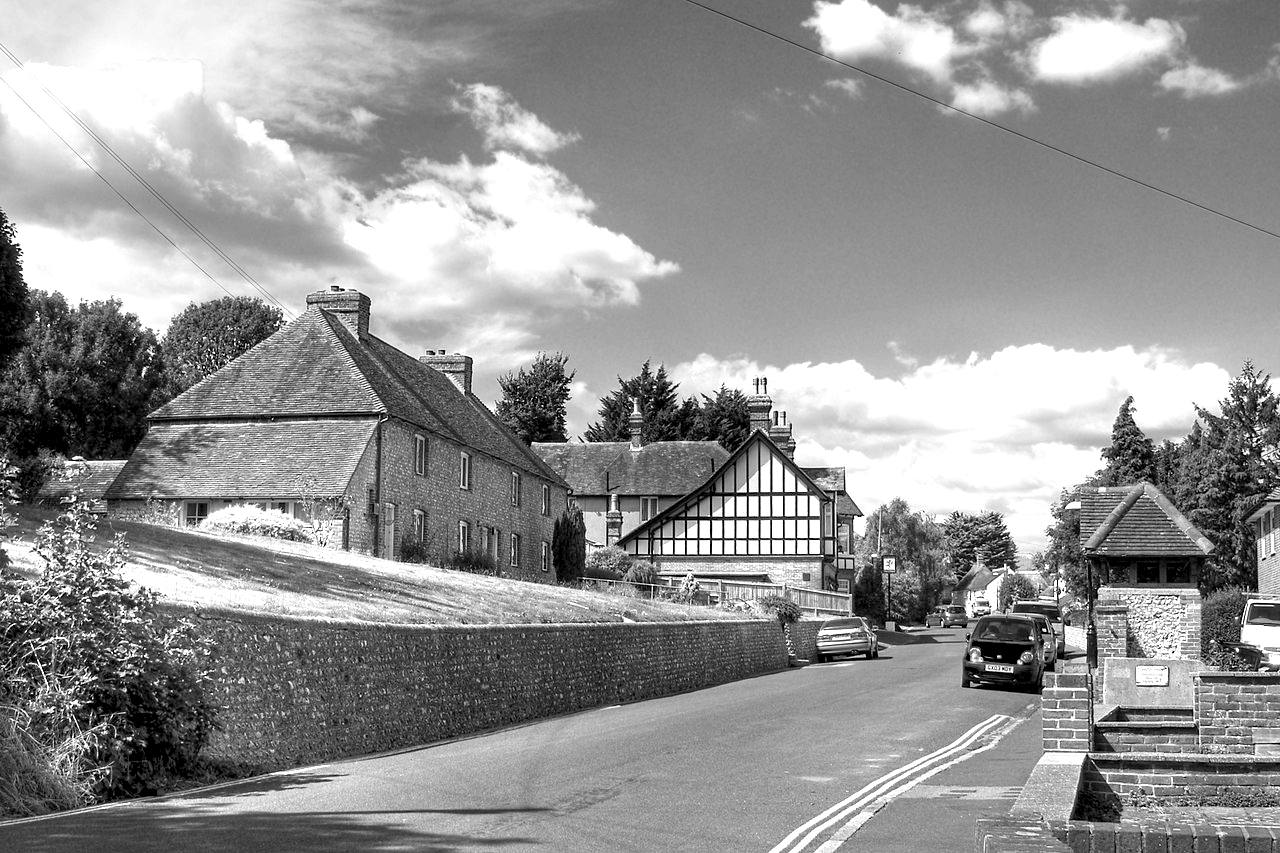 JEVINGTON

Jevington lies on a minor road between Polegate and Friston. The Jevington parish church is dedicated to St Andrew, and contains Saxon elements (including a tower) as well as many other medieval architectural features, including a 14th-century font. A rare elm cultivar 'Serpentina' grows in the grounds. The parish takes in the hamlet of Filching and also Wannock.

The village pub is called The Eight Bells. The Hungry Monk restaurant claimed fame as the birthplace of banoffee pie, though the former eatery it is now closed and has been turned into cottages.

WANNOCK

Wannock below the South Downs between the villages of Polegate and Jevington. It has a village hall, but no church, pub or shops. It has 300 suburban homes, mainly bungalows housing elderly residents. There were once two tea gardens in Wannock which were popular with coach parties visiting from nearby Eastbourne. A dance hall stood on stilts over the local beauty spot of Wannock Glen. Wannock may be a Saxon place name; according to one source, Wannock supposedly contains the element "Wan" from "Woden" Wannock is mentioned in the Domesday Book (1086) and in an Napoleonic assessment/inventory of the British south coast defences. There is a manor Wannock Place, two medieval cottages and a cottage which was a watermill. One medieval cottage is called "Stream Cottage", the other medieval cottage is owned by Nigel Waterson, former local MP. The area was once known for its walnut groves and some house gardens still contain walnut trees.

FILCHING

Filching lies at the other end of the Wannock Glen from Wannock along the Polegate to Friston road. It consists of a few houses, Gibby's Tea Gardens, a chalk quarry and a medieval manor house. Filching Manor was built around 1450.

Filching Manor Motor Museum is the home of Blue Bird K3, the last remaining intact Bluebird boat – a Rolls Royce Merlin engined speedboat driven by Sir Malcolm Campbell to take the World Water Speed Record in 1937. This is the only world record boat surviving intact. A long term restoration project is ongoing, begun by Paul Foulkes-Halbard, continued with Karl Faulkes-Halbard. The museum also had the Bluebird Electric 2 vehicle on display, on loan for a number of years, now permanently on display at Herstmonceux Museum, along with the original Bluebird Electric 1, the first car in the world with a (patent) built in battery cartridge exchange system.

Filching Manor is also the site of the annual Jevington Fête, and it houses a public karting track (the Campbell Circuit) in the grounds for arrive-and-drive sessions, and other race events.

The Polegate Airship Station was in the parish between July 1915 and April 1919.

The Labour cabinet minister George Brown lived in the area and when elevated to the peerage became Lord George-Brown of Jevington.

Willingdon and Jevington is said to be the real-life setting of George Orwell's novel Animal Farm. George Orwell was the pen name of Eric Arthur Blair (25 June 1903 – 21 January 1950), an English novelist, essayist, journalist, and critic.
c x

SUSTAINABILITY - AFFORDABLE HOUSING
There is an almost total lack of affordable housing in Willingdon and Jevington. Sustainability and the 'Blue' or Circular Economy, not being high on the agendas of local authorities. But then we must remember that Margaret Thatcher sold off our social housing, and the Conservative Party have continued to promote the build of expensive housing as investments to launder overseas money. So creating generations of financial slaves.
LINKS & REFERENCE
https://www.msn.com/en-gb/news/uknews/eastbourne-councillors-fight-against-proposal-for-700-homes-on-outskirts-of-town/ar-AA11Btse
Farms in Sussex, should remain farms, in case there is a need for self sufficiency in times to come.