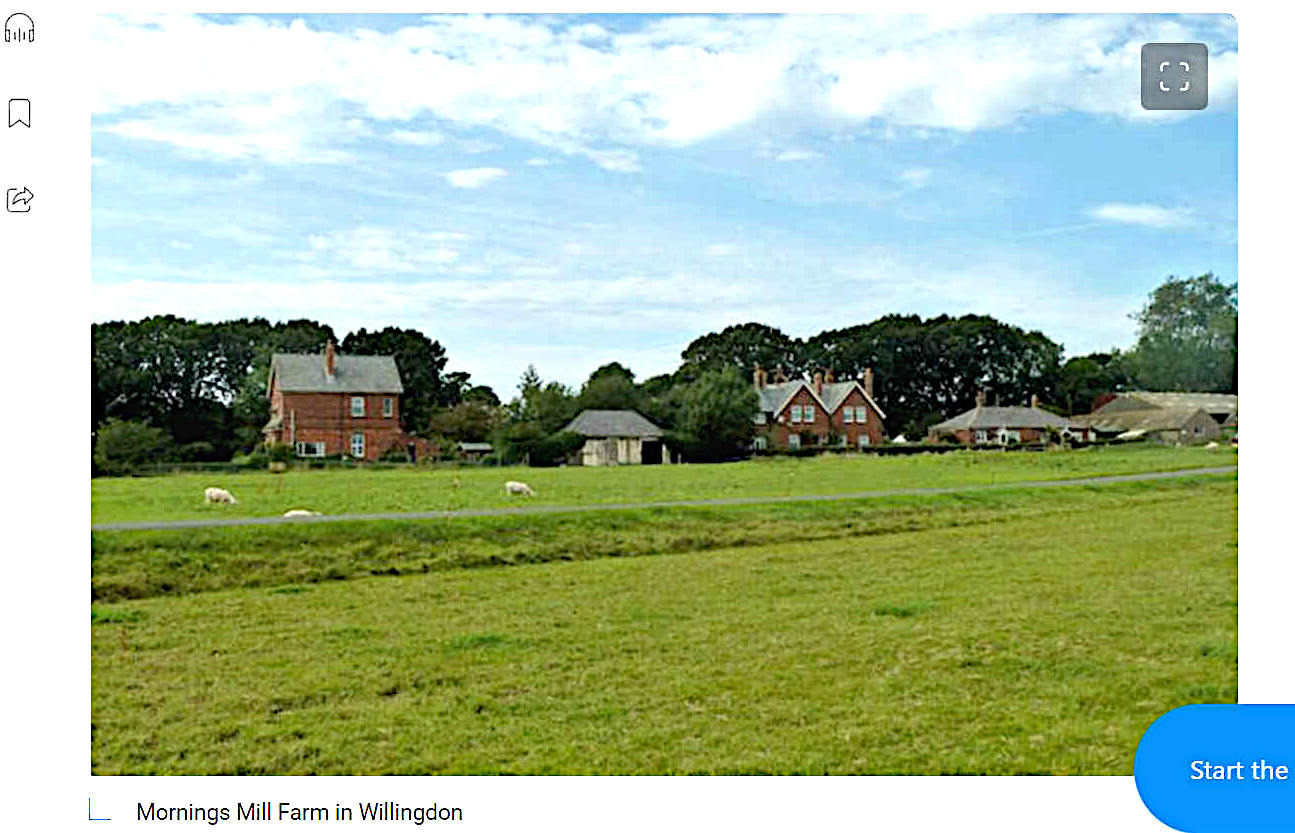 Morning Mill Farm, Willingdon - proposal for 700 new homes. Have they not heard about the climate, water and sewage crises? Congestion on this busy (A22) road is at an all time high, in the morning and evening rush hours. We can imagine the gridlock that will come with another seven hundred new houses. None of which will be truly affordable, compared to timber flatpacks - as an example - that are a more sustainable form of housing with carbon lock a feature, so a lower CO2 footprint.
Hence, climate change is a major issue in two areas where they have declared a Climate Emergency; Eastbourne and Wealden. Next we have Southern Water SE Water Services, pumping out raw sewage into the English Channel. And, the water shortages, where all new developments must be water neutral. Hence, we have already exceeded the natural capacity of the local infrastructure as it stands.
We would also add, that solar panels on the proposed new houses and electric vehicle charging points, should be mandatory.
The Report by Louise Nurser, as to Wealden's Local Plan, criticized the lack of cooperation between councils, in dismissing the plan. We aver, that this should be a material planning consideration. Where, Wealden aim to cop hold of the Community Infrastructure Levy payments and not share them with Eastbourne Borough Council, who may then have to charge additional rates for Eastbourne residents, to pay for Wealden's golden handshakes and enhanced pension packages - for their planning staff and chief executive officers. Let's face it, it stinks to high heaven.
IN THE NEWS 8 SEPTEMBER 2022 - EASTBOURNE COUNCILLORS FIGHT AGAINST PROPOSALS FOR 700 HOMES ON OUTSKIRTS OF TOWN
Councillors in Eastbourne are battling against proposal to build 700 homes, shops and amenities on the town's outskirts. The site in Mornings Mill Farm in Willingdon was refused by Wealden District Council in December last year due to concerns around highways safety, concerns around flood risk; and that it would be beyond the 1998 development boundary.

However, planning officers have since said they do not think these grounds can be defended in an appeal. At the appeal meeting, Eastbourne MP Caroline Ansell said: "This appeal hearing was a critically important opportunity in the planning process to protect both Willingdon and Eastbourne's interests. We were there fighting for our residents and making it clear we do not want this development.

"I pay tribute to all those who addressed the inspector and who campaigned tirelessly to protect this beautiful place. We remain in steadfast support of you and urge the inspector to refuse this appeal."

Speaking at the hearing in Hellingly, Councillor Robert Smart, leader of the Conservative Group on Eastbourne Borough Council, said he spoke for residents of the seaside town. He claimed residents in both Eastbourne and Willingdon were "almost unanimously horrified by this proposal" and referred to the record number of objections received by the planning authority.

Cllr Smart said administrative boundaries meant that Eastbourne's infrastructure would be expected to support the huge new development, whereas it would be Wealden District that accrued financial benefits.

"The voice of Eastbourne should be of paramount importance to the inquiry", Cllr Smart said to inspector Michael Boniface, in asking him to weigh carefully the overall planning balance.

Traffic concerns were key to determining the appeal, said Cllr Smart. He cited the likely effects on the A2270, described as 'the most congested A-road in England'. He claimed the 103,000 residents of his town would be "locked, perhaps gridlocked at the mouth of a funnel of traffic".

Cllr Smart, also a member of the Pevensey and Cuckmere Water Levels Management Board, said he had pressed for rigorous modelling to understand the effects of concreting the green-field site along with the cumulative effects of so many developments. He expressed fears that saturation point, literally, may have already been reached.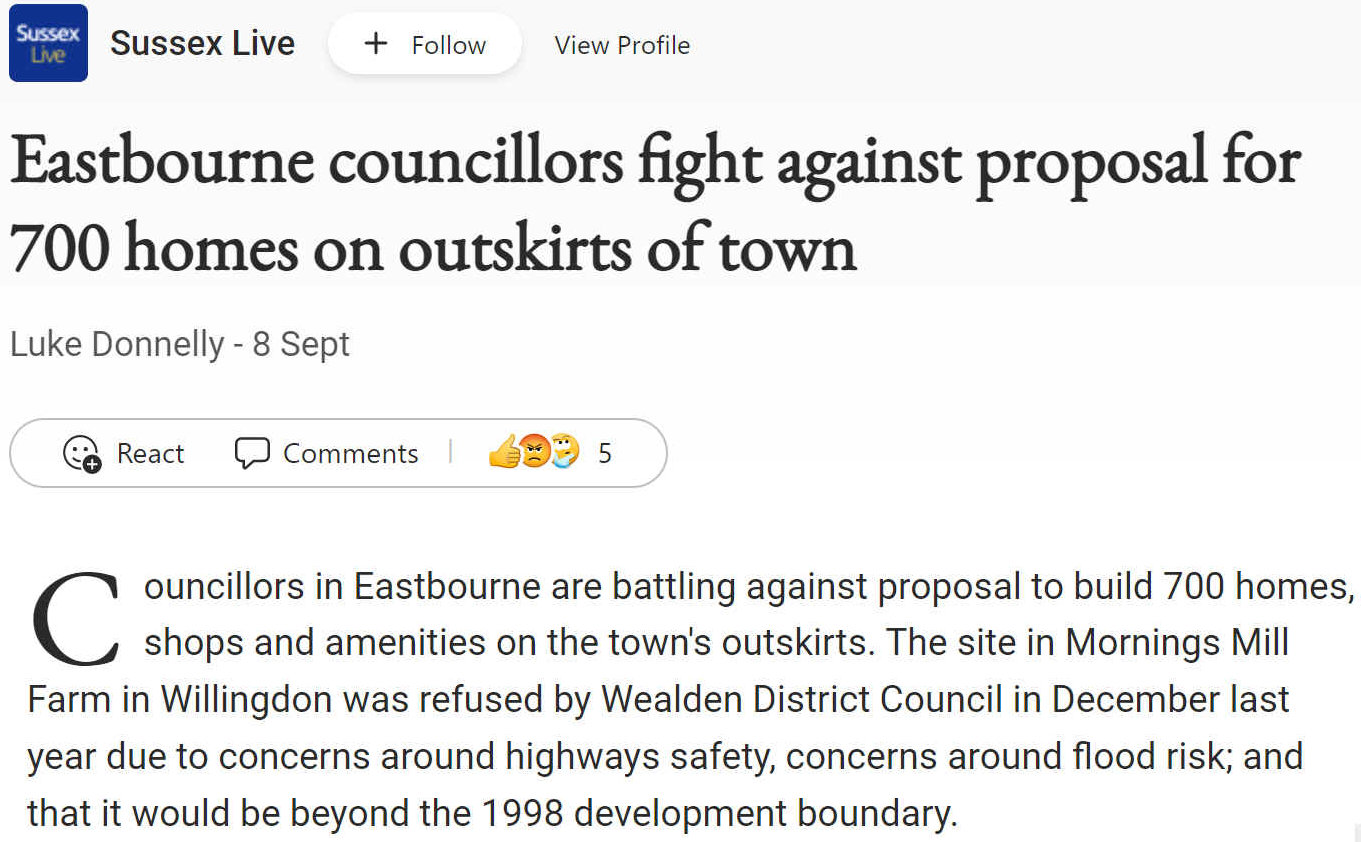 We think it is a crazy proposal from start to finish. We all know about global warming, and the proposed houses are not carbon neutral. Nor do they have sustainable energy features, such as solar heating, and electric charging points, to support fast charging for the transition to renewables.
We were also under the impression that sewage disposal was a major issue, as is potable drinking water, where the local reservoirs are at capacity, and cannot support more housing, if they are to remain water neutral - as in West Sussex, right now. Southern Water was recently fined £90,000,000 million pounds for dumping raw sewage into the seas around England. Clearly, the local water company is in breach of clean water regulations, and liable to cut corners to try and grab water charges, without supplying the facilities to treat human faeces and urea, prior to discharge.
The oceans are already polluted up to the yin-yang with unregulated single use plastic discharges.
The only bright spark on the horizon, is the latest moves by Jacob Rees-Mogg (Secretary of State for Business & Energy) and Liz Truss PM, plan to ditch Boris Johnson's Energy Bill, resting on Nuclear insanity, to give wind and solar power a chance. Also a means to relieving the present energy (cost of living) crisis.
SUSTAINABILITY - AFFORDABLE HOUSING
There is an almost total lack of affordable housing in Willingdon and Jevington. Sustainability and the 'Blue' or Circular Economy, not being high on the agendas of local authorities. But then we must remember that Margaret Thatcher sold off our social housing, and the Conservative Party have continued to promote the build of expensive housing as investments to launder overseas money. So creating generations of financial slaves.
LINKS & REFERENCE
https://www.msn.com/en-gb/news/world/liz-truss-to-ditch-boris-johnson-s-energy-overhaul-plans-to-focus-on-driving-down-cost-of-household-bills/ar-AA11PtR5
https://www.msn.com/en-gb/news/uknews/eastbourne-councillors-fight-against-proposal-for-700-homes-on-outskirts-of-town/ar-AA11Btse
Farms in Sussex, should remain farms, in case there is a need for self sufficiency in times to come.