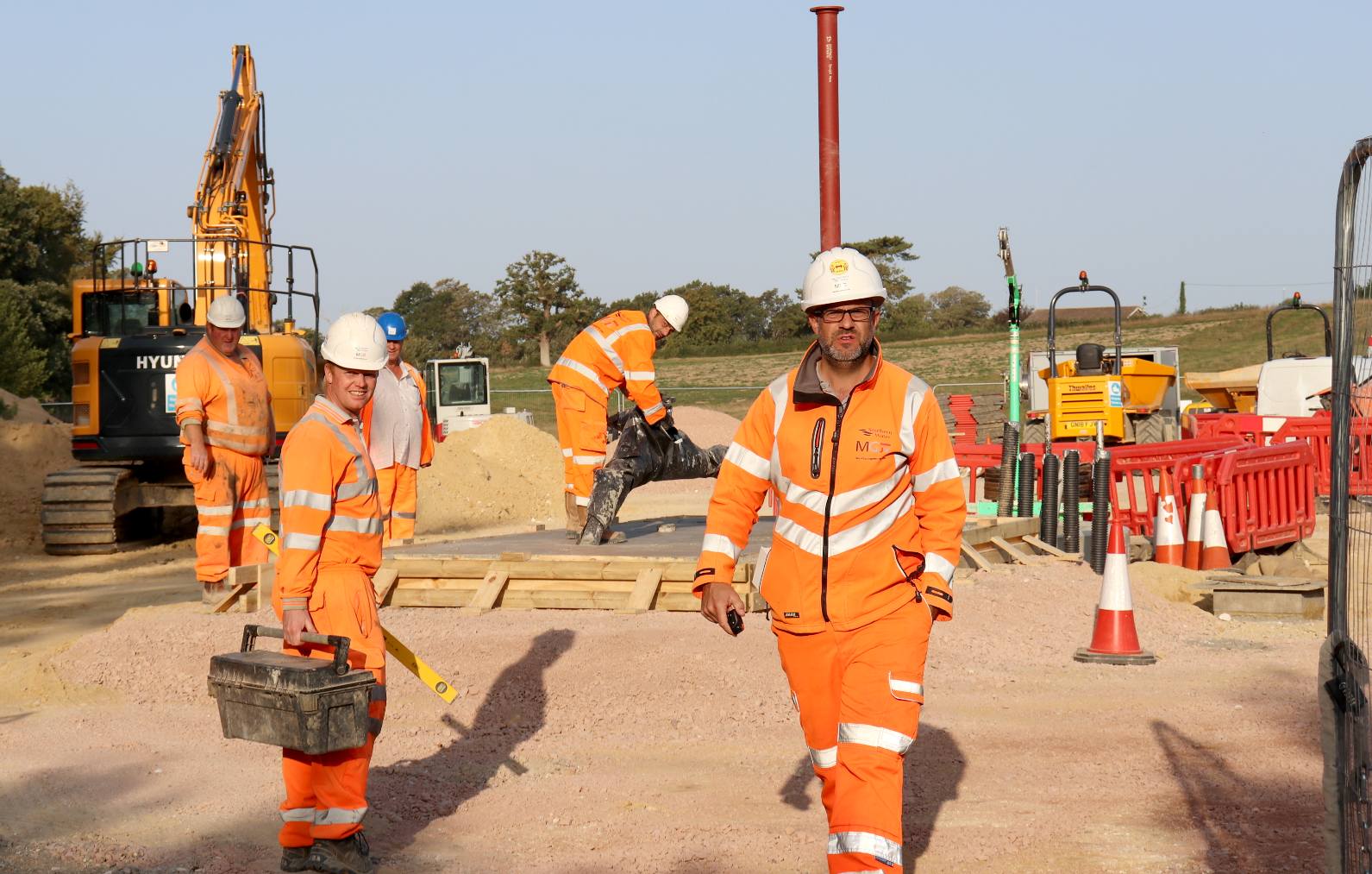 IS THIS A CRIME IN PROGRESS SEPTEMBER 2020 - If you provide weapons to a person who commits an armed robbery, you may be seen as complicit and having conspired with the perpetrator. Is it the same for Southern Water, in providing a waste water pumping station for Latimer Developments Limited, where the property developers are aiming to dispose of surface water through two ponds in Lime Park, knowing that they will be slowly poisoning the habitat for ducks, frogs, fish, herons and newts? It is alleged that Southern Water have already displaced a badger from this location, using their bulldozers to remove all trace, except that a badger is now seen regularly in Lime Park.
The public are sometime confused as to who the criminals are in Sussex, where it appears to be the police who are committing more crimes in failing to investigate, that other forms of crime, such as assault, drugs, fraud, burglary, kidnap, rape, theft, and armed robbery.
Sussex police is perhaps best known for their failure to investigate 12 reported planning crimes in 1997, and the subsequent collusion with Wealden Council's officers in what amounts to a cover up of these seven serious cases as examples of the twelve:
1. The demolition of Bushy Wood Animal Sanctuary, and
2. The failure to prosecute in relating to extreme intimidation of a Sussex farmer by her landlord, and
3. The deception of Inspectors Dannreuther & Michael via a conspiracy to deny historic status, and
4. The forced demolition of buildings what were a permitted development at Standard Trees
5. The fraudulent presentation of photographs seeking to obtain a conviction re: Bruno the bull
6. Fraudulent deception by Ian Kay on oath during a Lawful Development inquiry: Horam
7. Fraud via map alteration obliterating levels in drainage case
Now that is one heck of a compendium. Something to raise a few eyebrows at every level. The fact is that if, as it is alleged, Sussex police are working with Wealden District Council to cover up planning crime, and where there is so much money to be made via planning permissions, then Her Majesty's United Kingdom is lawless when it comes to major frauds that are being perpetrated routinely. The Britain is really up shit creek without a paddle - and what are you paying your rates/taxes for!
The UK's National Debt is hovering around the £2 billion pound mark. Corruption in local government is one thing we should seek to eradicate. Brown envelope payments tend to avoid being taxed by the Inland Revenue. This is a loophole that should be plugged.
MURDERED - While Sussex police sat on their hands. Indeed, they threatened to prosecute Sharna for wasting police time
Sussex police are also known for their shooting of James Ashley while he was naked in his flat in Hastings, in the early hours of the morning - all based on fabricated intelligence, and for failing to investigate the allegations of stalking of Sue Nicholson, Caroline Devlin and Sharna Grice, all of whom were subsequently murdered. But no police officer was prosecuted for failing to investigate!
There is also the matter of a cell death in 2019/20, about which Giles York is believed to have resigned, followed by an assault in a prison van on a pensioner in 2020.
The present Chief Constable is Jo Shiner. The present Crime Commissioner is Katy Bourne. Since Katy Bourne has failed to tackle any of the above issues 'effectively' to improve policing, we wonder if it is time for her to stand down and make way for someone with sights set a little higher. For example, there has been no investigation as to the conspiracy to pervert the course of justice in 1997. There is no statute of limitations on such historic crimes. They are just as live today as when they were reported - even more so - as the longer it takes to investigate the "non-investigation" the more guilty Wealden and Sussex police look. This must go to an outside force, it is not something either the council or this force can deal with.
DETECTIVE CHIEF INSPECTOR ALASDAIR HENRY
Criminals planning to take advantage of the current lockdown to commit offences in rural areas are finding that their activities are more likely to come to the attention of countryside communities.

Three men were arrested near High Hurstwood in the Wealden district recently when police were alerted to a suspicious car in the area. The men were found crawling along a hedgerow and after running away from officers at the scene of the incident, the 3 men were arrested on suspicion of burglary and going equipped for burglary.

Detective Chief Inspector Alasdair Henry, Wealden district policing commander and Sussex Police's lead on business burglary, is quoted as saying: "This incident demonstrates that by working together, increasing vigilance and awareness, we can make a difference and we do act positively on any intelligence we receive. If you see anyone or anything suspicious in your area, please report it to us."
Wealden now has a dedicated police district commander. Previously there was only one commander responsible for Eastbourne, Lewes and Wealden.

Detective Chief Inspector Alasdair Henry has been appointed to the new role to provide "closer oversight and liaison on the district".

DCI Henry said on the Sussex Police website: "I am really looking forward to getting to grips with my new role as district commander for Wealden. It is my intention to build on the fantastic work already completed by the local policing team.

"As the force lead for burglary prevention I want to focus on such crimes, especially in our rural communities. I am also keen to ensure that we continue to deal with anti-social behaviour on the district."

OTHER COMMANDERS 2020

The other district commanders for East Sussex are:
Chief Inspector Di Lewis for Eastbourne and Lewes – she once worked as a sergeant at Uckfield – and Chief Inspector Sarah Godley for Hastings and Rother. Chief Inspector Paul Phelps remains in charge of East Sussex Response, while Detective Chief Inspector John Wallace will be joining the division as the full-time DCI for East Sussex Investigations, the role previously held by DCI Henry, who will also still have a regular involvement in investigations.
Inspector Jonathan Gross is the Inspector for Wealden District.

Chief Inspector Anita Turner who was district commander for Eastbourne, Lewes and Wealden has been thanked for her work by Ch Supt Tanya Jones.
CATAPULT ATTACK ON DUCKS
Police have released a photograph of two people they would like to speak to about an incident in Sheffield Park Garden, near Uckfield.

They received a report of people trespassing on the site and using a catapult to fire items at ducks on Saturday (September 12), at about 5.30pm.

They believe the two people in the photograph have information that could help their investigation and are keen to speak with them.

Anyone who recognises them, or who has any other information about what happened, is asked to contact police online or by calling 101 quoting serial No: 86 of 16/09.

Alternatively, you can contact the independent charity Crimestoppers anonymously on 0800 555 111.
SUSSEX POLICE A - Z OF OFFICER INVESTIGATIONS
They are also alleged to have stitched up a man from Herstmonceux, who was campaigning for many years after the whitewash, for an investigation into the apparent conspiracy between Wealden District Council and themselves, and defending others in Sussex from malicious enforcement - sending their victim to prison for crimes he did not commit, despite Rex v Sussex Justices 1924, the prohibition of involvement where there is a conflict of interest.
LINKS & REFERENCE
https://www.sussex.police.uk/news/sussex/news/force-news/rural-crime-still-a-focus-in-lockdown/
https://uckfieldnews.com/wealden-now-has-dedicated-police-commander/